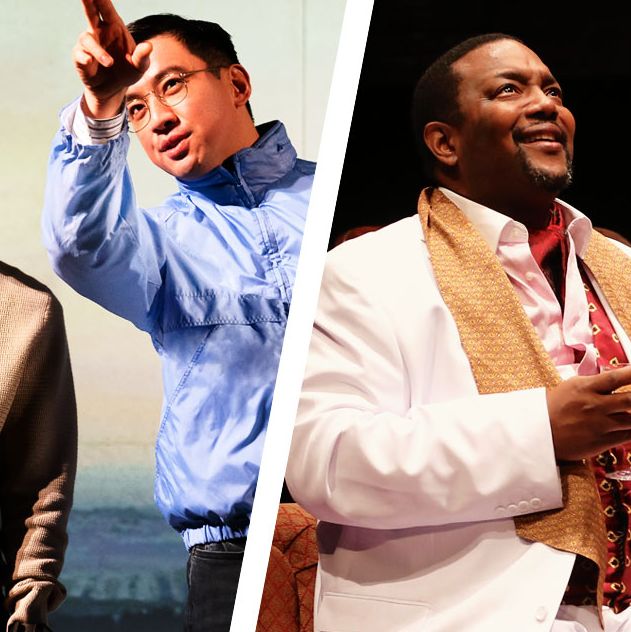 From left: Joe Ngo in
Cambodian Rock Band,
Aaron Yoo and Johnny Wu in
Headlands,
and John-Andrew Morrison in
Blues From an Alabama Sky.
Photo: Vulture, Joan Marcus, Carol Rosegg and Kyle Froman
New York theater has picked up its spring tempo this past week. (There is a confused crocus somewhere in Ditmas Park, so yes, it's spring.) The pace of Off Broadway finally broke from its sluggish winter flow into whitewater flood; somewhere around last Thursday, the last dead early February sludge was washed away. And in any flood, there's flotsam. There was some schematic dramaturgy in the first breakneck week — some unadorned exposition went whizzing by, and some mysteries gave up their secrets too quickly. But there were a few solid things to hang onto. The week was a chance to see three extraordinary men: three actors playing characters who were greater than the plays or productions around them.
First was Joe Ngo in Lauren Yee's Cambodian Rock Band at Signature Theater. Chay Yew's production is a layered construction: Inside, there's a killer Khmer-language rock show (in which Ngo plays guitar), with a less persuasive, coincidence-packed memory-play surrounding it. Ngo plays Chum — the goofy, fanny-packed dad of young American legal worker Neary (Courtney Reed), whose court case against a Khmer Rouge prison warden has finally started to gain traction. Chum, who immigrated to the U.S. decades earlier, shows up in Cambodia, surprising his daughter and insisting that she abandon the investigation. He just happens to have ties to the prison, and we flash back to the '70s, when Chum's Western-style band fell prey to Pol Pot's terrifying regime.
Yee's dialogue does occasionally throw a strong punch — moments can be quite powerful, even when the scenes' edges and connective ligaments are ragged. These are sometimes awkwardly yanked together by narrator/villain (Francis Jue), who seems redundant in his first function, sentimental in the second. Yee's best inspiration comes in the overall shape of her show. After she saw a show by Dengue Fever, a California band that plays with '60s Cambodian pop and throwback psychedelic rock sounds, Yee put just such a band right at the heart of her structure. Throughout the play, director Yew's talented cast — Ngo, Reed, Abraham Kim, the amazing Jane Lui and Moses Villarama — play Dengue Fever's songs on a little rock stage, sometimes in character as Chum's lost band in Phnom Penh, sometimes for the sheer hell of it. Ngo/Chum also sometimes has musical moments alone, when Chum is forced by his jailer to provide entertainment on command. Ngo's broken, everyday voice is a bitter counterpoint to his comic portrait of Chum, the kind of guy who freaks out the same gigantic amount about everything, from a fun treatment at a spa to torture at the hands of an old friend. It takes a moment to get used to an acting style that's so deliberately broad. But then Ngo goes quiet over his guitar, and you feel the devastating effect of his range.
In Pearl Cleage's Blues for an Alabama Sky, the memorable man is John-Andrew Morrison as Guy, a generous and unquenchable Jazz Age Harlem habitué. To outshine the others around him, Morrison has to be particularly bright, since all the actors in this Keen Company production are doing lovely work. The showgirl Angel (Alfie Fuller), has just been dumped by her gangster boyfriend and fired by her club, and her options are narrowing to nothing. Desperate, she's just moved in with her best friend, the costume designer Guy, who faces down homophobic attacks even on routine trips to the store. Across the hall, the shy social worker Delia (Jasminn Johnson) is trying to build a new birth-control clinic and lose her own virginity, while the friendly, blues-loving doctor Sam (Sheldon Woodley) is ready and willing to help on both fronts. Then a beautiful southern man, Leland (Khiry Walker), appears among them. He's drawn to Angel, but everything these liberated New York people do offends him, so Leland begins to tear out the nails that have fixed the friends to one another.
I'd be eager to see this revival of Cleage's 25-year-old play in another space. She's so good at choreographing the stir of neighborhood life, yet the Keen Company production directed by LA Williams can make that movement seem ungainly — You-Shin Chen's set forces strange exits and entrances, the backdrop seems to stop short, the Theater Row theater seems about ten feet too shallow. Asa Benally's costumes try to make up the difference, but you'll want to sit very close so that his fabrics will fill your field of vision. It's the details you'll want to see anyway. And get up in that front row to see John-Andrew Morrison. What a performance of hard-won joy! When he's onstage, he never stops smiling or bustling or pouring drinks. He pitches his voice high above Angel's, playing the countertenor to her showgirl alto, delivering reassurances and warnings and revelations of heartbreak all in the same airy tone. Cleage has written a richly complicated part, strong and vulnerable, bitter and light at once. So Morrison sweeps through his scenes like a busy taffeta curtain, cleaning and brightening as he goes.
My third man of the week has got to be Johnny Wu, playing George in Christopher Chen's The Headlands at LCT3. Like Ngo, Wu gets to play his character in two different eras, though Wu's exquisite technical control lets him play that transition with stillness and nuance instead of Ngo's noise and contrast.
A young, film noir–obsessed Google employee Henry (Aaron Yoo) talks directly to the audience, telling us about the cold case of his father George's long-ago murder. We believe and disbelieve him: Grief at the recent loss of his mother (Mia Katigbak) is destabilizing the grown Henry's own ability to tell, or even understand, his story. In Henry's "reconstructions" of the past, we see George both when he was wooing Henry's mom (her younger version played by Laura Kai Chen), and later, when a 10-year-old Henry knew him. Filtered through Henry's imagination, George is sometimes a swoony heartthrob — his '70s self swaggers like a '40s Robert Mitchum — and sometimes a standard-issue '80s dad. Mark Barton's lights shift a little, Wu adjusts his shoulders, and he becomes a different hero out of a different past.
Knud Adams's production, filled with gorgeous, 270-degree wraparound video (designed by Ruey Horng Sun) evokes San Francisco, the way fog lies both in the hollows of the city and in Henry's mind. But for all that misty atmosphere, Chen's text seems to have been stopped halfway through. The plot's mysteries turn strangely inert, the explanations and complications of Henry's twisty mental state have no time to unfold. It feels, occasionally, like Chen has written the prospectus for a miniseries. There's promise, but this short play remains partial and undeveloped, something with just a beginning, really, and an end. But while The Headlands may not have much of a middle, Johnny Wu's George does at least give it one hell of a center. A single character, beautifully played, may not be enough for a play — but he's more than enough to remember.
Cambodian Rock Band is at the Pershing Square Signature Center through March 14.
Blues for an Alabama Sky is at Theater Row through March 14.
The Headlands is at LCT3 through March 22.