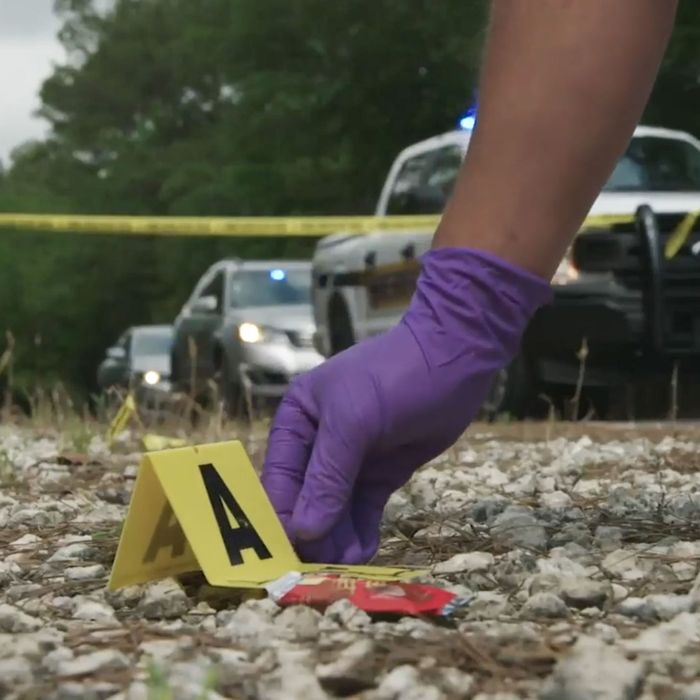 When Forensic Files (original title: Medical Detectives) debuted on TLC in April 1996, DNA analysis was still a nascent, often-misunderstood technology — so much so that just six months prior, a Los Angeles jury acquitted O.J. Simpson on two counts of murder, despite the kind of damning DNA evidence that would likely put anyone behind bars today.
That collective shrug regarding forensic sciences would soon evolve into an intense fascination, however, thanks in part to shows like Forensic Files, with its pulpy reenactments and velvet-voiced narrator Peter Thomas demystifying terms like "gas chromatograph-mass spectrometer." During its 406-episode run, the series covered a mix of high-profile killings, medical mysteries, and tragic accidents. It concluded in 2011, but gained a devoted following in reruns: When HLN began airing old episodes in 2012, often comprising more than half of its weekly lineup, they frequently outperformed the network's live-news programming.
It would seem a no-brainer, then, to revive Forensic Files given the current state of true-crime mania. But series creator Paul Dowling — often citing the 2016 death of Thomas — has long resisted overtures to bring back the show. That is, until now. Forensic Files II, featuring 16 new episodes, will debut February 23 at 10 p.m. on HLN. How did the network finally persuade Dowling? Persistence, says Nancy Duffy, an executive producer of the series.
"We were asking and other networks were chasing him," she said. "I think finally he just said, 'You know, maybe it's time to bring Forensic Files back.' Technology has advanced a lot in nine years, and there are a lot of really great stories to be told through the forensic tools that have been achieved."
First, however, producers had to fill the sonic hole left by Thomas's passing. Duffy and her team worked with Dowling, who has a "based on a show created by" credit on this new series, to find the perfect voice. "There was no way we could ever find someone who sounds like Peter Thomas, nor would we want to," Duffy said. "But we needed to find somebody that was the right voice to take on this new version."
After a long search — which, according to Dowling, included a conversation with Peter Thomas's son, Peter Jr. — that right voice turned out to be Emmy-nominated actor Bill Camp (Joker, The Night Of). "He has got a fantastic voice. He was also, as it turned out completely coincidentally, a really great fan of Forensic Files," Duffy said.
The addition of a different narrator, however, wasn't enough to telegraph that the series was brand-new. The network also had to overcome its own marketing strategy, which for years touted "new episodes" any time HLN acquired reruns that had previously aired on other networks. That meant crafting a title that would convey the idea of "new" without actually using the word "new." After much debate among the team, they decided on Forensic Files II.
Duffy said they felt strongly about keeping the previous name intact, as the series will hew closely to the original in look and feel. The same funky theme music — albeit rerecorded — will play over the opening credits. The same talking-head interviews will be used to explain the intricacies of each case. There will even be reenactments, though they'll get a "more impressionistic" makeover. "We use a movie camera," Duffy explained. "We don't use dialogue in our recreations and we don't shoot faces, like lookalikes or actors." The stand-ins, she added, are actually HLN producers, staffers, and other WarnerMedia employees — typically fans of the series or people who fit a necessary physical description.
With the production plan in place, Duffy and her team worked to winnow down a list of 40 or so prospective cases down to the 16 that would air. Their No. 1 criterion? The science had to do the talking. "There are so many great true-crime stories," Duffy said. "If the crime was not solved in some way through forensics, it would be a great story on many other shows, but not on this show."
With that in mind, Duffy cultivated her final dossier — a mix of cold cases and more recent investigations — that she felt exemplified modern forensics. Technology has changed a lot since Forensic Files ended, and so many new techniques will be highlighted in Forensic Files II. The emerging practice of genetic genealogy, made most famous by the 2018 arrest of the alleged Golden State Killer, will be featured in one episode. Another case highlights a tool offered by Parabon NanoLabs that purports to draft a sketch of a suspect using touch DNA. That technology, known as DNA phenotyping, is in its infancy, however, and experts have been skeptical about its accuracy; there are currently no peer-reviewed studies to support Parabon's claims.
Of course, rapid advancements in forensic technology haven't come without pitfalls. Once widely used techniques such as bite-mark comparison and bloodstain-pattern analysis have been essentially debunked, but only after they've led to wrongful convictions of innocent people. Duffy acknowledges the controversy surrounding junk science, but says the cases in Forensic Files II don't rely on a singular piece of evidence.
"There's been a lot of controversy about blood splatter and also some hair-fiber analysis, but none of the stories in these episodes is hanging on one controversial piece of science," she says. "It's the combination of your DNA, your blood type, even the forensics of cell-phone technology. It's not just about DNA anymore, right? It's about IP addresses that you think you got rid of. It's security video. We use the confluence of tools available to law enforcement and piece together these mysteries and how they solve them."
And so, Forensic Files II will enter a crowded true-crime landscape populated by approximately 984 Blue Apron–sponsored podcasts and a new Netflix documentary every other week. Once the innovator, the series is now playing catch-up. But for Duffy, the success of the show will boil down to good storytelling and compelling forensics. "It's about the science and the scientists and the investigators, and the evolution of these tools that they're using to solve what would possibly be a perfect crime, if not for the science," she said. "Other shows don't really do that."