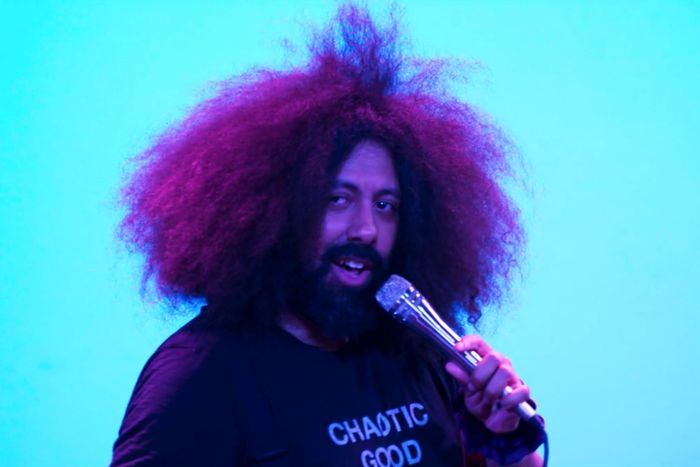 Spend your Valentine's Day listening to this guy.
Photo: Netflix
What is love? Baby … don't hurt me, but you've got to love the way comedy music has progressed and expanded in the last two decades. A genre once defined solely by one curly-haired parodist now boasts a veritable canon of material provided by shows Crazy Ex-Girlfriend and Big Mouth; sketch groups like the Lonely Island; guitar duos like Garfunkel and Oates, Flight of the Conchords, and Tenacious D; and artists like Reggie Watts, Bo Burnham, and Awkwafina. 
So for Valentine's Day, we're taking a look back at 16 of comedy's best anthems, bops, ditties, and jams about love — and not exclusively a bunch of sex songs. Love is a feeling, an act, a person, a state of being. There are a lot of ways love makes us insane, and that's why we're all here, isn't it? Let's see what comedy music's had to say on the subject.
"My Bologna," "Weird Al" Yankovic (1983)
Weird Al's best love songs are about food, and that's nice. You know who loves eating? Everyone. And you can feel the love in this highlight from Yankovic's debut album. You can hear the love in the way he rocks the accordion with more kinetic energy than the source material as he sings passionately about the bologna, even as it leads to self-destructive ends. If that's not love, what is?
"Business Time," Flight of the Conchords (2008)
It's the driest sex jam ever made, but it's also an ode to the comforting familiarity of adult partnerships. Jermaine Clement flatly observes that the couple's love-making rituals are barely distinguishable from their domestic chores: "Then you go sort out the recycling / That isn't part of the foreplay / But it's still very important."
"Fuck You," Garfunkel and Oates (2009)
Riki Lindhome and Kate Micucci have created a number of sweetly comical songs about sex and dating throughout their career, but this early song from their first album Music Songs is one of their best at encapsulating the exciting feeling of falling in love and finding humor in the awkwardly intrusive thoughts that ensue.
"I Just Had Sex," The Lonely Island ft. Akon and the Roots (2011)
The live version from the 2011 Comedy Awards is better than the SNL or album version for two reasons: One, it just sounds better — the Roots give the music a fresh energy, and Andy Samberg's delivery is more vibrant. But it's also better thanks to the liveliness of the performance, especially in this setting. If you look close enough, the awards-show crowd is enjoying it, but the table seating makes the reaction feel limp, creating an awkwardness that fits the subject matter. Akon looks like he's having a blast lip-syncing and jumping around as Jorma Taccone sheepishly bops near the group of choreographed backup dancers. Samberg ends the song not with a mic drop for a cheering crowd, but with an ironic yelp of "COMEDYYY!!" to polite applause. By no means was their performance a bomb, but still, the flop sweat works in their favor.
"My Vag," Awkwafina (2012)
Awkwafina said she wrote this on a whim after hearing Micky Avalon's "My Dick," which makes sense, but it's more generally a take on the countless songs from men boasting about their ding-dongs. The rhymes come in couplets of mine-versus-yours boasts and putdowns, like "My vag like an operatic ballad / Your vag like grandpa's cabbage." More recently, Awkwafina's "Pockiez" from her second LP in 2018 would be another contender; it serves as a kind of spiritual sequel with a similar delivery style, but the brags are about her ethnicity instead of sex. Tough call — they're both good displays of a kind of prideful self-love.
"The Ballad of Hollywood Jack and the Rage Kage," Tenacious D (2012)
Tenacious D's songwriting has always had these three strengths: self-mythologizing themselves as god-like adventurers, imitating classic rock tropes with equal doses of mockery and sincerity, and songs about their dysfunctional friendship. This song combines the three to tell the story of what's become of the D since their debut, now almost 20 years ago, and the divergent career paths Jack Black and Kyle Gass have taken. Black's voice evokes Springsteen-Seger sweeping rock power ballads, and there's an adorably sad flute solo from KG that sounds like Led Zeppelin scoring Lord of the Rings. The lyrics don't have to embellish their actual story to give it the same epic feeling as "Wonderboy" or "History" — it's like a sequel to one of their first songs "Kyle Quit the Band" with more lived-in depth. The D have other songs that are funnier, hornier, and rockinger, but none lovelier than this one about their unique bond.
"Always Love Yourself (A Song About Apples)," Reggie Watts (2016)
Reggie Watts is a dynamic, multifaceted performer whose improvisational music is best experienced live. This makes him well-suited for his most well-known role as bandleader for The Late Late Show and Comedy Bang Bang, but it also means Watts's music is largely ephemeral and unpreserved, and that's part of the magic of it. As fun as "Fuck Shit Stack" is, this song from Watts's 2016 Netflix special is a spiritual meditation on love, forgiveness, jealousy, and empathy. Watts allows himself room to create real moments of emotional vulnerability, then naturalistically blend it with complete goofery, like this: "It feels so good to be / Slightly addicted to someone that you feel you can't learn about / But don't worry now / 'Cause there's more / A-kissing and a-smooching and a-smoochin …" It's awesome.
"Gettin' Bi," Crazy Ex-Girlfriend (2016)
There's also a version of this list that is just songs from Crazy Ex-Girlfriend — here's a ranking of all of them — but this one from season one's "Josh Is Going to Hawaii!" is a major standout. Pete Gardner and Adam Schlesinger use a sax-driven rock riff, in the vein of Huey Lewis, to make jokes at the expense of common misconceptions about bisexuality. The lyrics and delivery are more in the vibe of dad jokes than killer punchlines (which suits Darryl's character), but the specifics ring true, in part because the writers' worked from a list provided by GLAAD. It's goofy and lovely.
"Oh My God I Think I Like You," Crazy Ex-Girlfriend (2016)
This song from season one's "Why is Josh In a Bad Mood?" is one of the show's best songs about the feeling of helplessness when falling for someone. As Rebecca (Rachel Bloom) realizes she's becoming more serious about her casual hook-up Greg (Santino Fontana) against her better judgment, she sings about being unable to stop her mind: "Is there an I-UUUU-D that can stop the image of yooooou and meeeeee?" Bloom's lyrics are creatively raunchy with absurd specifics ("It's D-Day in my ladyparts"), and the visual descriptions are funnier with each example: "And as I'm upside-down by the kitchen sink, in my heart I think, Oh my God I think I like you … Oh my God I think I like you …"
"Finest Girl (Bin Laden Song)," The Lonely Island (2016)
There are a lot of comedy songs that parody the sex jam — including a number of memorable ones just from The Lonely Island — but what makes this one special is Samberg's commitment to honoring his partner's highly specific request, no matter how unusual: "She was a freaky kind of girl / Kept up with current events from all around the world / More specifically one event / The time Osama Bin Laden got shot in the head." It's a shame the film this song comes from, Popstar: Never Stop Never Stopping, wasn't the blockbuster hit it should've been, but at least we have the soundtrack — "Mona Lisa" and "Incredible Thoughts" are also standout tracks.
"Totally Gay," Big Mouth (2017)
From the third episode of the animated Netflix series about puberty, love, and sex, this is a big show-stopper in the style of Queen, featuring a spot-on vocal impression of Freddie Mercury (Brendan McCreary), who encourages earnest pubescent Andrew (John Mulaney) to embrace being gay: "Everyday is a non-stop cabaret!" In the show, Andrew decides he's straight, but the song is a wonderfully cheeky celebration of acceptance and was nominated on its own for an Emmy, Annie, and Dorian. It's sweet!
"We'll Never Have Problems Again," Crazy Ex-Girlfriend (2017)
Like "Oh My God I Think I Like You," this song, from season two episode 10, is a great take on way love requires an element of self-delusion to make certain narratives work, especially with relationships. Accompanied by an '80s Soul Train disco track, Rebecca and Josh (Vincent Rodriguez III) project endless optimism for their rekindled relationship, forecasting only sunshine and rainbows because they refuse to consider any other possibility: "Remember back when we had problems? Oh man. That was annoying! / But now our love has magically solved them / And there won't be any more in our future at alllll!" As is the case for so many of the songs from CXG, it's equal parts crushing and empowering.
"Let's Generalize About Men," Crazy Ex-Girlfriend (2017)
From the third season premiere of CXG, this '80s power-pop anthem — performed by Bloom with Donna Lynne Champlin, Vella Lovell, and Gabrielle Ruiz — is a love song for female friendships and the simple pleasure of trashing men as a show of support. The lyrics indulge and skewer that ritual, contorting to notate each blanket claim with an anticipatory #NotAllMen qualifier: "All men are completely repressed / All men only want to have sex / There are no exceptions / All three billion men are like this / All 3.6 billion men."
"Farley," Adam Sandler (2018)
From his unexpected and great Netflix stand-up special 100% Fresh, Sandler's tribute to dearly departed friend and SNL co-star Chris Farley is a touching, warm, funny reminder of the value of appreciating your friends while you still have them around and the unfillable absence that comes after they're gone.
"I Love My Body," Big Mouth (2019)
Maya Rudolph singing a Gloria Gaynor–esque disco tune is a great idea and always welcome. In the third episode of Big Mouth's second season, Rudolph's Hormone Monstress character appears to Jessi when she visits a Korean spa and sees a variety of nude female bodies on display. It's an infectiously funky bop with a body acceptance and self-love theme that finds comedy, even divorced from the animated visuals, in its gleeful descriptions of anatomy: "Every wrinkle, pimple, dimple / Big or small / My booty is a beauty / My boobs a work of art / My love handles my bat wings / I love every single part."
"Grandma's Boyfriend Paul," John Mulaney & the Sack Lunch Bunch (2019)
Written by Mulaney and Marika Sawyer with composer Eli Bolin, each song from The Sack Lunch Bunch features a different singer, yet maintains a consistently sharp and comical approach presenting a different curiosity from a child's perspective. This song, performed by 12-year-old Jake Ryan Flynn, tells the story of Grandma's controversial new romance: "I asked Mom, 'What's the fuss? Grandma's in love again' / Mom said 'But Paul, he's always hummin' Gilbert and Sullivan' / That ain't fair to Paul, That he shouldn't hum at aaaaalll …"  It's a uniquely silly way to observe the complicated dynamics new love can bring, and the ways we can feel justified in shutting that down based on our own prejudices. It's a thoughtful and empathetic way to find material for a great comedy love song.