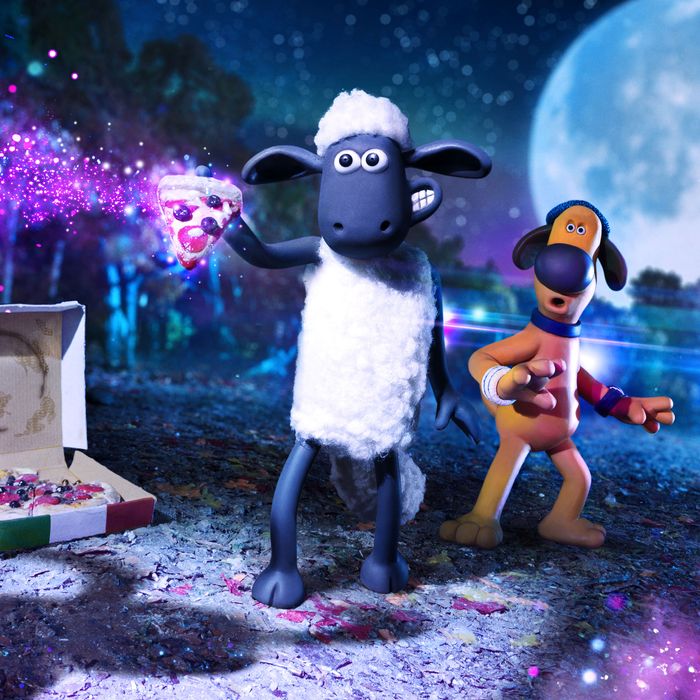 Shaun the Sheep and Bitzer
Photo: Netflix
Aardman Animation's first Shaun the Sheep movie, released five years ago, was a curious little masterpiece of visual storytelling and humane shorthand. In 85 tight, wordless, stop-motion minutes, it entertained us with the spectacle of simultaneously escalating disasters, without skimping on delicate character moments. I really felt for those disorderly sheep, their uptight but loyal dog Bitzer, and that somewhat clueless farmer known only as the Farmer; hell, I even felt for the scary dogcatcher dreaming of glory. Of all the many animated films to open over the past decade or so, it's one of the few that have really stuck with me.
Of course, Shaun the Sheep — which was spun off from Aardman maestro Nick Park's widely beloved and Oscar-garlanded Wallace & Gromit shorts — also happens to be a massive international TV franchise, with holiday specials and theme parks and all sorts of merchandise making it a branding Goliath. I don't know why, but I find that fact somewhat hilarious in itself, considering Shaun's gentle, unassuming style, built on old-fashioned silent-movie slapstick and generous characterizations.
A Shaun the Sheep Movie: Farmageddon, now on Netflix, has some of those same qualities, but it's a blunter, more predictable affair. If the earlier film had the accelerating slapstick lunacy of Laurel and Hardy on magic mushrooms, this one has taken E.T. the Extra Terrestrial as its inspiration. It opens with a flying saucer awkwardly landing in the woods of quiet, provincial Mossingham. The ship's sole passenger is a cute, unassuming little blue alien whose long ears allow her to control and move all sorts of objects. Known eventually as Lu-la, the alien falls in with Shaun the Sheep and his crew of irascible farm animals living on Mossy Bottom Farm, and they decide to help make her way back to her spaceship. Lu-la, we come to understand, is really just a baby who crawled out of her alien crib one night and unwittingly took the family saucer out for a joyride, accidentally setting course for the blue planet across the galaxy. She has great powers, but she's not exactly a fully rational adult. Nor, for that matter, are all those sheep.
Complicating matters is the fact that word has gotten around Mossingham that a spaceship might have landed. Onlookers and sinister, X-Files–style government investigators — led by the stone-faced, determined Agent Red, who may have once seen this same race of aliens as a kid, only to be made a laughingstock at school — are out to find Lu-la as well. Meanwhile, the dim dreamer Farmer of Mossy Bottom has concocted a scheme to build an alien amusement park in order to get enough money to buy a fancy new thresher. (People's fantasies in this series are always so disarmingly modest.)
But the character details are a little more rote than usual this time around, and the film's dedication to avoiding all dialogue and using entirely visual storytelling, while still more than welcome, now relies a bit more on characters pointing to pictures and signs to get their point across, which feels like a cheat. There are still plenty of winning sight gags, too, such as a giant "Aliens Caught" digital ticker at Agent Red's headquarters, or the bit where Shaun, Lu-la, and Bitzer, desperately trying to control the runaway flying saucer, accidentally teleport a bull off a nearby farm into the cockpit and then promptly teleport it back down to the ground — straight into a china shop. Farmageddon made me laugh quite a few times, and kids will probably love it. But it can't quite measure up to the glories of the first Shaun the Sheep film.