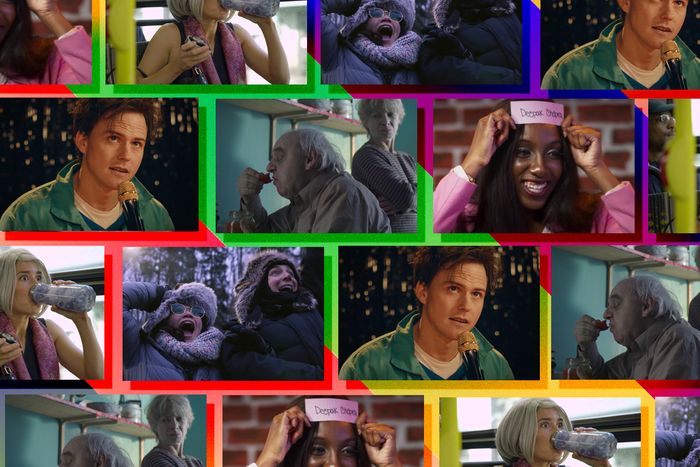 Photo: Vulture, YouTube and Vimeo
Each month, many funny videos are posted to every corner of the internet — from Twitter to Instagram, Vimeo, and sometimes other weird places we'll have trouble embedding. Because you're busy living your life, you might miss some of these funny videos and feel left out when others bring them up in conversation. Well, worry not! We're here to make sure you're not listening in on conversations but leading them … as long as those conversations are about funny internet videos. Here are our favorite comedy shorts of the month.
A White Woman Takes the Bus Like Everyone Else, by Sheila Carrasco
Column fave Sheila Carrasco plays an uppity white woman who takes the bus for the very first time on a "go green transport day" and then … doesn't shut the fuck up about it once she gets to the office. Delightful cringe. Even more delightful wig on Sheila.
'Birds of Prey' Review, by Dan White
The release of Birds of Prey this month brought out the worst from the more toxic corners of the internet, parodied here by Dan White in a shockingly thorough Jared Leto Joker cosplay, ranting about the film's perceived failures alone in his car. However, this quickly takes a turn for the even more pathetic, as White is interrupted and has some vulnerable secrets exposed for the world to see.
Bogdan and Rose, by Milena Dutkowska
Okay, so this one … not what you'd call an "upper," but it's brilliant. Director Milena Dutkowska straddles the line between misery and tender hilarity in this Polish-language short that features almost no language and still simmers with tension between old married couple Bogdan and Rose.
At every hour of every day, all over the world, human beings are trying to one-up one another at dinner parties. In Elizabeth Zephyrine McDonough and Marc Philippe Eskenazi's new short for The New Yorker, a particularly insufferable class of bourgeoisie bullshit artists are on full display. (Watch it here.)
Former Bloomberg Employee Hired by Bloomberg to Speak About Her Experience, by Ginny Hogan
Presidential candidate and 30 Rock guest star Mike Bloomberg was taken to task for his detailed history of sexual-harassment allegations, as well as his unwillingness to release women bound by NDAs so that they can share their side of the story. Thankfully, that won't be necessary, as one woman (Ginny Hogan) has come forward totally independently to say in no uncertain terms that she absolutely and unequivocally was, in a certain sense, not harassed by, technically, Mike Bloomberg.
Hands Have It Rough, by Nick Mestad and Whit Conway
This extremely charming short from comedian Nick Mestad and director Whit Conway inventively takes on the perspective of a hand, whose involuntary journey throughout the day is filled with endless discomfort, with flashes of joy that are quickly cut short. And even if it's basically just two eyeballs, I gotta admit: The hand has a lot of charisma.
Model Minorities, by Ziwe Fumudoh
If ever Aparna Nancherla's status as an emerging national treasure were placed into question, this episode of Ziwe Fumudoh's series Model Minorities will silence all critics. In this short, Ziwe tries to bait Aparna into saying something — anything — pejorative about another race (this is the tongue-in-cheek point of the series) and she just … won't. Magical.
My Brain, by Rachel Pegram
Ever wonder what women really want? No, Mel Gibson has no idea (remember that movie?). Rachel Pegram knows, though, and it's pretty simple: She doesn't want to be killed by a man. Sound horrifying? It is. There's comedy in tragedy.
Partied to Death, by Whitmer Thomas and Kailee McGee
Speaking of comedy in tragedy, here comes a music video from Whitmer Thomas (whose special just dropped on HBO) and Kailee McGee, in which Thomas enters a dive-y karaoke bar then proceeds to scintillate the crowd with a techno-pop rendition of "Partied to Death" that explains why Thomas doesn't drink or party. His mom was a raging alcoholic. Avant-garde? Yes, we cover all kinds here.
Six Messages, by Anthony Oberbeck
Anthony Oberbeck plays a depressive who's just left a "high profile" job in … shoes. A shoe company. Or something. Whatever, it's not really clear. The point is, the six voice-mail messages Oberbeck listens to (from his brother, his mother, his boss, etc.) build to a truly chilling and hilarious final reveal as we see the pool he's sitting by contains a big surprise.
This Is for Everyone Who Hates Dancing and Is Bad at It, by Rebecca Weiser
This great stand-up clip from comedian Rebecca Weiser hits on some subtext for people who tell you they just aren't really into dancing in front of others. It's not simply shyness. "If I wanted to show people that I can't fuck good," says Weiser. "I'd just fuck them." Fair point.
Tracking Down the Legendary Groundhog in Punxsutawney, by Sandy Honig and Peter Smith
In what is one of Comedy Central Studios' most subtle pieces to date, Sandy Honig and Peter Smith head to Pennsylvania to highlight the absurdity of Groundhog Day (not "Groundhog's," as we learn — no fucking "s," all right?) while at the same time paying a pretty poignant and purposeful homage to the whole tradition. Also, Punxsutawney Phil is really cute.
Valentine's Day Thoughts From Girl in Relationship, by Alyssa Limperis
Few do the choppy, rapid-fire, front-facing character video better than Alyssa Limperis, here showcasing a woman (co-written with Emily Murnane) in a relationship whose showy, tone-deaf jealousy toward someone who is single on Valentine's Day barely conceals what is clearly a deeply fulfilling romantic life. Who needs "20 dozen" flowers delivered to their office when they could just stay home alone?
Like what you saw? Want to be on this monthly roundup? Show us your stuff! 
Luke Kelly-Clyne is president at Big Breakfast and a watcher of many web videos. Send him yours at @LKellyClyne.
Graham Techler performs at the Upright Citizens Brigade Theatre and contributes writing to the New Yorker. Send him your videos at @gr8h8m_t3chl3r.