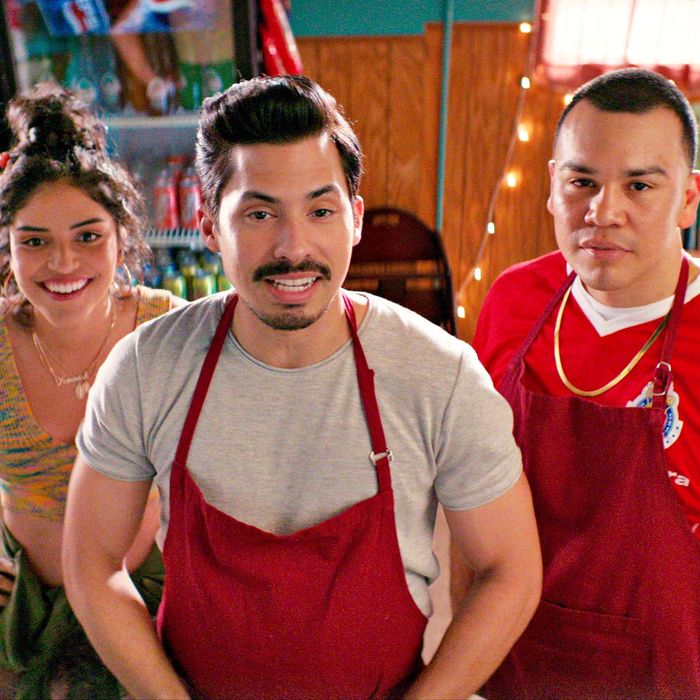 Actor J.J. Soria walked into his Gentefied tryout wearing a tracksuit and exuberantly reading names off his phone to individually greet his auditioners. "I'm a star and I got this," he told the producers and casting director, figuring he needed to match the energy and bravado of the Chicano character he hoped to land.
He wasn't wrong. He also wasn't wrong when he screen-tested with other actors to round out the Morales family at the heart of the show and came across Karrie Martin and Carlos Santos. "We were outside reading together, and we were living in these characters right away," Soria said. "I just knew, this is it. The three of us are this show."
Co-creator Marvin Lemus had that same feeling. "The first time they all walked in together," he said, "I pulled out my phone and started recording them without making it obvious, because just seeing them together, it was the show. This is it. These are the cousins."
Soria, a Mexican-American from Los Angeles, was cast as Erik, a tough bookworm who is about to become a father. Martin, who is Honduran and grew up in New Orleans, became Ana, a queer artist with big dreams. Born and raised in Puerto Rico, Santos was hired to play Chris, an aspiring chef with profound identity issues. "We weren't looking necessarily for what the industry might want, but for the people who would make you feel like you know these people," co-creator Linda Yvette Chávez said. "That's what they all were."
Vulture gathered the three actors at Netflix headquarters recently to discuss their first series lead roles and what performing on the show, which dropped on Friday, means to them as Latinx actors.
Why did you want to play these characters? 
J.J. Soria: It was the first time that I read something and I went, "That's me." The character, the world, the show, it all embodied my experience. The way they communicated, that's how me and my family talk. All the shit-talking, that was a piece of my life. So that's why I considered it, and thank goodness I did. The family I've created because of this show will last longer than the length of the show.
Carlos Santos: I've been in a weird limbo my whole life because I'm either too young for the dad roles, too old for the high school roles, or too something. And I'm always fighting to show that I can be something that I'm not. I know I can get there as an actor, but unfortunately, we're in an industry that only allows you to do what you look like. When we started doing the series, it's like something took over. It was the confirmation that when you are given the opportunity to play something that you can do, without being the janitor or the assistant, it works. We're getting away with something really special, which is to be authentic without having to compromise. It's a blessing and it's a confirmation because, when you're a minority, you're not always put in the position where you're allowed to show what you can do.
Karri Martin: In this industry, it's always Oh, this is Latina, she has to have an accent. Y'all, I do not have an accent!
Carlos Santos: She says 'y'all!"
Karrie Martin: Exactly. I probably have too much of a Southern accent for some. Ana is so unlike me, or at least that was my idea when I went into it. I thought, I'm going to have to bring a little New Orleans to this because I don't know who Ana is or what she stands for. And when I got the job, I remember Marvin saying, "Thank you for just being you." That just filled me up. Who Karrie is is enough. What we bring and how we fill the space in those rooms, it's enough. I remember my mom saying the first day, "How does it feel?" And I was like, "Mom, it feels like I'm home." I felt like I belonged. Ana made me realize that I can stand in my power. I can be unapologetic with myself.
Carlos Santos: There's a privilege that actors that are not minorities get to have, which is that you're enough. I've been doing improv for a long time, and I didn't do improv in Spanish 'til very recently. The second that I started doing that, my improv exploded. And I realized that when I was able to do it in my native language, and I was able to do it in front of a crowd that I didn't have to [make] them understand, it was 100 times better. And it helped me to get better in English. When you get the opportunity to not have to deal with the limitations we have in the industry, it's transformative.
J.J. Soria: God damn, I'm ready to go back to work! There's a lot of things here that are true in my own life. The relationship that I have with Chris is similar to the one I have with my cousin Artis, who's like a brother to me. The bantering, the talking shit. The relationship that I have with Renee, my cousin, is the same relationship I have with Ana. The inner conflict that Erik has is one that I have had in my own life. Even though I'm so confident, there have been occasions where I've felt that way.
Carlos, do you have culinary skills, like Chris?
Carlos Santos: I've been away from my family for such a long time, so I had to learn. I think my way into Chris has been that little brother energy that I was cued into from birth. I've always been the youngest with my friends and my family. I've always had this mascot mentality, and Chris is definitely trying to belong so hard. To a fault.
Karrie Martin: But the funny thing is — we always joke about this — that's how he was on set, too. Things accidentally happened where he was always the one left out, with jokes or little conversations. So without being Method, he was Method.
Carlos Santos: I lost all my grandparents by the time I was like 8 or 9. My sisters are ten years older than me. So to have that experience again with [Joaquín Cosio, who plays Pop] … I'm not gonna cry! [Chokes up.] Dammit, okay, I'm fine. Because I haven't had that experience in such a long time, you store it in the back of your head, and then there's just so much nostalgia for that grandparent. There's very little acting when you get down to it, because you're experiencing what's happening in a very real and guttural way.
The show isn't just about laughs, but in episode three, Carlos, you got to take the Mexican test, which is hilarious.
Karrie Martin: I feel like that was such a huge moment for you because of your improv. That was so you.
Carlos Santos: It's very special because I finally got a place where I was able to use so many different tools. I've been a physical actor, obviously. I'm not a professional athlete, but I've always been athletically minded. So to be able to imbue that into this character, where he earns the right to be physical, he earns the right to be crazy or frustrated or sad, the different palettes of comedy that I was able to play with. To have that scene, and to have the rave scene—
I was going to bring that up. The only nudity of the show!
Carlos Santos: Yes, guys, it's on my shoulders. Or on my butt! Whatever!
Was it fun for you?
J.J. Soria: We were all there!
Carlos Santos: They didn't have to be.
J.J. Soria: Just to watch it. To be supportive!
Carlos Santos: And I don't know what to think about that. Everybody's so supportive.
Karrie Martin: The entire cast had gone just for those few hours.
J.J. Soria: It wasn't like we shot day for night. It was late and we all came.
Carlos Santos: It was the last shot of the night. That was one take. I will do anything for the service of comedy, in the service of something that is not gratuitous. I stand on the shoulders, or butts, of other great performers like Dennis Franz in NYPD Blue and Will Ferrell in Old School. [Everyone laughs.] No, I never had an issue with it. I had never done that before, but it felt right.
And Karrie, you had that fun dream sequence in episode five, where you're dancing in the blue suit and tie.
Karrie Martin: I was so excited to do that scene when they told me I was gonna dance. I was like, "Oh, dreams do come true." Even prior to having booked this, I was like, "Man, I would love to dance in a show." I [danced] competitively for a while. It was so much fun. We learned that, oh my gosh, like in two hours.…
That day, in particular, was so special. I feel like that's also a turning point for Ana, to realize she's worked for that moment and can afford her own paints. Man, when her mom threw away those paints! Oof. I remember Marvin being like, "Karrie, we don't yell at our moms like that." I was really in it, so I said, "Okay, I'll turn it back a little." It's true. In our Latino families, there's so much respect and we have to hold that in.
Carlos Santos: That's way more powerful, because I can see the frustration. You just want to punch a whole in the wall, but you can't.
Karrie Martin: She goes through such a beautiful realization where she's enough, but then people also take that away from her. Like when the mural is [graffitied]. I didn't see that mural the whole day. I didn't wanna know what it looked like. When they hit action is when I saw it. And it was so devastating.
I feel like [Ana's] story is so important because when we have immigrant parents, they're just like we need to work, we need to have a better life for each other, and I don't think the arts are something that they think of. That's how her mom felt. But I was so proud that she didn't give up. I want girls to be in all the mess and be okay with that, but move forward with it and strive for those dreams and those goals. Knowing our worth as individuals is important. We are Latinos accomplishing our dreams.
Carlos Santos: This whole thing is very meta. The characters are dealing with stuff that we're dealing with in the industry, and that's why it's exponentially even more raw and real. We get to the bottom of the truth 'cause that's the reality of human nature. The human condition is always gonna be the same, and then this story happens to be Mexican-American. But that's why it works for me. There's very little artifice. Obviously it's not going to be a reality show, but everything from the interactions to the way that it looks and it feels, it just feels like truth.
Karrie Martin: Whether you're Mexican-American, whether you're Latino or not, it's going to land. There are so many minority groups who are like how do I elevate myself? Keep pushing for it. Know your worth, know you're enough. That is such a theme with Ana. How I lived in her is knowing that you're enough to accomplish that. You deserve it just like anybody else.
Carlos Santos: The extra layer to that, which I think makes our show even more interesting, is about maintaining some kind of emotional balance with how you're affecting the community where you are from.
What was the most important part of this experience for you?
Carlos Santos: It's a confirmation that, as an artist, when given the opportunity to play something without limitations, I can get there. I was able to do that for 10 episodes, which is something I had never done before. It's a spiritual, energetic turning point and a confirmation that I am good enough to be in this industry.
Karrie Martin: I second that heavily, 'cause I've been talking so much about how we are enough. All I've ever wanted to do in this process was have the same feeling that other actors have. I cry in movies. I want to tell that story and make somebody just feel something that starts a conversation or helps them in some way. Somebody believed in me and for somebody to choose me to do that, that was just so special.
J.J. Soria: In the same vein, the opportunity to inspire others. I've done that in life, I worked with special needs kids for many years, but now to be able to do that through this work is amazing. I've had someone tell me that watching me do that, it made them see that it's possible. My gosh, my heart! There's going to be a lot of people watching this show that the experiences will resonate — the laughter, the heartache, the anger, the frustration. They're gonna be able to relate to it on so many levels. To be a vessel of that message — if I can do it, you can do it, no matter what profession — that is a beautiful thing and it's priceless.
Carlos Santos: It's not only relating to somebody that you see on screen, it's realizing that your experience is good enough to be put on a screen. As it is. That's very powerful.
This interview has been edited and condensed.