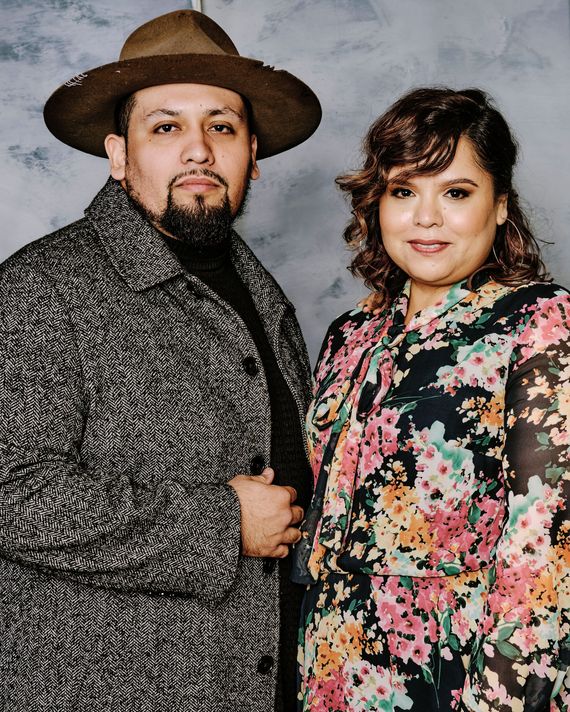 Gentefied
co-creators Marvin Lemus and Linda Yvette Chávez.
Photo: Michael Buckner/Deadline/Shutterstock
Marvin Lemus and Linda Yvette Chávez had never sold a TV script or even set foot in a writers' room when they visited network after network three years ago, speaking in Spanglish about brown love, familia, and the show of their dreams. Ten times, in front of some of the industry's biggest players, they pitched their dramedy, Gentefied.
Over and over at their talent agency's office, they had rehearsed the pitch — part autobiographical narrative, part stand-up act peppered with untranslated jokes — about an East L.A. neighborhood and the unabashed Mexican-American characters who live in it. They prepared so much they could talk four seasons into the show's future if someone asked. The long hours paid off: By the time their heady pitch tour ended, the showbiz newcomers, who grew up as first-generation children of undocumented immigrants, had landed six offers, a feat that would make Hollywood's highest-profile producers envious.
One network, FX, staked its claim on the spot, when an executive declared, "We'd love to develop this with you," halfway into their spiel. This is known as buying a project "in the room," but at the time, it went completely over Lemus and Chávez's heads. Not until they'd reached the elevators and an executive producer asked them how they felt did they realize what it meant.
"We were both like, Oh my God," Chávez said. "To know we had an offer was crazy, but to know that we had done that with our backgrounds and our passion and by fucking working hard, that was amazing."
Gentefied, which premieres today on Netflix, is a bilingual love letter to Boyle Heights, a Latinx neighborhood east of downtown Los Angeles and an epicenter of Mexican-American culture. The show's characters, like many of the people who actually live there, are hardworking immigrants and the descendants of immigrants caught between two worlds: the native culture they don't want to let go and the new one filled with promise. The community they call home is changing as affluent people move into apartment complexes and open trendy businesses, driving up the cost of rent and goods and services. Although the series never picks a side in the gentrification debate, it deftly shows the consequences of this type of social progress, all the while being funny as hell and introducing a fresh slate of impressive Latinx actors.
The show is also a love letter to its creators' backgrounds. In literal and nuanced ways, it paints a picture of Lemus's upbringing, as he both appreciated and distanced himself from his culture, while it also draws inspiration from Chávez's deep connections to her family's Mexican roots.
"Everything always came back to wanting to show the human side of what it meant to be us, our families, and our parents," Chávez said. "We weren't trying to show other people that we're good; we're showing ourselves that we are good. When I sit in a coffee shop in Norwalk, and I see a cholo come in with his kids, and I see a professional Latino come in, and an immigrant mama, I get emotional. I want to see that onscreen. That was our focus. How do we capture that?"
In his own life, Lemus feels he embodies the struggles that both the real Boyle Heights and the show's fictional version are confronting. The oldest child of a Guatemalan father and a Mexican mother, he moved many times during his childhood, attending 13 different schools in Bakersfield, the L.A. area, and Boise, Idaho. After his parents divorced, his Latinx identity became rooted largely in his mother's Mexican culture and the conservative desert town where her family lived. But even there, Lemus, a stand-up-comedy fan who had aspired from a young age to be a director, never felt completely comfortable, especially as he grew older and more educated. "My entire life, the question was, Where the fuck do I belong?," Lemus said. "Why can't I find something that feels like home?"
He'd thought he found it when he moved to East Hollywood in 2014, four years after graduating from the Art Institute of California. Living in a predominantly working-class Latinx area reminded him of his grandmother's Bakersfield neighborhood, with its loud parties and an elotero who swung by every day. But as new businesses moved in — a cupcake shop here, a new sliders restaurant there — he realized he identified more with the hipsters than with the family of four living in the studio next door. "I was part of the change coming into the neighborhood, even though I grew up in a neighborhood just like this. And it was devastating."
Around the same time, Lemus began dating a woman he describes as an "almost militant" Chicana, who introduced him to Boyle Heights and took him to neighborhood gems like the Mariachi Plaza wine bar Eastside Luv. "I had never experienced a place that was Mexican and American and they were doing both proudly," Lemus said. "This was all of me, all of my identity in one place." Eager to learn more, he started reading about gentrification's effect on Boyle Heights and found himself once again asking the questions he had pondered his whole life: "Where do I belong? Where is home?"
Lemus channeled his internal conflict into a premise for a comedy exploring both gentrification and gentefication — the gentrification of Latinx neighborhoods by Latinx people — through several characters that end up at a Boyle Heights bar over the course of a single day. He mentioned the idea to Aaliyah Williams, chief content officer at the inclusivity-forward media company Macro, who was looking to finance a narrative web series and had previously hired Lemus to direct a project for Russell Simmons's YouTube channel. She brought the idea to Macro founder Charles King.
"When they pitched this idea of gentefication, a term I'd never heard, I just sparked to it," King said. "I knew Boyle Heights as a robust neighborhood with legacy and history and lots of culture, and I loved Marvin's directorial work, so it was a no-brainer for me."
With King's support, Williams gave Lemus the green light to look for a writing partner. He began his search for a Chicana comedy writer from L.A. by reaching out to Film Independent, a nonprofit at which he'd done a filmmaking fellowship in 2015. Enter Chávez, who had just spent six weeks in Film Independent's screenwriting lab honing her most cherished script, a feature film titled Fieras, about her grandmother's illness and death, female relationships, and feminism.
When the head of the fellowship approached her on Lemus's behalf, Chávez had only one question: "Is it paid?" She had plenty of reasons to be wary. A Star Trek obsessive who had dreamed of making TV shows as a kid, Chávez studied at Stanford University under the tutelage of feminist Chicana poet and playwright Cherríe Moraga, only to run up against obstacle after obstacle when she moved to L.A. and earned a master's in fine arts from USC in 2007. "To go from my world with Cherríe and all these black and brown people talking about healing and activism and 'Fuck yeah, social-protest theater!' to USC, where everything is driven by money, was bleak," she said.
Chávez formed a company with friends, shooting parodies and helping Univision launch a digital network for Latinxs. "But that whole time, I still had imposter syndrome," she said. "A lot of the folks I came into contact with made me feel that I wasn't good enough." After shutting down their company nearly five years ago, Chávez revised the feature about her grandmother and applied to the screenwriting lab, but in her heart, she was ready to give up. She remembers lighting a candle and talking to her grandmother's spirit. "I told her I can't do this anymore," she said. "I'm exhausted. I keep fighting people who don't want to hear our stories. I keep begging for people to see us as important. I can't keep struggling financially to do what I think is my calling."
A week later, Chávez was accepted into the lab, a six-week experience she calls "the most soul-gratifying artistic replenishment." Soon after she completed the program, Lemus emailed her. "The first thing I did was see his name and think, This is a white man telling me a story about East L.A. What is this?," Chávez says, laughing. But then they met.
Lemus shared his idea for an anthology web series set at a Boyle Heights bar, quickly adding that they could also start from scratch. "I just wanted to do something that felt Chicano, that's cinematic, that was about identity, and for the characters to look and talk like me," he said. "I wanna see the homeys, the compadres, and I want it to be bilingual. And I told her I want it to be the best thing possible."
"I thought, This dude's crazy, but I like it," Chávez recalled. "I had been wanting so desperately for years and years to have the opportunity to talk about all of these things. And I was like, We get to do seven short films? And get paid? Wait, for real?"
For four months, they met every day at Primera Taza, a Boyle Heights coffee shop that has since lost its lease and moved to the Arts District. There, owner Chuy Tovar served them café de olla every morning as they "trauma bonded" over their personal histories. "As we talked about our families and our issues, it would help us with the characters," Lemus said. Quickly, they became like siblings; he hung on every word she spoke about her tight-knit family, and she fed off his upbeat confidence and vulnerability. They designed each of the seven episodes around a main character, though several of them overlapped, and one, a bartender, served as the through line. The only rules were it had to be funny and there would be "no guns, no cartels, and no drugs."
"How do you make a choice between yourself and your family, yourself and your community?," Chávez asked, summing up the central theme they grappled with at the coffee shop. "Culturally, we're raised to be about the family. But in America, your identity is very individualistic. You have to fight for the American dream, and that might mean you have to go out on your own and reject some of what your family is bringing you. It's a gray area."
Just before Gente-fied, the web series, went into production in April 2016, Macro executives met with America Ferrera to discuss working with her and told her about the show. After reading the scripts, Ferrera signed on as an executive producer and offered to appear in a cameo. Lemus directed all seven episodes over ten days, then Macro went to work looking for a distributor.
"To be perfectly honest with you, none of the digital distributors even understood what a huge audience there was for this, which is just crazy and preposterous," said King, who instead submitted the web series to Sundance's short-form episodic showcase. Before the Sundance premiere in 2017, Ferrera shared the trailer on her Facebook page and it went viral, deluging Macro with interest from the media, TV studios, and networks. King opted to hold the web series and give Chávez and Lemus the chance to develop it as a half-hour show, which they worked on for five months.
When they hit the pitch circuit, where they won offer after offer, Macro deployed the web series not just as a visual aid but also to prove why Lemus needed to be the show's director. "The combination of the two of them at the pitch meetings sold it," King said. "Marvin's funny as hell; he's got this charm and comedic side. And Linda's Ivy League educated, sophisticated, and worldly but also has a strong cultural connectivity to her roots."
In the end, two of the seven networks fighting for Gentefied battled it out: Netflix and Starz. But Lemus and Chávez say it wasn't much of a contest. They believed Netflix was their ideal platform not just because of prestige or creative freedom, but because of la gente who had inspired the stories. "When I think of a show that's going to shift culture, it has to be accessible," Lemus said. "I think about where are my cousins watching? I want my little cousins back home in the hood of Bakersfield to watch this show."
One of Netflix's demands was that Lemus and Chávez hire a showrunner to mentor them in every aspect of making a TV series. The co-creators were adamant that the showrunner be a woman of color, which dragged out the process because Netflix's and Macro's candidate lists didn't include any. Eventually, they hired a male Latinx showrunner who left for another project ("He had to leave because he had something amazing going on," Chávez said), so they decided to plow ahead and write the pilot while they looked for new candidates. In February 2018, they met Monica Macer, who ran the second season of Queen Sugar and was looking to work on another socially impactful series featuring people of color. Macer, whose father is black and mother is Korean, read the pilot, watched the unreleased web series, and connected to the story of growing up as a first-generation child.
That March, Macer joined the team, and the three of them, with the help of writers' assistant Jamie Bess Tunkel, began figuring out which elements of the web series to keep. They rewrote the pilot, drawing on their personal experiences. "I call it the 'blessing and the burden' of being first gen and the things that we all understand we have to do for our parents," Macer said. "I've had to get on the phone sometimes for my mom and negotiate bills or rewrite her business reports to be in perfect English."
The story they developed centers on three Chicano cousins chasing their own versions of the American dream while trying to save their immigrant grandfather's taqueria. Chris (Carlos Santos), the white-passing cousin who dreams of becoming a Michelin-rated chef, is drawn from Lemus's life, right down to a move to Idaho. (In one of the show's funniest sequences, Chris agrees to take a "Mexican test" at work to prove he's a homey. "I'm still trying to pass that test!," Lemus joked.) For Erik (J.J. Soria), who is tough and intellectual and just wants to take care of his family, Chávez thought about her older brother, who had been a tagger when he was young, and her cousins, one of whom used to send her William Wordsworth poems from prison. Ana (Karrie Martin), their queer younger cousin, plans to change the world through her art, like Chávez.
With the revised pilot script and show bible completed, Netflix asked the pair to write the second episode before staffing the writers' room, which, unintentionally, turned out to be all women except for Lemus. They hired Alessia Costantini (Scrub, Club de Cuervos), Arielle Diaz (The Last Man on Earth), and Emilia Serrano (Jane the Virgin); promoted Tunkel to script coordinator; and hired Camila Maria Concepción as the writers' assistant. Lemus directed the first two episodes and hired queer people and/or people of color to direct the rest: Ferrera, Marta Cunningham, Aurora Guerrero, and Andrew Ahn.
Produced last year at LA Hangar Studios in Boyle Heights, the show was also filmed in landmark locations like El Mercadito and cultural centers such as Lincoln Park's Plaza de la Raza, where Netflix held its premiere party on Thursday night. "The day we shot at the Mercadito, I got to sit and watch them film it, and I got so emotional," Chávez said. "This is where I came with my family to buy things; now we're here filming a show that I co-created, and I get to see my people filmed in this space."
The same feelings poured out two weeks ago when Chávez took her parents to a screening hosted by the National Association of Latino Independent Producers at Netflix headquarters in Hollywood, a building she and Lemus visited many times over the past three years. On that night, the massive wraparound screen in the lobby was showcasing Gentefied. "I walked into the lobby, and I was like, What the fuck? This is real!," Chávez said. "Going back to my childhood — all those moments that my parents fought for me to be seen and valued and heard — I can't believe my dream came true."
At the end of the night, Lemus walked over to Chávez and started crying. "I hadn't put my camera on the community for so long because it was too painful," he said softly. "But being able to turn my camera on these characters and sit with Linda and hear about her family — the family experience I didn't get to have — has been so healing of the part of me that felt I wasn't Mexican enough and that I couldn't claim it."
This story has been corrected to show that six networks made offers after Lemus and Chávez pitched Gentefied, not seven.