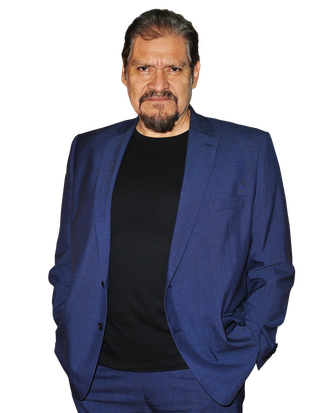 Photo: Rachel Luna/Getty Images
Spoilers ahead for season one of Gentefied on Netflix.
"Where's Pop?"
Did anyone who binged Netflix's Gentefied this weekend see the answer to Erik's question coming? The glue of the Morales family was sitting in an ICE truck, after being stopped by the police on his way to meet his great-granddaughter Delfina, named after his late wife. Híjole, we didn't even know he was undocumented.
Pop's fate remains locked in the minds of co-creators Marvin Lemus and Linda Yvette Chávez, who coyly told Vulture they have a few different scenarios in mind for a potential future season. But it was showrunner Monica Macer who came up with the idea for the finale's gut punch.
"When I started working with Marvin and Linda, they wanted Pop to get arrested early in the season," Macer said. "But if you do that, the whole show becomes about that … If we do it at the end, we will have laughed with him, cried with him, gone on a date with him, and helped him revitalize his store. When he gets taken away, his absence will mean more."
After meeting with many Mexican-American actors, the co-creators realized they needed a Mexican actor to make Pop more authentic. On Joaquín Cosío's reel, they saw that the Narcos: Mexico and The Strain actor had played many villains and some comedic characters, but did he have the necessary soft touch for Pop? When they Skyped with Cosío, they had no doubts.
"We chose a grandfather instead of a grandmother because we've seen the grandmother in so many things," Chávez said. "What does it mean to see a grandfather who is emotionally available, who is a ranchero who's gonna put you in your place but also tell you, 'Mija, I love you.' We wanted to show a different narrative of the men in our community, and when we spoke with Joaquín he was just so incredibly sweet."
Cosío spoke to Vulture earlier this month, while he was on a short break from filming The Suicide Squad, about playing a grandfather for the first time and how he connected to the family patriarch who affectionately has nicknamed his van "Salma Hayek." (Hayek herself supplied the selfie Pop keeps inside the van.)
This interview was conducted in Spanish, translated to English, and edited for clarity.
You didn't have to audition for this. You Skyped with the producers. How did they sell you on this project?
Of course, the story. I had already read some of the story and it seemed wonderful to me because I grew up on the border in Ciudad Juarez and El Paso. I have two half-brothers who are Americans. So I've had contact since I was an adolescent with the border environment and the Hispanic communities. I have friends in New Mexico. The script had great style and was very well written. All of the characters are very well crafted. It's a tone that's relaxed and humorous and it's not just about gentrification. It talks about the whole life of a community, a complex and very lively community. It's not a soap opera. It's not just a light comedy. It's life. It has lightness, but it also has a lot of depth. It seems like it's going to be just fun, but it's full of pain. You don't find that very often. It's a show that transcends the limits of a city and of a neighborhood, the characters confronting the predicament of being an immigrant and of displacing their roots.
And I loved the character because he's the first grandfather that I've played. The relationship with the kids, the character's grit for always taking care of these youths, those were elements that made me quickly fall in love with this world.
What I thought was so special was how it starts as the story of the family but expands to the rest of the community. The story of the homeless mariachi and the story of Ana's mother in the factory were so moving.
It starts opening up and it starts choosing small characters who tell us about the life of the entire community. And, more than anything, about a very complicated predicament. About how hard life is for these characters in this circumstance of being migrants assimilating themselves to a city that has a rhythm that can't be stopped. It's a deeply human story that keeps moving forward and keeps getting complicated and that keeps creating humor and a certain sadness and pain. You get involved with the characters because they're very well written and they all have an individual charm.
It makes you think about how much of a global problem gentrification is and how hard it is to land on answers or solutions.
Right, because gentrification has a contradiction. It's development. It is progress, but it comes at a cost, literally and figuratively. It's one of the most complicated problems in the world. It's not just immigration anymore. But the show lets you see the community's grit — the brotherhood, the strength they have to confront such large problems. The decisions the characters make are not simple. It's important that the show doesn't just show you how communities and neighborhoods get displaced, but how they fight to defend themselves and join forces before these threats. Linda and Marvin handle both sides of this argument so well.
What was your experience on set? Did you start to feel like a real grandfather?
The newer generations of actors are very relaxed, so it was always very fun. The experience of these actors was not just that they were there to make the story, but rather to live the relationships. They did all start to feel like my grandkids, most of all Erik (J.J. Soria). They all have a part of what Pop is. He sees a bit of himself in each of them. That's why he takes care of them and defends them. And perhaps the one he could love the most, the one with which he most feels, is the one who's the most complex — Erik. He's more of a hood character, angrier, more violent. But also very studious and a free young man. Each one has a part of Pop that he respects and protects. That's why I loved the character.
Pop's own story is touching, too. His love for his wife, Delfina, is profound, but he allows himself a chance with Lupe, who gives Pop really good advice about embracing change.
She's very wise. Pop remains a hard man. A man with a structure that he doesn't want to change. That's why he doesn't speak English well. He denies himself. He still wants to live his culture, his memory of his Mexican culture. But she's the one who comes to tell him, "Hey, open yourself up. Give yourself the chance to change and change can be good."
She convinces him to give Chris (Carlos Santos) a chance in the kitchen with some new recipes. Do you like to cook?
I do, but for Pop, it's a character trait. He's a rough man, but he has the gentle touch of cooking. We spent a day making tacos in a truck for the crew. J.J., Carlos, and I made burritos on the grill. We seasoned them and everything. We were learning to make them. My favorite is al pastor. But there is something about the masala one. It's a risky taco. It's controversial. [Laughs.] It's not the everyday taco.
Pop also has a gentle touch with his family. There are so many moments where he shows his soft side with different members of the family.
That's all from the writers. They are very careful with each person's nature. And the whole group of directors, too. They had a very particular sensibility for making each person's story very human and respectful. Circumstances have made it that they don't have very good parents, so he assumes the role of being their father and almost their mother as well. It's very lovely to me. He takes very good care of them and he's very generous. He's a singular character. Despite being in an adverse environment and being a man who's rough, he has a sensibility that allows everyone to be who they are and he respects them.
Tell me about filming the scenes between Pop and Erik, first when he gives him his wife's wedding ring and then when Erik returns with it.
It's very painful. It's very sad. The writers capture very intimate scenes between those characters. It's everyday stuff but charged with a lot of emotion, with details. Like the ring. The grandson that is not rewarded, who makes mistakes, who gets things wrong, is the one he picks for this special ring. He lives a life that Pop may not understand, but he helps him. He hugs him. That was one of my favorite scenes of the entire series.
As an actor, you can't take the drama home. You have to leave it there. Within the comedy, there were many scenes with a lot of emotional intensity because these are characters with a rich emotional life. When Nayeli [Bianca Melgar] decides to leave, it's a decision she makes with a lot of energy. And the grandfather has to go there and pretend like he's helping her. They took great care with that relationship. The director [Aurora Guerrero] and I talked at great length about that. He talks to her not like she's a dumb girl but almost like she's a woman. He respects that she has a mind and thinks for herself.
All of the directors were incredible; the way it all flowed surprised me because we had all these different women and men telling the same story, despite having different styles and different ways of understanding television. But they were all coming from a similar cultural experience, even Andrew Ahn, who is not Latino. Being an Asian director, he understood because the history of this Latino family, their story, is universal. We just saw this in Parasite. That's not just a story from South Korea. Minorities and immigrants all over the world share the same story one way or another. I've been very lucky to be given Pop to be able to do this kind of work.
Did you ask the writers why Pop named his van Salma Hayek?
No, because it felt very natural. She's a unique persona from the Hispanic world, an artist of great international magnitude. But she's also an icon of Pop's personal life. That's why he has her picture and that's what he calls his van. I thought it was fantastic.
The ending was such a surprise. There had never been a conversation of anyone in the family being undocumented. It hurts to see him in the ICE truck. What did you think?
It was a surprise for me, too. A huge surprise, which is why I liked it. But in those communities, that happens every day. In the lives of Latino families like this one, it happens every day. It's complicated. There's always the risk you will be sent back. It was painful, but also a great piece of writing. Hopefully, we will see how things turn out for Pop.