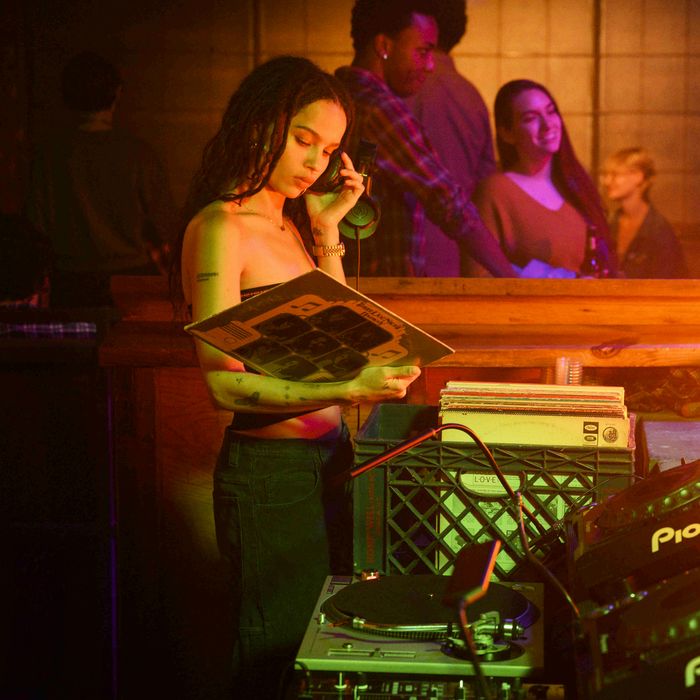 Like the Robs before her, Zoë Kravitz's Rob is a pop music savant, but Hulu's new adaptation of the Nick Hornby novel pushes that characterization into more interesting, challenging territory.
Photo: Phillip Caruso/Hulu
During one of the many list-making conversations in Hulu's High Fidelity, which premieres in full today, a debate ensues about the top-five musical reinventions of all time. When Simon (David H. Holmes), an employee at Championship Vinyl, mentions Cyndi Lauper and her Memphis Blues album, he is shouted down by friend and co-worker Cherise (Da'Vine Joy Randolph), who says Lauper's decision to record a single blues album doesn't count. Then Rob (Zoë Kravitz), the owner of Championship Vinyl, chimes in with her own opinion of Lauper's 2010 release: "It's surprisingly unterrible."
High Fidelity, a music-focused reinvention in its own right, is also surprisingly unterrible. Actually, I'll go a step further: It's actually pretty good. The TV adaptation of Nick Hornby's 1995 novel, which was previously made into a faithful 2000 film adaptation starring John Cusack, and then a Broadway musical that ran for only ten days, also hews closely to the source material, though the further it gets into its ten-episode first season, the more it diverges. In keeping with High Fidelity's musical sensibilities, it seems correct to describe the show not as a remake but as an interesting, fun cover of the classic original.
The similarities between Hornby's book, the film directed by Stephen Frears, and the streaming version created by Veronica West and Sarah Kucserka, who previously worked on such shows as Ugly Betty, Chicago Fire, and Bull, announce themselves pretty loudly. As the series begins, Rob (short for Robin) is dealing with the recent end of her relationship with fiancé Mac (Kingsley Ben-Adir of The OA) and reflecting on why her romances always hit the skids. Like the Robs before her, she decides to hunt down the five most significant exes in her life to figure out what she did wrong in all those conscious uncouplings. Also like previous Robs, she is a pop-music savant who owns an apartment filled with records and fully buys into the idea that the things people like are much more important that what they're like. Pop-culture preferences equal personality in her mind, although Rob's sense of culture is defined almost entirely by music; there's a running gag throughout the season about how she's never seen The Sopranos, which is the modern TV equivalent of never listening to the Stones or Prince.
Rob's workplace looks pretty identical to the one in the novel and the film: Her record store is a business, but it's also a designated location where she and her two co-workers can argue about playlists all day. Simon is the equivalent of Dick from the film, the quieter, more thoughtful of the pair, while Cherise, a wannabe musician whose mouth runs faster than a traditional album played at 45 rpms, is the equivalent of Jack Black's Barry. But there are also key details that have been updated. Championship Vinyl, located in London in the novel and Chicago in the movie, is now in the Crown Heights section of Brooklyn. Unlike Barry, Cherise is a black woman. Unlike Dick, Simon is gay. And this Rob is a sexually fluid woman of color. (One of her top-five exes is a woman.)
Rob's race and gender is of special significance because music culture has historically been so dominated by white male perspectives, as the original High Fidelity proves. The fact that this Rob could be as fixated on vinyl and possess as much deep musical knowledge as a white dude shouldn't be a radical notion, but 25 years after Hornby's novel was first published, it's still somewhat revolutionary for pop culture to acknowledge this. (Exhibit A: Longtime pop-music writer Jessica Hopper wrote the book The First Collection of Criticism by a Living Female Rock Critic only five years ago. The statement in that title wasn't literally true. But it was pretty damn close.)
Kravitz's Rob also possesses many of the same relationship issues as the protagonist in High Fidelity 1.0. She fears commitment, she's fixated on the past, and she can be highly self-involved. The flings she has — including one with a hot musician, a meta choice considering that Kravitz's mom, Lisa Bonet, was the hot musician Cusack had a fling with in the movie — also mirror encounters from the book and film. Even some of the dialogue, which is funny and observant in every incarnation, is identical to what we've read or heard before.
But the Hulu series does find new ways to add tension or expand the scope of the narrative, all while projecting a slightly grungy Brooklyn that's bathed in enough soft light to make it seem almost magical. In a deviation from Hornby's work, in which Rob is primarily concerned with winning back former girlfriend Laura, 2020 Rob, while still pining for Mac, also casually dates Clyde (Jake Lacy, Hollywood's go-to nice-guy boyfriend), adding another potential relationship to the mix that makes the viewer question whether it makes sense to root for a Rob-Mac reunion. We also get a deeper peek into the lives of other characters. There's a whole episode that removes Rob from the driver's seat and puts Simon in it instead, so he can talk about his top-five breakups, all of which are centered on the multiple splits he endured with his first serious boyfriend after coming out.
High Fidelity is at its best when it engages directly with the significance of the updates that have been made to the story. In another of the stronger installments, Rob and Clyde go to view a record collection being sold by an Upper East Side artist as an act of revenge against her husband. (She's played by Parker Posey, which is perfect.) When Rob and Clyde eventually meet that husband, he directs all of his conversation about music toward Clyde, assuming that Rob couldn't possibly keep up or even be interested. It's a scene that could never have been in the film version, for obvious reasons, and pushes High Fidelity's ongoing exploration of what it looks and feels like to love music into more interesting, challenging territory. I wish the series had done more of that.
Still, even when the series traffics in scenarios that echo previous High Fidelities — which, for the record, may not be as familiar to younger audiences or Championship Vinyl newbies — it's still enjoyable to hang out in its universe. Kravitz is a big reason why. Like Cusack, she speaks directly to camera, but she's a much more low-key presence. Where Cusack vibrated with the desire to make sure other people knew and agreed with all of his opinions, Kravitz is eager to explain why she likes what she likes but is less judgmental of others' tastes. She is so effortlessly cool that it seems like she shouldn't have any self-doubt, but that makes her self-doubt that much more powerful. Everyone feels like a misfit toy or a broken being from time to time, and Kravitz is equipped to telegraph that kind of vulnerability and sadness — and she's just as equipped to make Rob look like her heartlight has been turned on full blast as soon as she sees a rare copy of David Bowie's The Man Who Sold the World. The actor's versatility is on fuller display here than it has been in previous projects, and that's a pleasure to see.
Given what a breakout moment High Fidelity was for Jack Black, Randolph, who stole many of her scenes in Dolemite Is My Name, has the most larger-than-life portrayal to be measured against. She earns an A-plus pretty much the minute she slides into Championship Vinyl in episode one, pulls out her iPhone, and puts "Come On Eileen" on the sound system. "This song," she announces while bopping around the store, "is dope as shit!" A lot of the comic relief is provided by Randolph, who is loud and animated and hilarious and a capital-C character. But underneath her bravado, there is a neediness and sensitivity in Cherise that Randolph reveals just as deftly as she did while becoming Lady Reed in Dolemite.
The soundtrack canvas also broadens in the series, thanks to the eclectic choices by music supervisors Manish Raval, Tom Wolfe, and Alison Rosenfeld. Some of the tracks from the movie — "Dry the Rain" by the Beta Band, "I Believe (When I Fall in Love With You It Will Be Forever)" by Stevie Wonder — make reappearances, but the constant needle drops represent a much broader range of artists and genres. There's some Bowie, of course, but there's also Outkast, Nina Simone, El Freaky Colectivo, and Frank Ocean. A lot of the creative choices emphasize that, while the main character in High Fidelity may still have self-centered concerns, she lives in a world that looks and sounds much more diverse than the world this story captured two decades ago.
High Fidelity is half analog and half digital. Rob is constantly on her cell phone, checking and sending texts. But when she's alone, her preferred mode of music listening is via turntable. She's also not particularly well-versed in social media; when she finds one of her exes' Instagram profiles, for example, she doesn't understand what the blue check mark means. It's odd that she doesn't track down all of her former paramours on social media and just DM them to get to the end of her breakup vision quest, but that obviously would make for much less interesting TV watching.
And it wouldn't provide the opportunity for her to actually get invited to a party at her ex-girlfriend's place, where she meets a woman who, upon learning that Rob has a record store, says, "It's so badass for you to not only occupy but freaking own such a historically masculine space." She is right. It really is.
*A version of this article appears in the February 17, 2020, issue of New York Magazine. Subscribe Now!