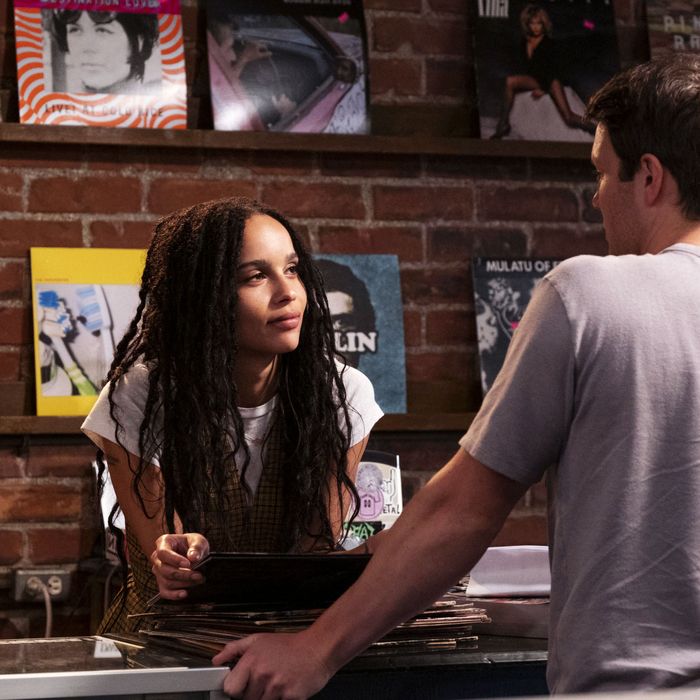 No Phish on this list, sorry Clyde.
Photo: Phillip Caruso/Hulu
High Fidelity's full official playlist includes 133 songs, courtesy of the wide-ranging curation of the series' music-supervision team. That amounts to nearly nine hours of music, spanning too many micro-genres to count, featuring a wide array of artists ranging from instantly recognizable (Bowie, Prince, Nina Simone) to "I don't know it, but I know I love it."
But since no musical omnivore worth their over-ear headphones would be content with a mere 133 songs, we're using some of High Fidelity's best deep cuts as a starting point for further exploration. Think of this list as what you'd get if you walked into the biggest record store with the most approachable staff and said, "Help, I just finished the High Fidelity playlist and I want to know what to listen to next!"
Where you heard it: In episode one, it's the song Cherise interrupts to blast the undefeated bop "Come on, Eileen," after Simon has carefully explained that he found an original early copy of Platonos's album Galop.
Why you liked it: Platonos should be huge, given how familiar and influential her sound is: dance-y 1980s Greek electropop with a slightly menacing undertone? Yes, please!
What's next on your playlist: Platonos's multi-tracked harmonizing with herself and percussive bleeps and bloops can be heard in classic roller-rink jams like "My Boo" by Ghost Town DJs and "When I Hear Music" by Debbie Deb. If you'd rather go back in time to hear one of this song's antecedents, Bridget Bardot's "Contact" is a good place to start.
Where you heard it: In episode two, when Rob hits pause on her obsessive playlist development to go see the Scottish singer Liam with Simon and Cherise, this song tracks their progress through the neighborhood and banter-filled visit to Carlos at their bodega.
Why you liked it: "Arrow Through Me" was a failed single off of Wings' final, widely panned album, Back to the Egg, but 41 years later, it sounds deliciously fresh. We can thank (and/or blame) classic-rock radio's neglect of both funk and the majority of the Wings catalogue for that. Paul McCartney has always had the most soul of all the Beatles, but the fat bassline, bright horns, and the slightly frayed edge of Sir Paul's voice on "Arrow Through Me" all cultivate a very funky groove. What's not to love?
What's next on your playlist: Dive into some more loping, summery tracks like "Summer Madness" by Kool & the Gang, "Sunshine (Woke Me Up This Morning)" by Labelle, or "The Reason" by King Britt (feat. Sylk 130 and Vicki Miles).
Where you heard it: Just briefly, in a cute episode-three flashback to Mac and Rob at their lovey-dovey-est. By this point in the series, it's clear that a funky soul groove is the official musical subgenre of their relationship, at least in Rob's misty watercolor memories.
Why you liked it: The Equatics recorded just one album (1972's Doin' It!!!!) before graduating from high school and promptly breaking up. Their assured-beyond-their-years, organ-drenched funk-soul sound is irresistible and will make you wish they'd stayed together for at least one album more.
What's next on your playlist: Do you remember the scene in If Beale Street Could Talk where Tish's parents dance in their living room as they wait for Fonny's family to visit? That song, Lee Hurst's "Whole Lotta Your Love," is a perfect pairing with this one: longing and sexy, but not too much. If you want to lean into more of the "crying on the dance floor" vibe that the song also suggests, you can't do better than "How Can You Mend a Broken Heart," as covered by Al Green.
Where you heard it: This song is one of the most successful small-moment callbacks in High Fidelity; in episode three, up-and-coming Scottish singer Liam (Thomas Doherty) impresses Simon with his knowledge of Os Mutantes' box set, and in episode eight, we hear this song as Simon is lost in a little fog of love about his no-good, heartbreaking boyfriend Ben.
Why you liked it: The dreamy, lush vocals and spare instrumentation will make you feel as if you've been set adrift on memory bliss. It's a slice of sonic heaven, like a pared-down French "California Dreamin'" filtered through 1967 Brazil.
What's next on your playlist: "Le Premier Bonheur du Jour" is more in the vein of the 1960s French pop genre Yé-Yé, so a strong first follow-up pick is Françoise Hardy's "Le temps de l'amour" (which you may recognize from its use in Moonrise Kingdom). If you want to hear something more representative of Os Mutantes' catalog as a whole, try "Baby," and then hop to their colleague and frequent collaborator Caetano Veloso's live version of "O Leãozinho." Royalty of Brazil's political psych-rock Tropicália movement of the late 1960s, Os Mutantes' (literally "The Mutants") influence is so far-reaching that Beck named an album after them (1998's Mutations) and recorded a delightful, loving pastiche of the genre they made famous, "Tropicalia."
Where you heard it: Calling this a deep cut may be a bit of a cheat, considering it is the absolute heart of episode eight, but you can't really beat "You Make Me Feel (Mighty Real)" as a musical jumping-off point: When Simon hears it on the jukebox at the Allied, it prompts him to explain to his boyfriend that Sylvester is a pioneering genderqueer musical hero, and that disco is "the sound of liberation," in which the roots of hip-hop are deeply planted.
Why you liked it: You can't hear Sylvester sing over shimmering keyboards and hand-claps without wanting to shake your ass, that's just science.
What's next on your playlist: Keep the party going with another of Sylvester's iconic tracks, "Do Ya Wanna Funk", Rick James' harder-edged "Give It To Me Baby," and "Young Hearts Run Free" by legendary dancefloor chanteuse Candi Staton.