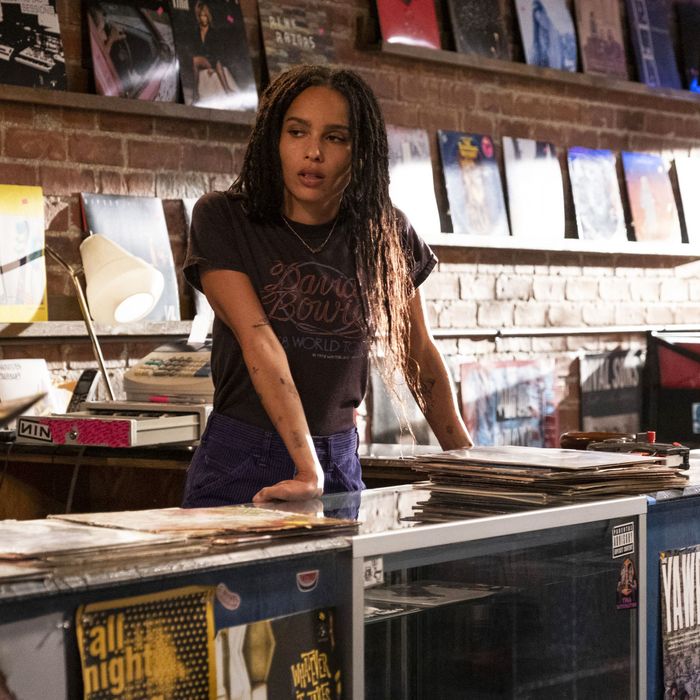 Photo: Phillip Caruso/Hulu
If there's one thing viewers of High Fidelity should know by this time, it's that repetition is important. It reminds us to pay attention, that we might need to see or listen to something we think we know as if for the first time, to gain a fresh perspective on it. Thankfully, music is always giving us opportunities to do that, through sonic allusions, sampling, and unexpected resonances when two songs are put in conversation with each other.
In previous episodes, the music supervision team of Manish Raval, Alison Rosenfeld, and Tom Wolfe have used multiple songs by certain artists to illuminate character development, to suggest Rob's state of mind before she has the words to describe it herself, and to move the plot along. In "The Other Side of The Rock," they deploy two songs repeatedly to support the narrative structure. If it weren't so effective, it would be intrusive, but the gambit pays off. Stevie Wonder's "I Believe (When I Fall In Love It Will Be Forever)" functions as the episode's bookends, while "Pains" by Silk Rhodes scores the episode's multiple flashbacks to Rob and Mac's final encounter on her building's stoop, ratcheting up the tension between them and letting them go out on a final, rueful grace note.
"I Believe (When I Fall In Love It Will Be Forever)" appears three times in this episode. It opens with a gentle breeze of romantic triumph, playing under a scene from Rob and Mac's best times, highlighting their belief that their love is built to last. This sets us up for a bunch of relationship-and-narrative switchbacks. In the past, Rob and Mac are blissfully together. In the present, Mac wonders if they can give their love one more try, since the reasons they broke up in the first place now seem unimportant. Meanwhile, Rob is hoping she can convince Clyde to trust her enough to start fresh in their relationship.
In the middle, at long, long last, Rob finally starts doing something about what a dysfunctional garbage person she is to everyone in her life. It's a bummer that her entire social circle has to confront her directly about her behavior in order for her to make a change: Cam comes to the store and loudly confronts Rob about her selfish cheating on Mac; Lily waits for her at the shop to tell her to back off; Simon gently calls her out for being so inattentive that she didn't hear his story about his ruined Joy Division T-shirt, and has no idea about Cherise's weeks-long obsession with a Fender Mustang guitar in Daphne Blue; Clyde has to tell her that her promises to do better mean next to nothing. All of this is hard for Rob to hear, but it forces her to reckon more fully with the past, rather than just revisiting it in the hopes that she'd find a single answer but not actually have to take substantive action.
It really says something about the investment the writers have made in the supporting cast's work, and the quality of the actors playing those roles, that the two most touching moments of the series overall come through their performances. The first was Simon choosing "Skyway" by the Replacements for his mixtape for Blake, the second is Cherise as she realizes what the delivery is that Rob asked her to wait for on her way out the door to meet Cam and Nikki at the hospital. The wince of recognition on her face as she opens the guitar case is so powerful because it captures both the intensity of her wish being fulfilled and the weight of it — the guitar she described to Simon as an instrument of creation is here with her, she's alone, so there's no more room for bravado. She has to engage with what she's been dreaming about, and start sharing her gift with the world, so she starts singing "I Believe," giving us the tentative opening lines about shattered dreams and living in a shell while opening one's heart to another, not the soaring, hopeful chorus everyone remembers and can sing along with. It's tentative, earnest, imperfect.
A good conclusion isn't always about tying everything up in a neat bow, it's about delivering on the narrative and character and thematic promises you made at the beginning. On that basis, has High Fidelity stuck the landing? Sort of. The pacing of this episode is off in a way that's jarring, given how brisk yet thorough the other nine episodes have been. We spend a little too much time on the flashbacks with Mac, and hardly any time at all with Clyde. The final beats of Cherise's transcendent union with her guitar, Cam and Nikki's joy in being new parents, and Rob's acceptance that she may have ruined things permanently with Clyde are all deeply resonant, but also all feel a little rushed and awkwardly clipped, as if in an attempt to leave enough things open that a second season could pick up where they left off.
When Rob's appeals to Clyde yield a grudging prognosis of a 9 percent chance of a successful relationship reboot, there's nothing more to say than that she'll take it, putting her headphones on one last time and letting "I Believe" take her home, hearing it now as something to look forward to down the line, full of hope tempered with loss and lowered expectations. This is a song for people who are a work in progress, so maybe next time will be forever, after all.
B-Sides
1) Song Of The Episode: "Pains," by Silk Rhodes. The song paired with Rob and Mac's final scene on her stoop has to meet a high bar: it has to be contemporary, with a vintage feel, so that we recognize it but don't get sick of it when we hear it five or more times in the episode. "Pains" fits the bill thanks to both its end-of-the-affair lyrics and its sonic DNA. It shares a drum groove with David Bowie's "Five Years", and incorporates a strings sample strongly reminiscent of the sample of Isaac Hayes' "Ike's Rap II" used in Portishead's "Glory Box" and Alessia Cara's "Here."
2) The strongest sibling bond is the one where one of you can cuss the other out at your place of work and then you hug super-tight at the hospital and high-five when your sibling's partner says they're thinking about naming the new baby Eliana or maybe Raekwon. Why not both, honestly? Ellie Rae has a very cute ring to it.