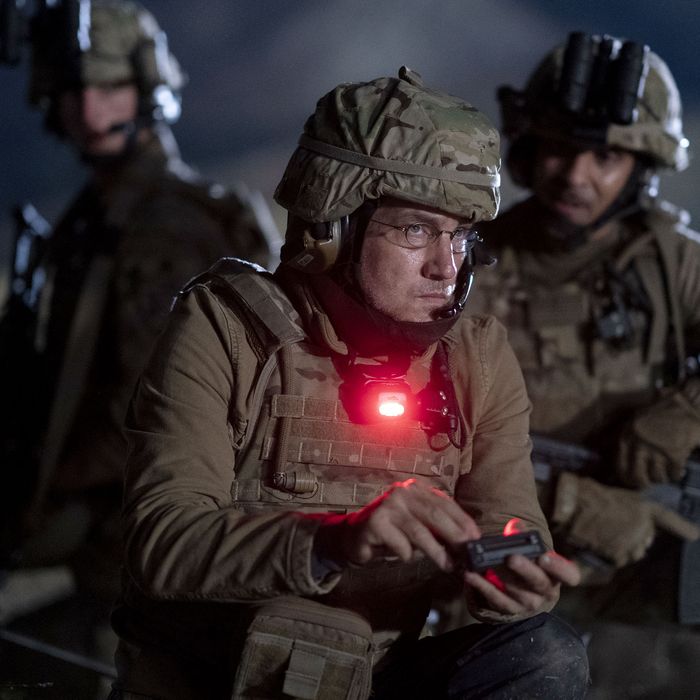 Photo: Warrick Page/SHOWTIME
The final season of Showtime's Homeland starts by plunging its characters right into the middle of a crisis in the Middle East, as negotiations between the Taliban and the Afghan government break down to such a degree that Saul Berenson (Mandy Patinkin) calls his old friend Carrie Mathison (Claire Danes) in to help. When the seventh season of Homeland played with issues like internet sock puppets, Russian interference, and fake news in 2018, it felt very modern and relevant, but will a nearly-two-year hiatus dim expectations for this eighth and final season? Is there another story in the life of Carrie Mathison to be told? Could she get one more chance at redemption? And, most of all, after everything she's been through on this show, can she finally find peace?
If anything, it appears the final season of Homeland could harken back to more of what this show was about to start: an American turned foreign asset. Remember when most of this show's drama spun around whether we could trust rescued POW Nicholas Brody (Damian Lewis)? Now people are asking if Carrie Mathison can be trusted too, or if she gave up vital information to the Russians while being held prisoner for seven months. In the end, Carrie herself isn't even sure what she's done, and there's something that feels right about Homeland ending on an arc about Carrie's mental instability being possibly used as an asset for foreign enemies.
Homeland also does what a lot of shows do in their final season and brings back some familiar faces, but not in the way fans may be expecting. No, Peter Quinn (Rupert Friend) isn't still alive — although nothing would be a surprise to longtime viewers of a show that has stretched suspension of disbelief before — and there's still no sign of Dar Adal (F. Murray Abraham), but if you thought a few people floating around Kabul this episode looked familiar, you're not imagining things. Nimrat Kaur returns as Tasneem Qureishi, appearing on the show for the first time since 2014's season four, and then there's Costa Ronin as Yevgeny, but we'll get to that later.
"Deception Indicated" opens with Carrie in a hospital, undergoing treatment to manage her PTSD after 213 days in a Russian gulag. Naturally, the U.S. government wants to know what she told her captors, and Carrie is insistent that she didn't burn a single asset. All she did was give away a defunct safe house in Beirut. However, one of her interrogators, who notes she failed a polygraph, wonders how Carrie could possibly know what she said when she can't remember most of her time in captivity. She doesn't remember the 180 days after her meds wore off and she was in a mental spiral. She could have said anything.
Meanwhile, Saul is at the Marsa Malaz hotel in Qatar to facilitate peace between the Taliban and the Afghan government, but that all goes horribly awry when the Afghans claim they have been tricked into releasing Taliban prisoners of war. The Taliban leaders walk away from the table with Saul scrambling, and even making promises about releasing U.S.-held Taliban prisoners to keep things from falling apart. He also suspects that Qureishi's people are responsible for this debacle. When in doubt, blame Pakistan.
Meanwhile, the always reliable Max Piotrowski (Maury Sterling) is on a chopper that lands in the Korengal Valley. Over a few scenes cut through the episode, we learn that Max is there as the "cable guy" to fix a piece of equipment that will allow them Taliban surveillance in Pakistan. It kind of feels like a way to add some gunfire to a relatively staid episode in terms of action, but does serve to highlight the danger and instability in the region. In the end, Max gets the job done and the surveillance is back on. Now they can know if real peace is even a goal of the people pulling the strings in this region.
Long before Max gets fired upon, Saul basically breaks Carrie out of the treatment center. He needs her in Kabul tonight. She's essential to figuring out what's going on in the region, and she reassures him that she didn't give up anything to the Russians. After all, all of her assets were removed from the field when she was taken, just in case. Well, the ones she told her superiors about at least.
In Kabul, Carrie meets a new handler named Mike Dunne (Cliff Chamberlain) who's skeptical about a possible Russian asset in their midst, and his assistant named Jenna Bragg (Andrea Deck), who wants to do more in the field. Carrie encourages her to stand up for herself and be strong. Homeland has often played with how women are treated differently in the intelligence world, and it feels like the Jenna arc could allow for a revisitation of that theme.
While Mike is spying on Carrie's communications, she finds a way out to meet an asset she never told anyone about, speeding through the Kabul night and nearly getting caught on her way back. The important thing is that she learns her contact was killed five months ago, and his widow blames Carrie. What if she really did burn one of her Taliban assets and the Russians then sold him out, getting him killed? She starts to crack under the weight of what she doesn't know, and no one cracks quite like Claire Danes.
Carrie pulls herself together long enough to play normal for Mike when she gets back to the base, but it all falls apart again in the final scenes when she sees a ghost. Heading into a debriefing, Carrie Mathison sees Yevgeny walk out of the office. The two make eye contact, and she remembers the man who led her torture and then handed her off to even worse people. She begins to shake.
Final Notes
• It's interesting that Homeland, which has been Stateside a lot in recent seasons, plunges us back into the Middle East, at least to start the last one. And that the writers are willing to be so critical of Pakistan's role in the conflict there, as well as how the U.S. shaped that role over the last few decades. Just in terms of foreign policy, I'm fascinated to see where this goes and how long they stay in Kabul.
• Homeland typically uses real locations for its fictional scenes, and so it's unsurprising to learn that the Marsa Malaz hotel in Qatar, where we reconnect with Saul for the first time since 2018, is open for business.
• Is Carrie Mathison the new Nicholas Brody, an American hero who has been turned by the enemy? Is she hiding something, or does she not even know what she did when her meds wore off? A show that opened with an agent uncertain if she could trust a man with whom she was falling in love ends with her uncertain if she can trust herself. That's kind of perfect.