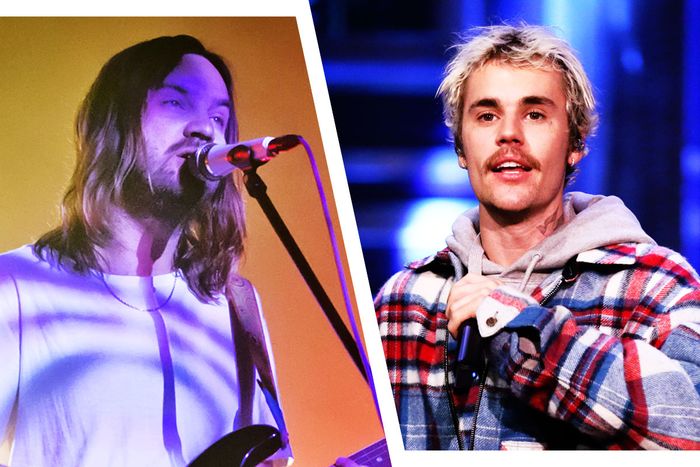 Tame Impala's
The Slow Rush
and Bieber's
Changes
both seek to extend the artists' standing at the forefront of modern pop music.
Photo: Getty Images
Five years is an eternity. In the fictional Earth of David Bowie's The Rise and Fall of Ziggy Stardust and the Spiders From Mars, it was enough time for the entire planet to die. Here on Earth Prime, it has been enough time for everything to go kind of awry, for hurricanes, wildfires, diseases, and world governments to fall into disarray. The shift manifested itself last year in a popular meme where people joked that they'd turned into warriors by the end of the decade. The horror behind the humor — that the stresses of being alive right now are wearing us down to a point that you can see the difference in our outward appearance — is palpable. It's important to stay grounded in rocky times, to maintain a network you trust when people seem disconnected and dodgy. Like Katt Williams once said, you need a team. You have to work on your franchise players.
Five years ago, Perth-based singer-songwriter and producer Kevin Parker released Currents, his third studio album as the one-man band Tame Impala. It was a watershed moment he'd been building toward for the better part of a decade, refining classic-rock riffage and Beatlesque melodies and piling on trippy atmospherics across early EPs and full lengths like 2010's Innerspeaker, whose "Desire Be Desire Go" and "Solitude Is Bliss" envision an alternate universe where John Lennon fronts a smoking garage-rock band instead of his outfit of pop perfectionists. Currents slowed tempos, beefed up arrangements, and invited dance and hip-hop syncopation into the picture. The end result was a kaleidoscopic post-genre daydream and a potpourri of the weird feelings we cycle through after a breakup. The impact was immediate. By 2016, Rihanna had covered "New Person, Same Old Mistakes," and Lady Gaga tapped Parker for work on Joanne. Tame smoked festival stages worldwide. A new rock and roll heavyweight was minted.
While Tame ascended, Canadian pop wunderkind Justin Bieber — who rocketed to international fame in the same time frame on the strength of his squeaky clean image and a battery of hits like "Baby," "Never Say Never," and "Boyfriend" — was engaged in a bit of an apology tour. After weeks of controversies and legal troubles in 2014, the singer, tasked with repositioning himself at mainstream music's center three years out from the platinum-selling teen-pop outing Believe, released "Sorry," a wise, reflexive trop-house banger that spoke to both his on-again-off-again romance with Selena Gomez and the sense that he had lost some goodwill during his heel turn. He started spending a lot of time around the trendy evangelicals of Hillsong Church, after being baptized in Houston Rockets center Tyson Chandler's bathtub. Bieber's 2015 album Purpose set about the task of documenting a breakup while assuring his fans that he's a changed man and returning to the top of the charts after 2013's serviceable R&B project Journals failed to spawn a top-ten hit, and sales figures were withheld. Improbably, the Purpose experiment was a success.
Each on his own terms, Bieber and Parker toured extensively through 2017, eased off in 2018, emerged as married men in 2019, then returned last Friday with their first full-length albums in five years. Tame Impala's The Slow Rush and Bieber's Changes both seek to extend the artists' standing at the forefront of modern pop music, the former through reinforcement of the dance-music foundations incorporated into the last album, and the latter by revisiting his R&B/pop aspirations in an era when mainstream audiences have sent singers like Lizzo and Summer Walker to the top of the Billboard charts. The Slow Rush and Changes are dispatches about married life, each from different vantage points. Parker's songs speak to settling down after tiring of the single party life, and Bieber's try to make marital monogamy relatable to his audience by ramping up the sensuality, the way his former mentor Usher did on "Love in This Club" and "Trading Places," off his 2008 wedding album Here I Stand.
Slow Rush reveals its mission statement up front with "One More Year," a song about charging excitedly into a change of life circumstances. The music sees psychedelic textures and house production collide in a manner recalling the moment in the '90s when Glasgow rockers Primal Scream met the late U.K. DJ Andrew Weatherall and made the post-genre classic Screamadelica, when Manchester's Stone Roses and Happy Mondays embraced the ascendant '90s rave culture and made molly masterpieces like "Step On" and "Fools Gold." Slow Rush supposes, as those bands did 30 years ago, that psych-rock and dance music make great sparring partners because, in spite of differences in their approach, the function of both genres is to get you to dislodge your mind from space and time and key into the pure physicality of music. It was the point of the Doors and the Dead; it was the point of extended 12" versions of '80s radio hits.
Because Parker can't be pinned down for very long, The Slow Rush dabbles in half a dozen other genres. "Posthumous Forgiveness" visits early '70s prog; "It Might Be Time" travels back to early experiments in synth-based pop music like Todd Rundgren's "Flamingo" (which the uninitiated might notice as the sample from Frank Ocean's "Solo") and the early Silver Apples records. "Breathe Deeper" and "Instant Destiny" could sneak into a '90s R&B playlist relatively unnoticed. The album never spins out because the center is love, and the work that goes into keeping a relationship fresh, and the value of a solid support system. Slow Rush is the wise rejoinder to Currents' self-effacing emotional aimlessness. Five years ago, Parker was pining for past lives and praying for fulfillment in the future. Here, he's saying to go out and grab your happiness. "If it calls you, embrace it," Parker sings on "Lost in Yesterday." "If it haunts you, face it." Slow Rush is a less zany, more stately record for Tame Impala. It's notably more pointed and serious at no cost to how fun and assured it sounds. Play your cards right, and growing up can be like that.
Changes comes at companionship from a different angle, leaning into the giddiness of young love (and the Valentine's Day release date) for 16 hazy, bubbly, radio-ready R&B joints. It's the sweet spot in the middle of Purpose — from "Company" to "No Pressure" and "No Sense" — stretched across the length of a whole album. The EDM moments are gone, as are the Halsey and Ed Sheeran types. It means something for one of the biggest pop artists of the last decade to bet the farm on beats by the Audibles and Poo Bear. It means in the space since 2013, when Bieber's team was reluctant to even call the R&B excursions on Journals a proper album, R&B has become a sure bet on the radio and the charts. Drake, Future, and Young Thug inspired a generation of melodic rappers and singers using hip-hop cadences. Jams like "Boo'd Up" and "Old Town Road" dominated radio for weeks. In this climate, stars like Ariana Grande and Taylor Swift have to show they can hang with what the cool kids are listening to. Pop had to get busy.
Changes is a slight return for R&Bieb. The songs are thin and breezy, often delightfully so, but sometimes they come up lacking. The good ones absolutely soar. "Available," "Intentions," and the DVSN sample flip "Take It Out on Me" deliver on the promise of Journals and the trappier Purpose cuts. On the back end of the album, Bieb goes into Tony Rich and Babyface mode on sweet, acoustic tunes like the title track. The lead single "Yummy," which drew an extremely mixed response online and played the unfortunate second fiddle to the rise of Roddy Ricch's "The Box," is catchy but still a little silly, the kind of baby talk you catch couples using around each other and then quickly make yourself scarce. "Running Over" starts out strong but grinds to a halt on a goofy Lil Dicky verse. (One which was originally meant for Ski Mask anyway.) "Second Emotion" and "ETA" are pleasant tunes whose lyrics run a little light in the britches on closer inspection. On the surface, these are all fun songs for the time of the year where the weather eases up, and our emotions thaw. Come in expecting that, and it's a blast. If you're looking for more … Why would you be looking for more?