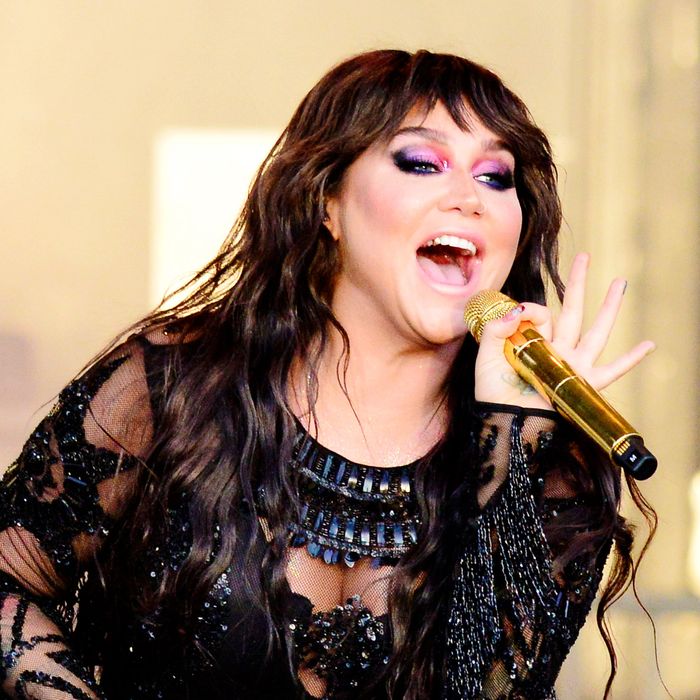 Kesha isn't defined solely by the antics of
Animal
, by the yearning love songs of
Warrior
, the sage, psychedelic stylings of
Rainbow
, or the resilience of her courtroom journey.
Photo: JEROD HARRIS/Getty Images for LOVELOUD Festival
Fuck with Kesha, and you're in for the fight of a lifetime. That's the message of "Tik Tok," "Die Young," "Warrior," and "We R Who We R" — hits about going to war with the night and coming out the victor — and of many of the singer-songwriter's endeavors since then, including her protracted battle to free herself from a work relationship she maintains to have been abusive, and most of the music she's released over the last five years. In 2016, her Kesha and the Creepies tour defiantly recast her early Day-Glo dance hits as pithy country-rock nuggets, alongside apt cover tunes like Bob Dylan's "I Shall Be Released" and Lesley Gore's "You Don't Own Me." The 2017 comeback album Rainbow dug its heels further into roots and rock music with help from the likes of Dolly Parton and the Dap-Kings. The moving performance of Rainbow's "Praying" at the 2018 Grammys gave the singer space to speak her withering piece for the world to see.
While her legal woes haven't cut in the direction she expected, Kesha is finally getting get back to the task of making us dance. Her new album, High Road, picks up where the lighter ending of Rainbow left off. Alongside friend and co-writer Stephen Wrabel, Kesha has crafted her most upbeat, free-spirited batch of songs in almost a decade. The mission statement is laid out plainly early on in "My Own Dance," an internal dialogue in which Kesha grapples with what listeners expect to get out of her music: "We get it that you've been through a lot of shit / But life's a bitch, so come on, shake your tits and fuck it." "I was like, 'Fine. I'll go write a fucking pop song,'" the singer told Rolling Stone of the decision to return to pure pop. Time off hasn't rusted her skills. Operatic opener "Tonight" and the joyous Big Freedia collaboration "Raising Hell," a volley of clever Saturday-night-Sunday-morning dichotomies, stress that partying is as political an act as anything else we do to get by these days.
Where Rainbow got some of its kicks from thumbing its nose at the singer's enemies, High Road is a reminder to get away from our troubles sometimes and cut loose. That's not to say that the clock has turned back on the developments of the Rainbow era. High Road's party anthems and hangover hymns are peppered with gorgeous moments of thoughtful quietude. The album finds room for both the horny Nintendocore of "Birthday Suit" and the stately Sturgill Simpson and Brian Wilson team-up "Resentment," for the throwback freestyle jam "Kinky" and also the campfire duet "Cowboy Blues." Kesha isn't defined solely by the antics of Animal, by the yearning love songs of Warrior, the sage, psychedelic stylings of Rainbow, or the resilience of her courtroom journey. "'You're the party girl, you're the tragedy,'" she sings to herself with a snarl on "My Own Dance." "But the funny thing's I'm fucking everything."