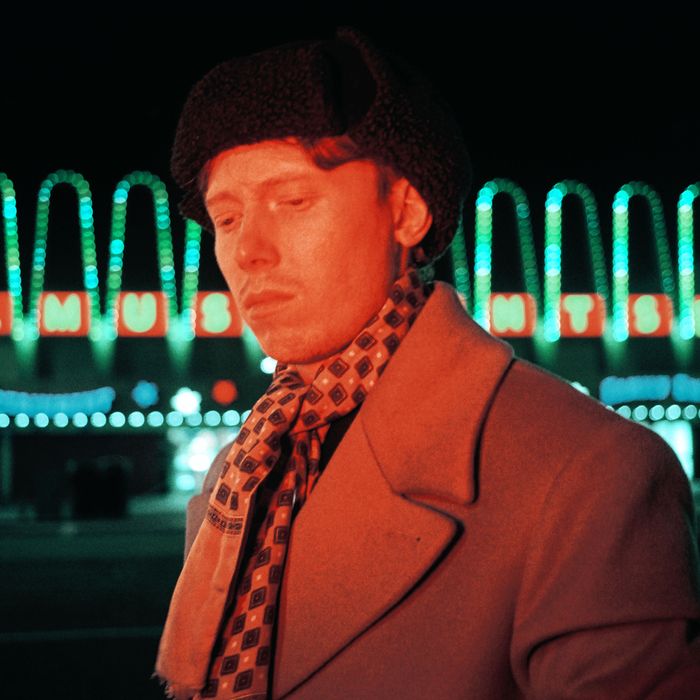 "A lot of people need to take the big deals to feel something. I'm happy just having my compositions."
Photo: Charlotte Patmore
The first time I saw King Krule, performing at an event for the now-defunct College Media Journal Music Marathon in New York hosted by The Fader in 2011, he seemed an excited and preternaturally talented teen guitar wiz on the rise. The then–17-year-old singer-songwriter, just weeks out from his first good marks at indie publications like Pitchfork (who'd call his King Krule EP "an important moment in time marked on a door frame"), played a set of beguilingly gauzy tunes, jazzy chord progressions masking the darkness in a song like "Portrait in Black and Blue," where the kid pontificated, darkly: "You laid me bare / Took my soul to wear / Left a hole to despair." It was an impressive showing during an eventful weekend; other noteworthy appearances included Visions-era Grimes, the ATLien Future introducing the crowd to "Same Damn Time," Detroit oddball Danny Brown, and Harlem playboy A$AP Rocky, whose Friday night performance famously descended into chaos. Over the next few years, each star would catapult into renown in different spheres, but London-born Archy Marshall has managed something the others haven't. He travels out of step with the speed of music-industry celebrity, where it behooves many artists to be ever-present on social media and releasing new songs at a steady clip. Marshall works at his own pace.
The next time I see King Krule, it's early February of this year at Forgetmenot, a delightfully ornate Mediterranean pub and restaurant in Manhattan's Chinatown. We meet to talk about changes in the world, and in the life of the artist, on the occasion of the release of last week's Man Alive!, the third King Krule album, following 2017's critically acclaimed The Ooz. It's a pivotal record, capturing a young man on the precipice of fatherhood. The new songs were written not long after the last album; he'd even played Man Alive! opener "Cellular" during the last tour. "Once The Ooz was out, I was already fully into this record," he recalls. Then, halfway through recording, Marshall learned that his partner, photographer Charlotte Patmore — whom he met during the sessions for the King Krule debut 6 Feet Beneath the Moon in 2013, after she sent him a shot-in-the-dark email about collaborating — was pregnant with their first child. Preparations for a new addition to the family took the London poet out of his city, closer to her family in the northwest of England, to a town called St. Helens. The peace and quiet proved refreshing. "It's the first time I've lived outside of London. Our house backed onto a massive field," Marshall tells me, peering out of sunglasses between sips of juice. "There's a beauty that I've always liked about the kind of serenity of natural spaces like the countryside."
Man Alive! is arranged like a harrowing trek out of a hectic locale. Up front, there are coarse, pithy tunes about disorder at home and abroad. "Cellular" addresses the disorienting experience of being plugged into world news but unable to do anything about it. "There's a massacre / Across the ocean / I can see it in the palm of my hands," Krule sings. Ignoring the nightly news doesn't bring peace: "I left her dying / She was still crying / And now she's lying in my head." "Supermarché" speaks of blood, battlefields, and child soldiers; "Comet Face" is a gauntlet of late-night encounters with partiers, drinks, and drugs. The lyrics paint abstract, discomfiting scenes. The music zips between post-punk and sludge. When I endeavor to call the growling "Stoned Again" a grunge song, Marshall details the ups and downs in his relationship with the electric guitar, which he's played for 17 of his 25 years on Earth. "As an instrument, it got me money, it got me love, and it got me hatred." Where guitars gave 6 Feet its breezy, psychedelic feel and played the field on The Ooz, beefing up atmospherics rather than taking center stage, they're out front for Man Alive!, giving "Alone, Omen 3" its laconic slacker-rock mood and "Comet Face" its punk-rock edge.
When the harsh songs let up, Man Alive! revisits the cozy buoyancy of the first album, albeit with a more refined sense of taste, poetry, and musicianship. Visual art inspires King Krule as much as music; lately he's been enjoying Elia Kazan's East of Eden adaptation, the 1999 Fugazi doc Instrument, and the Omen series, from which "Alone, Omen 3" takes its name. In turn, the new songs carry a cinematic quality; they evoke the physicality of specific spaces, the dankness of city streets at night, the steady motion of an airplane, a machine that makes moving at over 500 mph feel like a gentle drift. You can picture them being played at the Roadhouse from David Lynch's Twin Peaks.
There's similar darkness present in the album that isn't necessarily being named or spelled out, like the delicate social consciousness animating a song like "Underclass" that comes up without finger-wagging. "I think if you speak honestly about yourself," he says of the political undertones in his art, "about your position in the world, about the society that you live in, and about your social position, and you're naturally telling stories about that, class has to bleed into it." Marshall is concerned about the political power of "sexist, homophobic, racist people" and about what happens when we all give up on each other: "It's really safe for people to surround themselves with other socialists and people like that, and I think with the communities on the internet, you follow all these people, and they follow you. You create a bubble, and you don't actually see what other people are doing, and how other people are thinking, and how other people actually are feeling about big issues that, for you, are really clear." It's dangerous, he thinks, for all of us to build our lives around people who agree with us too much, although he appreciates the internet as a place where he can "speak to anyone across the Earth instantly."
He keeps that same attitude with his industry approach, seeming at peace with his own station in the music business nearly a decade into the King Krule project. "I'm really kind of blessed," he says of his yearslong relationship with XL Recordings and Matador/True Panther Sounds. "They just let me do my thing. I don't even see them for like three years at a time … I've been lucky to be able to do it that way, because a lot of people need to take the big deals to feel something. I'm happy just having my compositions." If you're still waiting for King Krule to jump on big pop hits, maybe don't. "The only people I produce for and work with are kind of just people that I've known," he says. "I guess I got a bit grossed out by the culture of collaboration in the sense of how people do it almost like a 'dream team' kind of thing, where it's like, 'I'll get as many people on this record as possible.' And then everyone on the internet goes, 'Oh, these guys need to collab!' It's just, like, shut up."
In spite of the foreboding music and the voice that seems aged beyond its years, Marshall comes across like an affable fellow in love with art and culture and the rhythm of cities. (Throughout our time at Forgetmenot, he giddily names the obscure musical selections piping into the place, like a human Shazam app; he studies the stuff astutely, from Kurt Cobain to Antônio Carlos Jobim and beyond.) And as a new father, he's both concerned and excited about where we're all headed, although you might imagine him to be something of a pessimist if you took his lyrics too literally. "The thing about bringing her into this world," he says of his 11-month-old daughter, "it's like … actually, I'm probably doing this world a service, because she's probably gonna help change the world." He's changing, too. "When you are given such a big gift like a child, you've got to start caring again," Marshall says, reversing course on the mortal glumness that once inspired "Cementality," the 6 Feet Beneath the Moon song that ponders crashing through a bedroom window out onto the concrete below. "You care about yourself in a different way. Before, I didn't really care if I died. Now, I'm like, 'Oh, I've gotta kind of live.'"