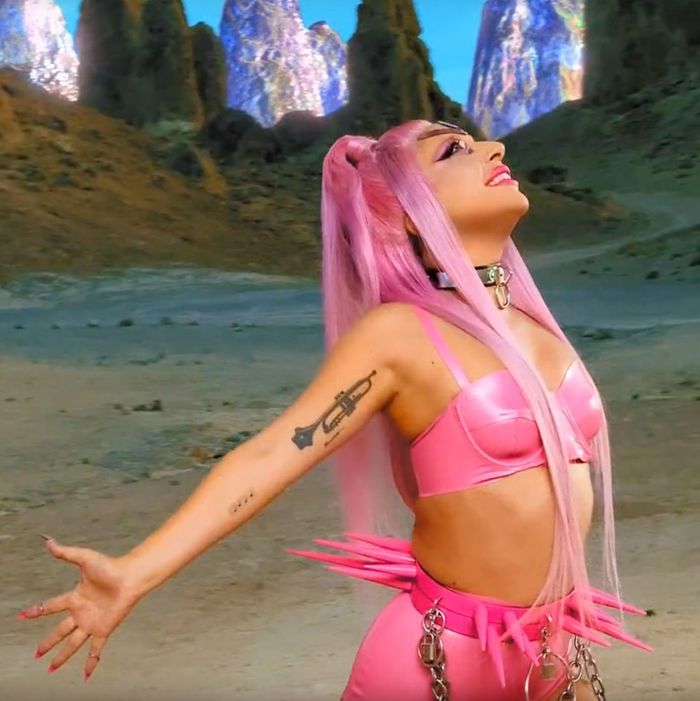 Again, the world is divided, and the solution is to love ourselves, and one another, for who we are.
Photo: YouTube
I've been playing Bayonetta a bunch this month … How to even describe it? You're a gun-wielding witch who awakens from a several-hundred-year slumber stripped of your memories but not your weaponry. You tear through a sepia-toned landscape causing all kinds of psychedelic gore, I guess to restore the balance between light and darkness, or whatever. I'm pretty sure the point is just to kick exquisite ass in big boots and flowing ponytails, which is also the vibe I'm getting from the new video for Lady Gaga's "Stupid Love," out today with exactly enough time for the bar queens plotting commercial-break routines for tonight's inevitable RuPaul's Drag Race season 12 premiere parties to pull together a little choreography. Coincidence? Or is Mother Monster doing the girls a solid for supporting her through her cabaret phase, her country phase, and her (very successful) campaign for an Academy Award?
"Stupid Love" revisits the message and music of "Born This Way," Gaga's 2011 Pride anthem. Again, the world is divided, and the solution is to love ourselves, and one another, for who we are. Again, there's a synth playing quick, choppy 32nd notes where you would think a bass line might be in the mix, and the verses and choruses alternate between stripped-down electropop and mile-high stacks of noise. "Stupid Love" is loud and euphoric but never overly complex, the mark of every great Gaga lead single from "Applause" to "Just Dance" and "Bad Romance." She called up the big guns this time: BloodPop, who worked on Joanne and Justin Bieber hits like "Sorry," produces, as does "Applause" co-writer Martin "Tchami" Bresso. Radio killer Max Martin helped with writing and vocal production; it's their first collaboration. The song sounds like a surefire hit, destined to be wafting out of Chelsea bar windows by June. The artist knows her audience.
(The video's postapocalyptic rainbow coalition of dancers compounds this Pride-party feel while recalling desert routines in Gaga's own filmography as well as those of artists like Grimes, whose "Genesis" video seems present in the constellation of interests here. Shot on an iPhone 11 Pro by Australian director Daniel Askill, the "Stupid Love" clip is purposeful visual overkill, somehow at once too bright and too dark, vividly hyperreal but also a touch chintzy and unrealistic, very tightly choreographed but also distractingly busy in the camerawork, a jarring mix of sensibilities you could maybe only get from a guy whose portfolio includes Xbox and BMW ads as well as Sia videos. I keep mentioning video games like Bayonetta and Mass Effect as visual analogues, but the more I watch the video, the more I'm getting 1960s Star Trek.)
Gaga's career is a delicate balance between the audience's needs — white-hot EDM bangers, elaborate space-goddess costumes, vocals — and the artist's wide-ranging interests. After securing a foothold in pop in the Fame, Fame Monster, Born This Way, and Artpop eras, Gaga moved into a different rhythm in her career. Instead of cranking a new album out when the last one's singles died down, now she delivers a glossy dance track and then pushes a little further out. Joanne's dabbling in country was anchored by "Perfect Illusion," a quick pump-fake of a return to form. After the acoustic ballad "Million Reasons," we got an R&B bop in "The Cure." A Star Is Born cleverly used Ally Maine's pop career as a device to serve up a few peak-Gaga bangers to help wash down all the rock songs and country duets. "Why Did You Do That?" and "Hair Body Face" tided the fans over in the months when Gaga was "pregnant with LG6." Is LG6 the pure pop renaissance the Monsters are waiting for, or will it spin out to parts unknown again? What's a "Chromatica"? Stay tuned.