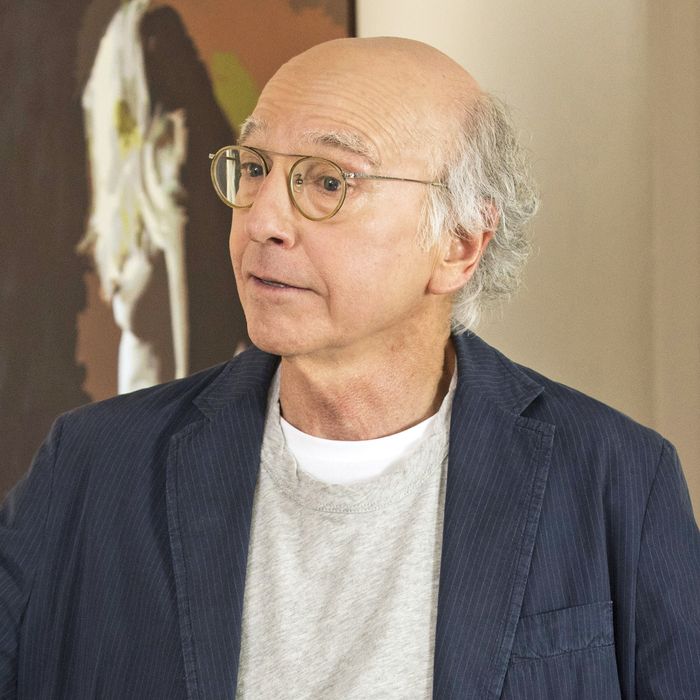 The
Curb
flex.
Photo: HBO
It just needs to be said: Larry David is one of the best-dressed men on television. With a style both understated and so clearly refined, everything from his deconstructed jackets to his neutral crewneck sweaters — and, of course, his iconic Oliver Peoples frames — make him a style icon whose aesthetic never seems outdated or overwrought.
If it looks like Curb Your Enthusiasm's version of Larry David is wearing real Larry David's outfits, it's because, well, he is. "Larry does like to wear his own clothes," explains series costumer Leslie Schilling. "I buy them all and he takes them all home."
To prepare for each season of Curb, Schilling goes to David's house to take inventory of what he has in his own closet, then she goes out shopping for outfits to use in the show. Then, she'll do one fitting with David before they start shooting. "He loves to feel the fabrics, so he definitely bases a lot of his choices on that," she says.
David's other preferences: He prefers neutral colors and solids, not patterns; he likes to be warm, hence his penchant for layering; he prefers long sleeves over short sleeves (he only appears in short sleeves when he's in bed, and never ever shirtless); he has one baseball cap that he wears when they shoot outside (because he's very concerned about sun damage); and he has one belt that he wears from his personal collection. "That belt, the LD belt, if we lost that belt, I don't know what we would do," Schilling jokes.
David's fashion proves that the marker of true taste has as much to do with the details you don't notice as it does with the details you do. At a glance, his Curb character is a casually dressed man who always looks comfortable and put together. On closer examination, it's clear that an immense amount of thought and precision goes into making Larry David look like Larry David. "He really does care about how he looks," says Schilling. "But he can be casual and comfortable. That doesn't mean he has to be in ill-fitting sweatpants or untailored jeans."
With Schilling's help, we've compiled a list of the must-have pieces you need in your wardrobe to pull off the Larry David look.
The undershirt
When I asked Schilling what was quintessentially Larry, the first thing she brought up were his undershirts, which retail at Cotton Citizen for $65 each. "It's always the white Cotton Citizen undershirt," she says. "It took us several shirts to get there. The neck has to sit a certain way. It can't be too wide, and it has to be able to show just enough under his sweater. It took a while, but Cotton Citizen is his go-to now."
Watching Curb, it's easy to see why he loves them: David's undershirts are as much a staple in his wardrobe as any other item. They're crisp and white and the neckline sits high above his sweaters, which makes them look more refined and less like he got them out of a six-pack at the mall.
The blazers
Being a connoisseur of luxury casual, Larry's unconstructed blazers are the keystone of his wardrobe. Some, Schilling says, are David's own Armani blazers that he's had forever. This season, she bought him a Prada and a corduroy James Perse as well (while a James Perse blazer will set you back a couple hundred bucks, don't expect to pull off the LD look with a Prada blazer for less than $1,500). In total, they rotated through eight blazers during production of season ten.
The loose, soft shouldered blazers pull Larry's outfits together, but without diverging an iota from his neatly casual aesthetic. It's proof that you don't need to be decked out in an expensive suit to be well dressed, and that not wearing a suit is no excuse to not look put together. "If you can go and get yourself an Armani one, do it," Schilling suggests. "But if not, James Perse has some decent ones."
The sweaters
Schilling sources Larry's sweaters — mostly crew necks and a few half zips — from James Perse (where she also buys his long sleeve tees), Vince, Theory, and Rag & Bone. He also wears a few from more upscale brands like Prada and Ermenegildo Zegna. To achieve the LD look, consider this powder blue Vince option, this simple Theory crewneck, or this James Perse half zip.
The softness of David's sweaters is a key part of his overall aesthetic; their consistency and simplicity are what keep him looking modern without looking trendy. Schilling says the sweaters play an important role in David's "formulaic" look: If she finds one he likes, she'll buy it in a bunch of colors. "He likes to be comfortable, and he likes what he likes," she says. But he also knows what he doesn't like: Last season, Schilling put him in crewnecks and V-neck sweaters, until a few episodes in: "He was like, No more V-neck sweaters. I just don't like the way they look." Also, unless it's under a suit like the Armani one seen this season, he almost never wears button downs — cementing the sweater as an LD staple.
The pants
Curb has updated David's pants over the years: Where he used to wear a looser fitting Ralph Lauren, Schilling now puts him in a slimmer cut. This season, he's got James Perse corduroys (which will set you back about $250) and AG five-pocket jeans (about $190). Above all, though, David doesn't wear denim jeans on Curb, save for the time he wore them as part of his fatwa disguise last season. "The jeans are not as comfortable," she says. "They can tend to be a little stiffer. And I don't know, they're just not Larry."
The shoes
David always wears a sneaker by Ecco — even when his character hits the links, he wears the brand's golf shoes — but the style of his footwear has changed over time. "If you look at some of his older episodes, [he's wearing] almost like, not bowling shoes, but they're a little wider and they look more dated," Schilling says. "We've tried to slim them up a little bit, somewhere in between a sneaker and a casual dress shoe. It's still comfortable, but it looks really nice. And Eccos are really comfortable for him." To get the LD look, Ecco's Soft 8M shoe ($180) is a good place to start.
The glasses
You can't talk about Larry's style without talking about his trademark glasses, which he's worn since the '90s. The frames are from Oliver Peoples and David often wears his own on set; according to GQ, a producer recently undertook "a worldwide hunt" to find a few more pairs. (While David's exact frames aren't available anymore, an updated version of the sunglasses are currently sold for about $450.) Last season, the props department even made several backups to use in a pinch. "He does have a pair that are transition lenses — sometimes, he'll accidentally come to work with those," Schilling says. "That doesn't really work in certain scenes, like if we're outside and his transition lenses are changing."