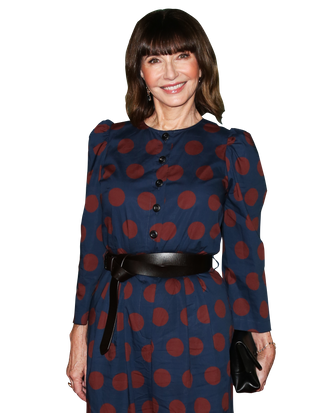 Mary Steenburgen.
Photo: FilmMagic/Getty Images
Any actor would be lucky to have Mary Steenburgen's career. For the past 45 years, she's jumped between roles as a leading lady and as a character actress, between comedy and drama, and between film and television, not to mention the occasional theater project. In recent years, she's also eased her way into a new artistic endeavor: songwriting. This January, one of her songs — "Glasgow (No Place Like Home)," a co-write with Caitlyn Smith and Kate York that appeared in the 2019 Wild Rose — was shortlisted for Best Original Song at the Oscars.
Currently, Steenburgen can be found playing Jane Levy's mom on NBC's musical dramedy Zoey's Extraordinary Playlist. In real life, she's also got a couple of kids of her own, one of whom — filmmaker Charlie McDowell — got drawn into a Twitter conversation with his mom when yours truly went online to ask if anyone had topics that they'd be interested in hearing Steenburgen discuss. "If you want to get really juicy, then ask her about the time she went on strike from her children," McDowell suggested.
Steenburgen was gracious enough to share the story behind her parenting strike, along with plenty more about seeing Devo at a pool party in the '70s, her husband Ted Danson's "weird" divorce story line on Curb Your Enthusiasm, and her surprise cameo in The Good Place series finale.
Well, that was one of the most entertaining Twitter exchanges that I've ever been privy to. 
My son and I sometimes amuse ourselves by picking on each other online. It's more him trolling me, but it goes both ways. I kind of enjoy irritating him. [Laughs.]
Before hopping on the phone with you, I watched the first two episodes of Zoey's Extraordinary Playlist. It's just a delightful emotional roller-coaster of a show. 
It's really quite extraordinary and very, very ambitious. I'm proud to be in it because it's very risk-taking. We basically do a musical every eight days. But it's really thrilling, so it's one of those jobs I'm really glad I said "yes" to.
Did you have any skepticism about pulling it off, given the premise?
I probably should approach a lot of things with more skepticism than I do. [Laughs.] But I like scaring myself a little bit. I don't drive fast or go rock-climbing. I just do weird stuff like this, which terrifies me in its own way.
You sing a little bit in the second episode, but it's not really a major production number. Will you eventually get a full song to yourself?
Yes, I do. I've probably done four songs. And I think I have two songs in the last episode — one is a group song and one is my song. You know, [series creator Austin Winsberg] said that he wanted real-people voices, not insanely musically talented people voices, but I may be the only one in the cast who qualifies because they are all crazy talented. It's crazy! I am a songwriter, I'm proud of that part of my life, but I don't really think of myself as a singer. I thought, "Well, if he really means that about real people singing, I can sound like a real person!" [Laughs.] "And if I work really hard, maybe I can sound better than I did at the beginning."
You did get to sing a bit in Last Vegas, right?
I sing a little in that, and I also sang in a movie called The Butcher's Wife a long time ago. But I think those are the only times. The only ones I remember, anyway!
Regarding the Last Vegas soundtrack, the score for the film was done by Mark Mothersbaugh. Did you work with him on your songs?
I didn't, although I did write a song for that soundtrack. It's called "Cup of Trouble." But Mark also did the music for Last Man on Earth. I'm a big fan of his. Not to mention the fact that I was lucky enough to go to a pool party in the '70s where Devo was playing. [Laughs.] It was early on when I got to L.A. It was at my dear friend Guy Webster's house — or his parents' house — in Beverly Hills, and it was for a magazine called WET: The Magazine of Gourmet Bathing. Which was a sort of fancy, artistic excuse to celebrate people in hot tubs, naked, in the '70s. [Laughs.]
I'm sure I'm like the thousandth person to say I think it's fascinating that you suddenly "became musical" after having surgery in 2007.
It's been funny talking about [it] lately, because it's been part of my life for 12 years and I didn't particularly want to talk about it initially. I didn't want to be judged on whether or not I was crazy. [Laughs.] And I didn't want to be judged as a songwriter before I put the work in.
As an actor, I've been doing this for, like, 45 years, and I still feel like I have a long way to go. There's days that I'm so proud of what I did, and there's days I go home thinking, "Oh, my God, you could've been so much better … " So as far as music was concerned, that experience didn't mean I really knew how to write music. It just meant that music was a way of me perceiving the world, whereas it hadn't been before. Once I got into that world, met other songwriters, worked with other songwriters, and was dazzled by them and their gifts and their talents, that's who I wanted to prove myself to.
In Nashville, if you don't get a song on the day you write with someone, you probably won't be asked to write with them again. People could not be sweeter there, but there's this thing called a "Nashville no," which is basically that you never hear from that person again! [Laughs.] Once I saw how they do what they do, it was important to me to pull my weight. Initially it was, like, "You'd better come in with some brilliant song ideas if you're gonna write with these people!" I've learned so much from them, like an apprenticeship. One of the two women I wrote "Glasgow" with, her name's Caitlin Smith, she's got a record coming out right now and she's touring as opener for Little Big Town. She's extraordinary. She's gonna be a big star.
To jump back to Zoey, people have noted a resemblance between this series and a cult favorite from your back catalogue: Joan of Arcadia. Not a precise comparison, obviously, but they do both revolve around young women hearing things they wouldn't ordinarily be hearing. 
Joan of Arcadia was a total joy. That was a really special show that ended far before its time. People still come up to me and talk about it. I loved working with Amber [Tamblyn], Joe Mantenga, Jason Ritter, and all those folks. The show feels quite different, though, in that Zoey, rather than hearing something unearthly, is hearing what's going on in someone's heart. But they're ultimately both about a human connection. They're about how to connect — and even give solace — to the human heart.
Since Curb Your Enthusiasm back on HBO, what's it like not being married to Ted Danson in that show's universe?
It's so weird. I was working on Last Man when that whole story line started. We both came home one day, and I said, "Did you do Curb today?" And he said, "[Sighs] Yeah." And I said, "What's wrong?" And he goes, "Well, you and I have gotten a divorce." I was like, "Ted! This is terrible! People are going to believe that!" And he goes, "No, no one's gonna believe that." Well, it trended on Twitter! [Laughs.] People are going, "Oh, my God, did Ted Danson and Mary Steenburgen get a divorce?!" He went to a screening of it the other day, and he came back and said, "It still feels strange to hear that we're divorced."
And you recently had a surprise cameo in the finale of The Good Place as Michael's guitar tutor, too. How did that come about?
It was just an idea that Mike Schur had. They wanted to indicate all the ways that Michael would be experiencing the rest of his life as a human, and part of that would be falling in love. And I guess they decided that I was the right person for him to fall in love with! [Laughs.]
The big question, then, is whether Ted can actually play guitar.
No, neither of us can. [Laughs.] Ted actually plays it better than I do! I've tried with ukuleles and guitars, and I'm having a lot of success with the piano and the accordion. But definitely not with the guitar!
Before we go, because your son Charlie suggested it, I have to ask about the time you went on strike from your children. What happened?
[Laughs] There's really not much to tell, except that they were so annoying. My daughter and my son, they were going through this terrible fighting period. I think they were 10 and 12. They were old enough to be fairly self-sufficient, which was good, because I'd had enough. I said, "I will make sure you get to school, but that's all I'm going to do for you!"
I certainly was still in the house. I didn't abandon them, as he would like you to believe! But I refused to lift a finger. After two days, my daughter knocked on my door and came in with some Kraft macaroni and cheese that she had made. I don't recall the tears, but evidently I burst into tears and said, "Okay, the strike is over!" [Laughs.] For the rest of their lives, they've tortured me with it. They really feel that that was terribly unfair to them and they're happy to tell it to anyone. And now we've told the world!