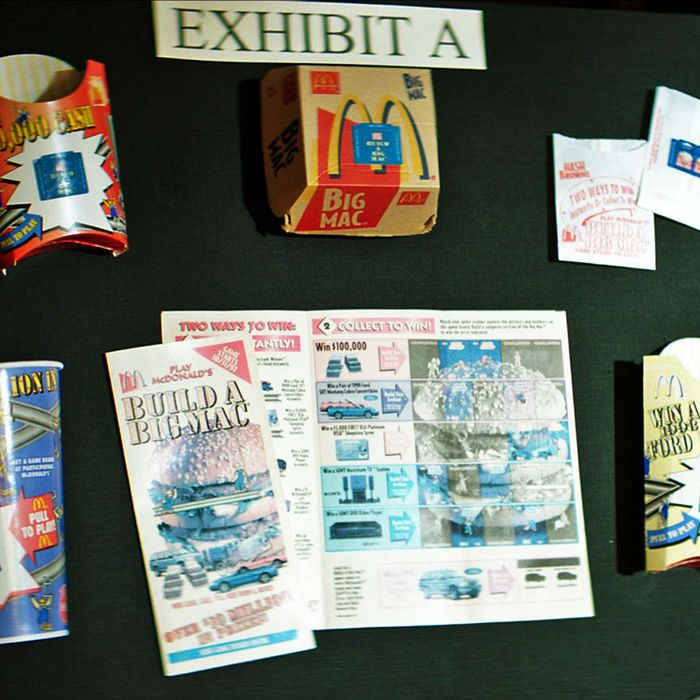 Ba da ba ba ba, explainin' it.
Photo: HBO
"From 1989 to 2001, there were almost no legitimate winners of the high-value game pieces in the McDonald's Monopoly game. I mean, how crazy-bullshit is that?"
That's FBI Special Agent Doug Mathews's assessment of the $24 million fraud scheme that's the focus of HBO's new documentary McMillions. Blending elements of the Ocean's films, Argo, and Donnie Brasco, the six-part saga, directed by James Lee Hernandez and Brian Lazarte, involves a complicated scam, inept Florida men, Italian mobsters, very real housewives, Mormons, drug dealers, strip clubs, wiretaps, and a zany sting operation run by a hyperactive G-man.
If there's a downside to McMillions, it's that viewers might need a conspiracy wall — complete with a corkboard, red string, and index cards — to keep up with who's who, what's what, and how it all relates to the scheme and the investigation. To help, we've compiled this guide of information and reference points from the docuseries, the Daily Beast's excellent feature on the theft, and contemporaneous news reports on the legal fallout. Though it's not a $1 million prize or a Dodge Viper, this primer will surely help you enjoy such a riveting, hilarious documentary.
The Game
If you've never played, the McDonald's Monopoly promotion involves collecting tiny peel-off game pieces that were found on the packaging of the chain's menu items and in print ads. The object was to collect various Monopoly properties that could be redeemed for cash prizes, with some instant-win pieces ranging from free food to cars, vacations, and millions of dollars. The contest started in 1987 as the brainchild of Simon Marketing, the company behind the Happy Meal, and was a massive success, boosting McDonald's sales by 40 percent.
Just as casinos and lotteries attract crime, McDonald's Monopoly led to attempted fraud and theft of the high-value game pieces. Knowing this would happen, McDonald's and Simon hired Dittler Brothers printing, a firm so secure that it handled U.S. postage stamps and lottery tickets, to make the pieces. As seen in McMillions, the safeguards Dittler and Simon created for the game were incredibly complex: The high-value pieces were held in a vault that could only be opened by two people simultaneously entering a key code, while the stickers themselves were created with intentional imperfections and watermarks that were only visible under black light to prevent forgery. Once the pieces were ready to be taken to a factory to be placed at random on a soda cup or Big Mac package, they would be placed in an envelope with a special tamperproof seal that could only be opened by one employee. Unfortunately for McDonald's, that man was …
"Uncle Jerry"
Jerome "Jerry" Jacobson was a former Florida cop who, after leaving the force due to a chronic nervous-system illness, started a career in private security, eventually landing at Dittler Brothers and Simon Worldwide. He oversaw the production of the hundreds of millions of Monopoly pieces and personally delivered all the big-money winners before they were put out into the world.
Knowing the ins and outs of the system, Jacobson — inspired by a psychic's prediction that he would receive a big windfall — figured out ways to steal some of the pieces. He started by giving his stepbrother, Marvin Braun, a $25,000 winner, figuring that their different last names wouldn't cause any suspicion when the prize got redeemed. When that plan worked, Jacobson repeated the ruse, enlisting other acquaintances who'd pay him for the prize piece and have someone else redeem it, muddying the trail back to Jacobson.
The scheme really took off in 1995, when three things happened that would take the scam to new heights (or, depending on your moral compass, sink it to new depths). First, Jacobson discovered that Simon had rigged the game so nobody in Canada could win it. Then, he mistakenly received a package full of those tamper-resistant seals, allowing him to swap out game pieces and close the envelopes again as if nothing happened. And next, he met the co-conspirator who'd recruit multiple "winners" and give him the "Uncle Jerry" honorific. In this slapdash crime organization, this man was …
The Mobster
Gennaro "Jerry" Colombo was a Sicilian-born, Brooklyn-raised man who ran strip clubs and illegal gambling operations in South Carolina. He was also related to Joseph Colombo, the head of the New York Mafia family whose 1971 attempted assassination at an Italian Unity Day rally is dramatized in The Irishman. Jerry's brother Frank, speaking publicly on the subject for the first time in McMillions, describes him as a combination of "Marlon Brando and Joe Pesci" or "Al Capone and Rodney Dangerfield."
Soon after the Jerrys met by chance at the Atlanta airport, Jacobson gave Colombo the prize ticket for a new Dodge Viper. Having learned nothing about showing off from GoodFellas, Colombo even appeared in a McDonald's ad waving the key to the Viper, though in actuality he took the cash equivalent because the sports car was too small for him. Soon, he was setting up family members and friends with $1 million tickets, each time taking a cut for himself and Jacobson. One of the winners included the father of his wife Robin, one of the most memorable characters of McMillions. (A standout moment in the docuseries comes when Robin recounts nearly eating a gray M&M, which was a $1 million prize winner in a Mars candy contest run by another arm of Simon Marketing.)
As the men got closer, Colombo started referring to Jacobson as "Uncle Jerry," as "uncle" was a term of respect in Italian culture. Colombo lived lavishly and invested in strip clubs, fighting local governments in South Carolina that tried to prevent them from opening. A 1998 Miami New Times "News of the Weird" piece mentions his divinely inspired effort to get around an ordinance against stripping: "In January Ladson's Jerry Colombo converted his Club 2010 into the 'Church of the Fuzzy Bunny's [sic],' featuring Bible-reading followed by a procession of pastie-wearing dancers."
In a tragic twist, while Colombo was trying to save his marriage to Robin that same year, he was injured in a car accident along the Georgia–South Carolina border and died in a hospital two weeks later. Rather than give up on their scheme, Jacobson decided to find new help. And so he turned to …
Drug Traffickers, a Mormon, and Jacksonville
By now, Jacobson's success with the fraud made him superconfident. He had already perfected his method of swapping out the winning tickets — accompanied by a female chaperone on all his trips to McDonald's factories, he'd open and reseal the envelopes in airport men's rooms — and seemed untouchable. Whether it was out of the kindness of his heart or because he thought it would help his case if he ever got caught, Jacobson even anonymously sent a $1 million ticket to St. Jude Children's Research Hospital in 1998, a stunt that made the national news.
Still, he needed more recruiters. Through a chance encounter on a cruise vacation, he met Don Hart, a Georgia man who previously ran a trucking company. Once involved in the scam, Hart brought in two other men, Richard Couturier and Andrew Glomb. Couturier liked to give his Monopoly pieces away at parties while Glomb, who had done prison time for transporting cocaine on a flight, gave his pieces to people he said were in dire need of funds. (One of them just happened to be a man who was convicted of dealing 400 pounds of coke in 1999.)
The final recruiter was an upstanding Mormon real-estate developer named Dwight Baker, who had fallen on hard times after injuring his spine in a tractor accident. He, his wife, and their five kids had been collecting McDonald's Monopoly pieces in hopes of winning some help in paying off the tens of thousands he owed in back taxes. Baker, in turn, gave Jacobson's prize pieces to his foster son, his sister-in-law, and other friends who, like previous "winners," would set up phony residences and accounts so it appeared that they lived in different parts of the country. Unfortunately for them, the FBI was onto them because agents were working on …
"Operation Final Answer"
Thanks to an anonymous tip received by Jacksonville-based Special Agent Richard Dent in 2000, the FBI learned that three recent Monopoly winners were all connected to a mysterious man named "Uncle Jerry." Dent, bogged down in other cases, initially didn't follow up on the tip, but his partner, Doug Mathews — who's by far the best part of McMillions — saw a note on the agent's desk that just said "McDonald's Monopoly fraud?" and wondered what it was about.
The FBI soon established there was something fishy happening with the McDonald's game: The odds of winning the jackpot were one in 250 million, and the odds of three connected people winning were virtually impossible. After rejecting names involving "Mc-" and the Hamburglar, they called the official investigation "Final Answer," choosing a code name in honor of Who Wants to Be a Millionaire, the co-sponsor of that year's Monopoly contest. Without knowing if one or more McDonald's corporate employees were in on the fix, they eventually approached the company and explained what was happening. (When meeting the McDonald's top security team, Agent Mathews opted to wear a gold suit, just because he thought it would be funny.)
The operation soon grew to involve wiretaps and, with the help of McDonald's marketing employee Amy Murray, a ruse that deployed undercover agents, including Mathews, posing as a production crew to film the suspicious jackpot winners telling their stories about finding the prizes. The sham interviews with the schemers — including Robin Colombo's father and Michael Hoover, a Florida man who used his money to buy a boat he named Ruthless Scoundrel — were full of obvious lies and gave the agents plenty of evidence to move the case forward. The fraud plot eventually blew up in 2001 when McDonald's, at the FBI's request, delayed sending out the prize money, leading the perpetrators to panic and blab all about it on their tapped phones. That was enough for the Feds to move in and nab the conspirators.
The Aftermath
Jacobson, Glomb, Hoover, and Baker, along with his wife and sister-in-law, were among the eight people arrested on August 22, 2001. In all, 51 people were indicted in the case, mostly on fraud and conspiracy charges. Jacobson pleaded guilty and was sentenced to three-plus years in prison and ordered to pay $12.5 million in restitution. Baker was excommunicated by the Mormons, but his foster son, George Chandler, had his conviction overturned when a court agreed that it couldn't disprove his claim that Baker conned him into the conspiracy. Robin Colombo, who claimed that her late husband's parents tipped off the FBI as revenge for her trying to keep her son away from them and the Mafia, got 18 months in jail. She became a born-again Christian and released a book, From a Mafia Widow to God's Child, in 2006.
McDonald's itself didn't escape the mess unscathed, facing several lawsuits in the ensuing years. The company and Simon Marketing both sued each other in 2001 for breach of contract, with McDonald's finally agreeing to pay Simon $16.6 million. Over 1,000 Burger King franchises filed a class-action suit against McDonald's for false advertising and unfair promotion for knowingly running the Monopoly game while it was compromised, though they ultimately dropped the suit. To make up for the bad PR, McDonald's also gave away $25 million in prizes, including $1 million each to people at random chain locations.
Now, the most recent developments are the release of McMillions and the possibility of a movie adaptation of the story. Ben Affleck and Matt Damon optioned the Daily Beast story in 2018, with Damon starring and Affleck directing, though they haven't announced any further details about the project.
McDonald's, meanwhile, hasn't run the Monopoly game in the U.S. since 2016, though it still takes place elsewhere around the world. In 2019, British Labour Party politician Tom Watson wrote to the company to ask that it cease the campaign and its encouragement to buy more fast food, saying, "It is clear that McDonald's Monopoly is a danger to public health." McDonald's ran it anyway, citing the fact that people could get puzzle pieces from their carrot bags and salads, and saying, "Customer choice is at the heart of everything we do."