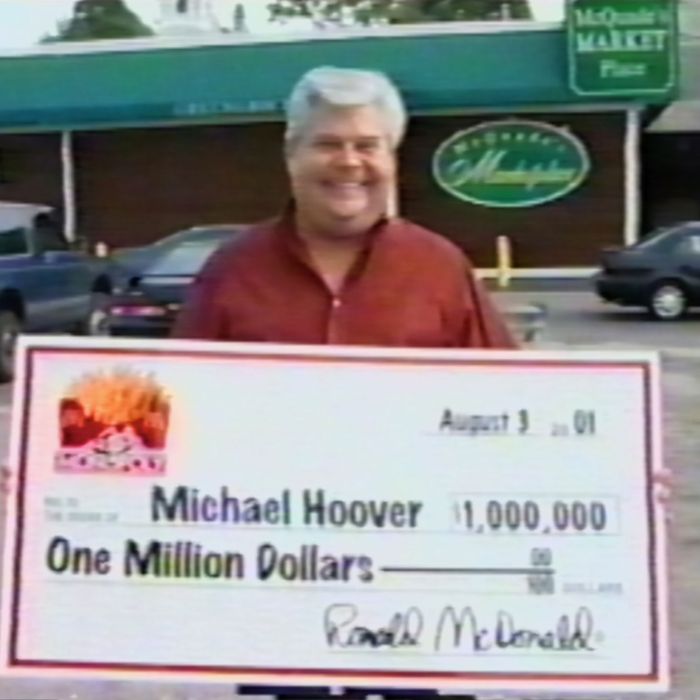 "1. Oh my god. Really? 2. Sweet."
That was the reaction of FBI agent Doug Mathews after getting approval for an undercover sting operation to help find the source of a years-long fraud operation involving the Monopoly game at McDonald's. That was also my reaction — and likely the reaction of many — when hearing that HBO was releasing a six-episode miniseries about the case. As a young adult of modest means from 1989 to 2001, there were stretches where I eagerly tore Monopoly game pieces from large fry boxes and soda cups, and affixed them to a paper board in my apartment. And if you were like me — and literally everyone who played was, it turned out — the best you could do was win an instant fry or drink and learn exactly which rare game piece you were never going to acquire. But you were just so tantalizingly close that maybe the next Quarter Pounder with Cheese meal would put you over the top.
But what really happened with the Monopoly promotion is like a perfectly acerbic commentary on the American dream: After chasing this improbable get-rich-quick scheme that turned out to be available only to cheaters and low-lifes, you ultimately wind up a little broker and fatter than you were when you started. Yet the allure of eating to win was enough to make it extraordinarily successful while it lasted, like a more comprehensive version of the spike McDonald's would experience whenever it cycled the McRib sandwich or the Shamrock Shake back onto its menus. In lieu of anti-gaming laws, it was an opportunity to do a little drive-thru gambling, and the familiarity of the Monopoly brand only increased the enticement. Everyone has won Monopoly a few times in their lives.
James Lee Hernandez and Brian Lazarte's McMillions feels like a cross between the Errol Morris documentaries The Thin Blue Line and Tabloid, with stylized reenactments informing an energetic, stranger-than-fiction investigation. The trouble with McMillions, at least in the first episode, is that the reenactments don't serve much of a purpose beyond giving us something to look at when the talking heads stop talking. They work in The Thin Blue Line because Morris is trying to crack an unsolved mystery by staging different scenarios based on evidence and eyewitness accounts of a shooting. But Hernandez and Lazarte are merely telling a story that's already been written, and they've done it in a way that only occasionally fills in gaps in our imagination. For example, it's a great reveal to see the cheeky logo ("'Cause you're just lucky") slapped on the van for Shamrock Productions, a fake production company. It's less great to get a blurry image of a field agent who declined to participate in the film.
No matter, because McMillions has Doug Mathews, who's like a movie character who somehow became an FBI agent who is now a movie character again, thanks to this documentary. It was Mathews' initiative to pursue the McDonald's Monopoly case, because as a brash newcomer in the sleepy Jacksonville field office, he quickly grew bored of the white-collar health-care fraud cases his division usually investigated and liked the glint of this shiny new object. (Or, as he puts it, "That's got to be more fun than this shit I'm working at.") In the documentary, Mathews talks about following up on a lead that claimed, correctly, that the last three people to win the big prizes in Monopoly were all in the same family tree, only they all had different last names. Once that fact was confirmed, the probabilities of one (1 in 250,000,000), two (1 in 1,000,000,000,000,000) or three relatives (1 in 300,000,000,000,000,000,000,000) winning made it obvious that something was amiss.
The first episode introduces several major characters in this investigation: Mark Devereaux, the district attorney who tried all the division's white-collar cases and got heavily involved in this one from the start; Chris Graham, the squad supervisor; Tom Knier, the SAC (special agent in charge) of the entire Jacksonville office; Rob Holm, director of global security for McDonald's; Janet Pellicciotti, the undercover coordinator; and Amy Murray, who worked in communications for McDonald's at the time and was the point person for the company on the contest winners. There are other players introduced, too, and surely more to come, but Hernandez and Lazarte have gathered virtually everyone they need to tell this story and lucked into having a big personality like Mathews as Boardwalk and Park Place rolled up into one.
McMillions is a clean, straightforward piece of storytelling so far, cruising through the timeline and the thought processes that led the FBI to reach out to McDonald's corporate, which could have had a suspect, and then the bigger decision to run the upcoming Monopoly game again in order to conduct a sting operation. It would have been better for McDonald's not to know about what happened at all, because it puts them in a terrible spot no matter what they do. If they choose not to run the game again and stop cooperating with the FBI, they betray their defrauded customers and turn a blind eye to possible criminal behavior within its halls. If they move forward with it, then they know that no big winners will be legitimate and their customers are merely unwitting participants in an investigation.
The episode ends with the amazing story of the FBI's first undercover operation of the case. Mathews' ingenious idea is Argo before Argo: Posing as a commercial production company, operatives would visit past winners for a Publisher's Clearinghouse-style promotional video about how they won and how it's changed their lives. The first winner is the most recent winner, Michael Hoover, who's greeted with an oversized check and lots of questions from Mathews, who cast himself as the director "because they don't do shit." Mathews and Murray, who's serving in what would be her normal capacity in communications, each confess to being nervous, but their cover is so good that it hardly matters. There was never any reason for Hoover to suspect the people filming him are working for the FBI.
Amid the pile of nonsense that Hoover lays on them — about the beach where he lost his copy of People magazine in the ocean, thus forcing him to pick up a new copy with the million-dollar piece — a man grabs the giant novelty check and tries to run off for it. That he thought he could somehow cash it at the bank is completely in the spirit of this entire boondoggle.
Chance Cards
• Mathews wearing a McDonald's-yellow suit for the meeting with the company's security team is perhaps less terrible an idea that it sounds. It may undermine the agency's buttoned-down professionalism, but it's a signal to the McDonald's brass that the FBI is on their side in this investigation. If the FBI felt confident enough to make this small circle of McDonald's security people aware of what was happening without it blowing the case, then getting their cooperation is paramount.
• "From 1989 to 2001, there were almost no legitimate winners of the high-value game pieces." Incredible to consider. Or, as Mathews puts it, "How crazy-bullshit is that?!"
• Operation Hamburglar seems like a much better name than Operation Final Answer, but perhaps there are issues with operation names being too on-the-nose.
• Mathews wore a polo shirt because he was told a director "looks like someone who just came off a golf course." He may have great instincts as an agent, but not a lot of research was done here on film craft.