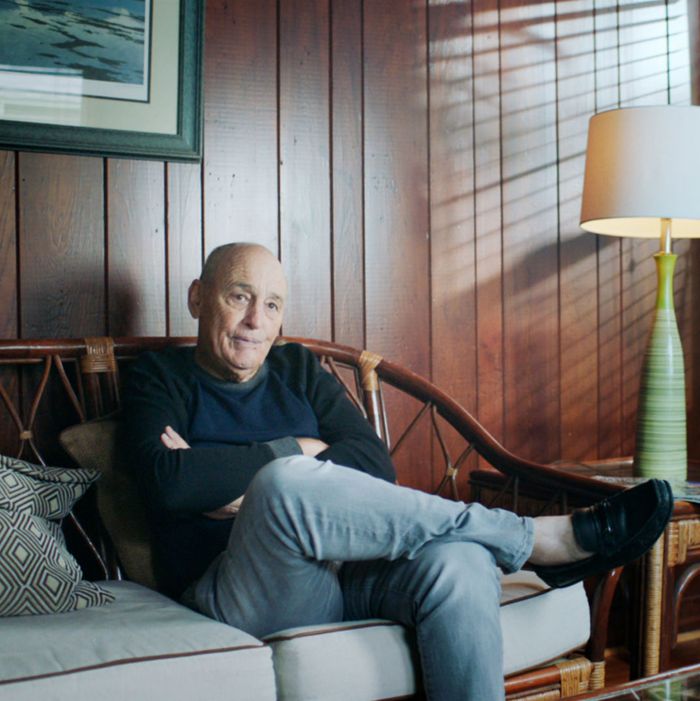 In my previous recap, I likened McMillions to an Errol Morris documentary: stylish, full of reenactments, and marked by a fascination with colorful characters telling tale tales. But as that cast of characters expands further in the second episode, it's also seeming like a documentary by Nick Broomfield, the director of films like Kurt & Courtney, Biggie & Tupac, and Heidi Fleiss: Hollywood Madam. While McMillions doesn't have Broomfield's first-person shtick, where he'd appear in the front of the camera and ask questions in the fake-abashed fashion of the world's biggest rube, it's starting to access his type of subject. Broomfield loves the fringe-dwellers and lowlifes that orbit big cases, and now that the Monopoly fraud conspiracy has widened, they've forced their way into the picture.
But first, there's a mystery to be solved: Who's "Uncle Jerry"? Who's the nefarious mastermind with access to the big-money game pieces and how did he pull off this extraordinary theft? It turns out the answer is slightly harder than expected, because there's more than one Jerry. There's a conspiracy of Jerrys! The first Jerry is Jerry Jacobson, a former law-enforcement officer who got a security job at Simon Marketing, the firm responsible for running the Monopoly promotion. The second Jerry is Gennaro "Jerry" Colombo, a "full-blooded" Sicilian gangster who was part of the Colombo crime family, one of the five Italian-American families that ran organized crime in New York City. Jerry's brother Frank wants to make it absolutely clear that he was nothing like the gangsters you see in The Sopranos or the movies. "Did he do things like that? Absolutely. But he did them with humor." Like a cross between Marlon Brando and Joe Pesci. Or, wait, no, like a cross between Al Capone and Rodney Dangerfield.
The frame for this episode is a fascinating mystery within the larger mystery. In December 1995, an anonymous donor mailed a $1 million Monopoly game piece to St. Jude's Children's Hospital in Memphis, Tennessee. A Christmas miracle! And one so heartwarming that McDonald's suppressed its natural inclination to disqualify it on a technicality. (The company rep interviewed for the news segment about the donation can barely mask his disappointment, "McDonald's worked out a way to pay the game piece, even though it really can't be transferred." As if denying a Children's Hospital a selfless donation of this size were even an option.) The biggest masterstroke of this episode is that the first question it asks about the St. Jude's donation is whether the game piece was legitimately earned. Then when it returns with the answer in the final moments, the question changes to why the donation was made and what it implies about the person who made it.
The first new character up for examination is Marvin Braun, Jerry Jacobson's stepbrother from Miami, Florida. According to Braun, Jacobson dreamed of being an FBI agent as a child, but grew into the role of a scam artist who gifted his brother a $25,000 game piece with the tacit promise that he'd keep his mouth shut and not ask questions about how he got it. Digging in further, Jacobson seems like an odd character, having first connected with the police in Hollywood, Florida, by offering the detective access to his psychic friends to help on murder case. (Weirder still is the detective thinking such an offer was "wonderful.") There's a timeline in which Guillain-Barré syndrome doesn't hasten the end of his career as a policeman, but the one we're in brought him to a security post at Simon Marketing, where his skills were applied to more nefarious purposes.
All of this chicanery happened under the nose of Jacobson's wife at the time, Marsha Derbyshire, another ex-cop who found work in the security business. Derbyshire's employer was Dittler Brothers, a printing company north of Atlanta that just happened to be the place where the Monopoly game pieces were printed. The details of the Dittler Brothers operation are endlessly fascinating, because they were entrusted not only with the game pieces, but scratch-off lottery tickets and other sensitive games of chance. The notion that anyone could slip into the plant and run off with the winning items is rendered absurd on multiple levels, from the three levels of security necessary to access the floor to the special measures for high-value tickets, which are likened here to launching nuclear weapons. In a way, the impossibility of stealing the Monopoly pieces, especially over such a long period of time, narrows the field of suspects to one guy.
Meanwhile, the undercover operation continues to bear fruit. Mathews has the absurd idea of gathering all the Monopoly winners together for an all-expenses-paid reunion in Las Vegas, with the fanciful idea that the FBI could arrest an entire floor of them. But within that unworkable conceit is the germ of better one: They merely had to promise the Vegas trip as the carrot on a stick, a pretense to get more interviews on-camera. And the one they get with Buddy Fisher, a $1 million winner, is almost comically incriminating. Fisher seems to believe that the the simpler the story he tells, the better, which would be a fine strategy if he wasn't sweating like Jordan Peele in the "Browser History" sketch. The big reveal: He's Jerry Colombo's father-in-law, fully connecting this scheme to the mob.
As for the donation to St. Jude's, that's all Uncle Jerry, who we learn is Jerry Jacobson. It's hard to square Jacobson's greed and criminality with his impulse to give away one of his precious game pieces, other than to imagine some lingering guilt, perhaps coupled with a difficulty figuring out how to claim the money. "Here's a story that will make you feel better about the human race," said Katie Couric on one of the lighter-side-of-the-news pieces that ran at the time. Oh, the irony!
Chance Cards
• Braun's story about refusing his stepbrother's $1 million game piece and flushing it down the toilet doesn't pass the smell test. A man willing to claim $25,000 in ill-gotten money may feel scared off by a claim that high, but he wouldn't seem like the type to reject it so dramatically.
• Great moment from Marsha Derbyshire when she's asked why she liked Jerry Jacobson: "This big long silence isn't going to be there, is it?" (Keeping flubs in documentaries is always fun, even when it breaks the fourth wall. My favorite example of this is Sean Penn clearing his throat while doing the narration for Dogtown and Z-Boys.)
• More fascinating prize-verification measures: a little error in the typography of the winning piece, along with a code revealed through a black-light pen. That wouldn't have stopped this particular scheme from happening, but it's a fair warning to those with the means to try to run a forgery.
• Incredible claim that Jerry Colombo was going to be in either Shanghai Noon or Shanghai Nights with Jackie Chan. And entirely in character for his wife to refer to the pairing as "a Sicilian and a Chinaman."
• Another wild detail from Colombo's wife: She enjoyed getting up for a midnight snack on evenings when she would smoke a joint and relax, but she was told not to touch a gray M&M while fishing for Reese's Cups. Her husband was running a separate prize scam for that.
• Mathews: "The greed is crazy here. Which is great for us."