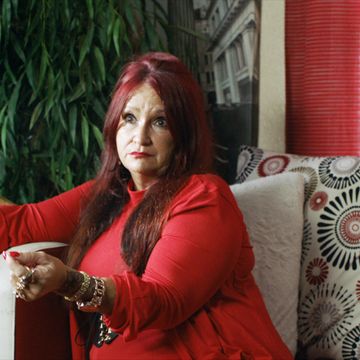 Before the third episode of McMillions, we'd seen two million-dollar winners interviewed by Shamrock Productions, both men spinning their made-up stories about how they got their winning piece. And in both cases, it's been easy to laugh about the particulars: Michael Hoover talking about going to a grocery store to replace the People magazine that had flown out of his lap and into the water at the beach, Buddy Fisher sweating profusely while trying desperately to give the vaguest possible account of what happened to him. To this point in the documentary, it's been fun to watch people incriminate themselves on camera, because who cares about them, anyway? They knowingly participated in fraud.
Tonight's episode shows us the reverse angle and it's surprisingly devastating. Gloria Brown was a million-dollar winner who made her claim at a McDonald's near Hilton Head, South Carolina, but actually hails from Jacksonville. When she sits down with Doug Mathews and Amy Murray, there's more fun to be had in watching them exploit the holes in her story, specifically her false claim to residency. When Mathews shows her a picture of the McDonald's where she won the money, there's a cruel irony to the restaurant actually being located in her Jacksonville hometown, like Mathews wanted to be as disrespectful as possible. And then, by having her sign the photo ("Thanks a million!") and point to her winning star, her humiliation was complete.
When we come back to the footage later in the episode, after meeting Brown in the present day and hearing her side of the story, it takes on a completely different meaning. This isn't the case of a greedy woman dutifully lying to a McDonald's promotional unit while her living large off her winnings, but a single mother held hostage by a gangster who's shaking her down for every penny she's got. The two Jerries have to get paid: Jerry Jacobson from Simon Marketing, who's been stealing the winning tickets, and Jerry Colombo, the two-bit mobster who's been distributing them to various family members and friends he can either trust or coerce. They need winners to make their money, which doesn't leave much money for the winners.
With the scheme now several winners deep, all of them Italian-Americans, Jerry Colombo's wife Robin suggests that he may want to bring women and persons of color to the fold or risk drawing suspicion. Brown was an old friend of Robin's, and she was enticed enough by the prospect of financial relief that she didn't ask too many questions about how this "blessing" landed in her lap. But from the moment she agrees to take part, Colombo has the power to exploit her mercilessly: She has to submit to his every demand, from the scripted trip to McDonald's to claim the prize to the constant raiding of her bank account. He even made her mortgage her home to give him money upfront for the ticket, which wound up tripling her payments later on. Of the $50,000 McDonald's paid out to her every year, $25,000 was his tax-free, leaving her with about $10,000 after taxes, which didn't change her life much at all.
Until now, the beauty of Mathews' sting operation has been the plausibility of it to the "winners," who have so little reason to suspect anything's wrong that several of the FBI agents on the crew, him included, didn't even bother to learn how to do their fake jobs. It wasn't like they had to produce a commercial-ready promotional video — they just needed a pretense to get suspects to lie on camera. But the fact that Brown sensed that she was in trouble, based on the questions she was being asked, completely changes the context of the footage. Now she's not another terrible liar getting exposed, but a victim a few years' deep into a gangster's scheme, less a winner than a hostage. Amid all the comical Coens-in-real-life lunacy of McMillions, James Lee Hernandez and Brian Lazarte are telling us that these are not just colorful characters. Some people got hurt.
Which is not to say there isn't plenty of chicanery in this hour. While Jerry Colombo was running the Monopoly scam, he was also trying to get a strip club called Fuzzy Bunny's off the ground in Ladson, South Carolina, where local ordinances forbid such establishments. Jerry's answer was to exploit every loophole he could in the law, like having his pole dancers wear Daisy Dukes and pasties, but never actually take off all their clothes. When that didn't work, he mixed sin and salvation by opening The Church of the Fuzzy Bunny's, which this "News of the Weird" item from 1998 describes as a "Bible reading followed by a procession of dancers wearing pasties." (The same paragraph describes another ordinance-dodge in California that involved turning a strip club into an RV promotional facility.)
As Colombo's schemes and affairs put a strain on his relationship with his wife Robin, guess who stepped into the breach? Uncle Jerry! This bizarre love triangle leads to the funniest moment of the episode, when the interviewer has to stop Robin to process this revelation. ("Hold on…. Really?!") How much the Jerry-Robin-Jerry romantic intrigue factors into this story is questionable, but it does underline how closely Jacobson and Colombo had to collaborate over the years. And with two honorable men like that working together, what could possibly go wrong?
Chance cards
• If this were scripted television, Robin Colombo watching an episode of The Sopranos would be a little on-the-nose.
• The episode introduces Hilda Bennett, the CPA that would travel with Jerry Jacobson, but there's no follow-up about her at all, which is an odd hiccup in the storytelling.
• Lee Cassano's story about Jerry Colombo making her a supremely unlucky $100,000 winner is like Gloria Brown on a smaller scale. She was another working stiff who was the happy beneficiary of Colombo's largesse, right up to the point where he flew her to Philadelphia to claim the prize and subsequently shook her down for the money, too.
• "He kept picking Italians on the east coast." Starting to suspect that Jerry Colombo wasn't a criminal mastermind.
• Asked whether his Church of the Fuzzy Bunny's was an affront to God, Colombo responds with a spiritual brazenness few could manage: "He came to me in a dream a couple weeks ago and He said that what I'm doing is fine."