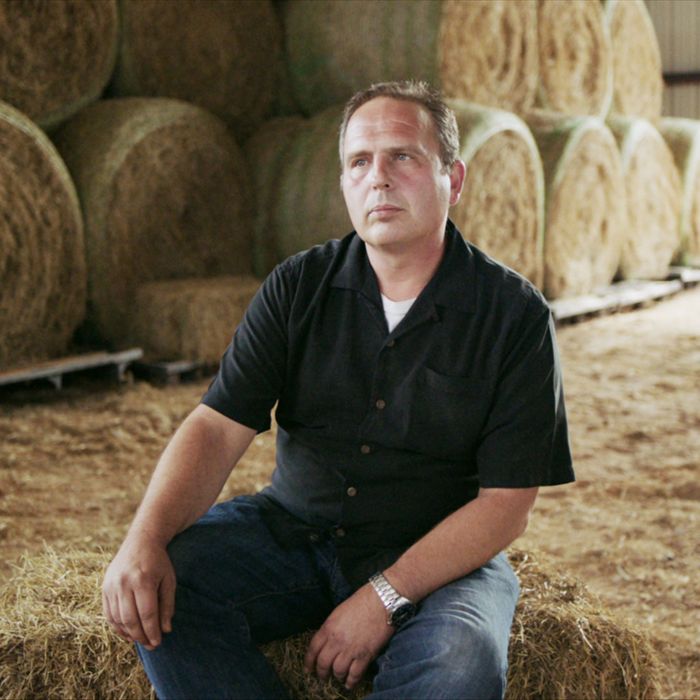 There's a lot of story to tell in McMillions, but the fourth episode is a reminder that it could have been told more efficiently, perhaps in the space of a conventional documentary. After all, a Daily Beast long read covering the same saga, by Jeff Maysh, could be read over lunch. But as James Lee Hernandez and Brian Lazarte have continued to pull back the layers on the Monopoly scam, they keep finding characters and the wild little subplots within subplots that define their lives. Could we understand the scam without knowing that Robin Colombo allegedly taught her small child to shoplift for her and served time for grand theft auto? Or that middleman A.J. Glomb once tried amyl nitrate at a Miami party in the '70s? Of course we could. But if they're given six hours' worth of documentary real estate, who are Hernandez and Lazarte to resist?
Picking up from the cliff-hanger that ended the third episode, Hernandez and Lazarte reveal that Jerry Colombo died in a car accident that spared the lives of his wife and son, Francesco, but splintered the family and left the Monopoly scam in other hands. There are a mass of complications that the documentary can't really sort out that clearly, especially when it comes to the issue of Colombo's possessions, which his brother Frank alleges were stolen by Robin, who claimed a house robbery. That seems plausible, but Frank also claims that he collected the winning tickets from Colombo's freezer and wound up destroying them, which also seems like a peculiar move. (Like Colombo's stepbrother, who says he flushed a winning piece down the toilet, he just doesn't seem like the type.) Hernandez and Lazarte let the accusations fly without much follow-up, trusting that the viewers will puzzle these things out on their own.
What is true is that Colombo's family didn't care much for Robin, who doesn't dispute the assertion that she wasn't at the hospital when her husband died. She claims that she didn't think his injuries were life-threatening, but what kind of person blows off hospital visits when their spouse is in the ICU? Conspiracy theories about whether there was a hit out on Colombo seem far-fetched, despite the vipers hissing around him at the time (and the viper he himself was), but this was obviously not a thriving marriage at the time of the accident. The money missing from his glovebox and house raises an eyebrow, but these are accusations from Frank, who doesn't seem like the world's most reliable narrator. Nobody in the Colombo family seems like they're on the up-and-up, so sorting out the facts boils down to which character seems least dubious. It's a relief to see that Francesco, the toddler who survived the accident (and his subsequent indoctrination into a life of crime), looks like he carved out a happier and healthier life for himself.
With Colombo out of the picture, however, Uncle Jerry, Jerry Jacobson, had to find other middle managers of dubious character. But first, the documentary seizes on the fact that Jacobson was, in Robin's words, "a frickin' gangster" himself, and that his short temper and history of domestic violence led to his divorce from Marsha Derbyshire, who felt she needed to protect her sons. The middle managers Jacobson found are both incredible stories in their own rights, and a fascinating study in contrasts: A.J. Glomb, who we already know as Michael Hoover's connection to Jacobson, was an ex-con who'd just been released from prison on a drug rap. (This leads the documentary down an amazing tributary to Glomb fleeing to Europe, shipping a Ferrari back to the States, and eventually getting pinched at a donut shop in San Diego.) Dwight Baker was a real-estate developer and LDS member who added this scam to his portfolio at a particularly desperate moment.
Glomb's complete absence of scruples is almost charming, like a rogue who sees a life of crime as one great adventure. He's happy to tell the story of meeting the popular author Harold Robbins and getting high off Robbins' favored orgasm enhancer, and he's happy to talk about his escape to Europe, where his concerns over getting caught only seemed to fuel his instinct to live every day to the fullest. He doesn't seem like a violent enforcer type like the two Jerrys, but who knows what he's capable of doing? Baker has to answer to the Book of Mormon, but that didn't stop him from moving a $1 million game piece to George Chandler for a $100,000 upfront fee, and it didn't stop him from moving additional pieces to shadier characters, including his sister-in-law, Barbara, who decided to abscond with it.
With so many people aware of Jacobson's scheme, it's remarkable that it took so long for the FBI not to catch wind of it. We still don't know yet who placed the original tip that sparked the investigation, much less their motives for blowing the whistle, and we still don't know who decided to donate a $1 million piece to St. Jude's. Those are acts of moral courage that nobody we've met seems capable of doing. In order to pull this off so many times over so many years, Jacobson had to have a good feeling for which lowlifes to bring into the fold. He picked some losers of the highest order.
Chance cards
• One of Jacobson's stepsons, Brian Litteral, comes in to talk about an incident where he bounced his older brother's head off the wall in a rage. But nothing is made of the fact that Litteral is credited as someone from Simon Marketing, too, which seems relevant to understanding his relationship to his stepdad.
• Robin, a true piece of work: "I don't care if he's got a bullet with my name on it. We've all got to go some time."
• Lee Cassano, who Colombo had recruited as a $100,000 winner, speculates that his death could have been a hit, but she seems too distanced from the goings-on in his life to make such speculation credible.
• Incredible footage of Robin's face coming up in "The Wheel of Justice," a crime-fighting gimmick that screams "local newscast."
• Going through the list of "winners" he managed, Glomb comes across a man whose story should seem extremely implausible: "What's a guy with a heart transplant eating at a McDonald's?"
• Another hilarious reminiscence from Glomb, on Michael Hoover: "Real easy-going, nothing bothered him. He sold a lot of drugs. That's how we became friends."