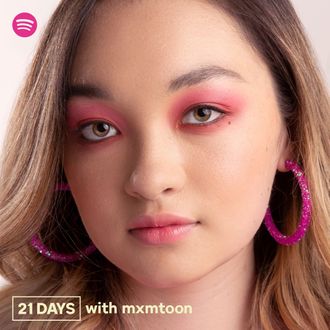 The ongoing blending of the music and podcast worlds — thanks to aggressive podcast investments from both Spotify and Sony Music Entertainment — has led to an interesting new hybrid marketing tactic: artists, from all genres and at all career stages, are now creating podcasts to promote their albums.
In June 2019, the Pixies launched their limited-series podcast It's a Pixies Podcast, which teased their album Beneath the Eyrie by dropping behind-the-scenes episodes week by week, leading up to the album's official release in September 2019. Later that same September, Spotify Studios released the original podcast 21 Days With mxmtoon, which followed the titular YouTuber turned artist as she made her latest full-length album, The Masquerade, from start to finish, using her song lyrics as entry points into ruminations on her identity, family, and career growth.
And just released this week, Asking for It — a fictional podcast from Mermaid Palace and CBC Podcasts about a musician navigating queer romance and relationship abuse — takes a more experimental approach to the hybrid album-podcast approach, by contextualizing new music in a fictionalized rather than documentarian setting.
The women playing two of the main characters in Asking for It — Drew Denny, who plays Goldie, and Christina Gaillard, who plays her bandmate KG — are also bandmates in real life, performing as HIPS, and made an exclusive, self-titled soundtrack for the podcast. The show itself incorporates not just this soundtrack, but also archival recordings from HIPS's demos, rehearsals, and live performances as far back as 2012, as well as some original scoring from Gaillard.
"It's exciting to think that people who wouldn't seek out our music otherwise will learn about it because of the podcast," Denny tells me, adding that the discovery also goes in the other direction. "People who like our music maybe don't listen to podcasts, or haven't listened to a fictional podcast before."
The hybrid podcast-album release strategy is part of a wider trend of independent artists starting their own podcasts, both to talk directly to loyal fans and to cut through the noise of an oversaturated music-streaming landscape.
But on a mainstream level, the approach still feels relatively niche. When bigger celebrities want to share deeper, more intimate and behind-the-scenes content leading up to an album release, they typically turn to video. For instance, Justin Bieber just released a YouTube Original docuseries to promote his album Changes; Beyoncé's $60 million deal with Netflix was timed nicely to coincide with the release of her live Coachella album, as well as the availability of Lemonade on Spotify and Apple Music; other artists like Berner, Future, and Korn have released shorter album docs on their respective YouTube channels, filled to the brim with raw studio footage and interviews.
Importantly, a lot of the kind of footage that works well in these behind-the-scenes videos doesn't necessarily translate to audio. "We realized a few weeks in that just recording someone making an album is boring — especially if they're good at it," Kevin Wortis, founder of Signal Co. No. 1, which co-produced 21 Days With mxmtoon with Spotify, tells me. "Even though it was [mxmtoon's] first record, she was an absolute consummate pro in the whole process. But then there was no story; it was all just workaday stuff. We had to find stakes. It took a while to figure that out."
For mxmtoon, those stakes ultimately reached beyond the recording studio and became much more personal. The episodes seem less focused on the recording process and the songs themselves, and more on larger themes that emerge from mxmtoon's lyrics, such as her biracial and bisexual identity, her experience navigating YouTube and TikTok, her mixed relationships with fans, and her mental health. Several interviews from her family and management team are also scattered throughout to help support the narrative.
In a similar manner, Asking for It draws much of its core story line from HIPS's own song lyrics, allowing more narrative breathing room than what a traditional 30- to 40-minute album might provide. "A lot of our lyrics are describing real-life shit and life changes that we were going through at the time, so it's amazing to interweave those stories into longer story arcs — not just within two minutes, but within 30 minutes for a single episode and then three and a half hours for a whole show," says Denny.
Logistically, video series come with vastly different liberties, and challenges, than audio-based ones. "Trying to conceive of just one of the montages from one of the 15 scenes from one of the seven episodes of [Asking for It] in film would have been a multiday production, costing tens of thousands of dollars," says Denny, who previously filmed documentaries for Vice and CNN. "We would have needed a whole crew, lighting, hair, makeup, costumes, food for everyone on set — not to mention the cameras themselves."
On the other hand, visual imagery — which has historically been an important tool for musicians to communicate certain ideas and retain fans' attention, especially on social media — is inherently absent from podcasts. "Video can be kind of a crutch sometimes, whereas audio is just pure narrative, period," Max Gredinger, who manages mxmtoon and Lauv for Foundations Music, tells me. "You can't rely on amazing cinematography or beautiful, panning landscape shots or be like, 'Wow, it's so cool watching Young Thug vibe out in the studio.' The narrative in and of itself needs to be perfect."
As for the future of this space, we can expect Spotify to produce even more of these album-podcast hybrids, in part to help increase engagement on its own service and strengthen its relationships with the indie artist community.
Gredinger tells me Spotify began working on 21 Days in early 2019, around the same time it acquired Gimlet Media. Jesse Burton — the head of Originals, Music at Spotify, who supervised the acquisition and relaunch of The Joe Budden Podcast as a platform exclusive — is credited as co-executive producer of 21 Days with Max Gredinger, and the company sent Yasi Salek and others to help write scripts and record interviews on-site in mxmtoon's hometown of Oakland.
Spotify has bolstered mxmtoon's profile on the platform in several other ways as well, through exclusive videos, playlist support, and billboards in Times Square — indicating that the podcast is just one prong of a larger artist-development play. It also makes things more efficient for mxmtoon's management team: "We can deliver one concise story to Spotify about who the artist is and what she stands for, and tell them, 'Our two primary drivers for the year [namely, the album and podcast] are all prioritized and distributed through your platform,'" says Gredinger. "Then we can have one conversation and one global message that takes a holistic perspective on mxmtoon. That can't be beat."
Who exactly is the audience for these kinds of podcasts? The answer isn't yet clear. In the past, industry insiders have suggested that the podcast format is best suited for deeper communication with an existing audience — due partially to its long-form, lean-in nature, and partially to the enduring challenges around podcast discovery, recommendation, and curation at large.
"What we're working on more is, how do you create something that is for superfans and for non-fans, for the general population?" says Wortis. "How do you bring current fans into new themes that they hadn't thought of before, and how do you bring general listeners vis-à-vis those themes into the artist's music? That's enormously challenging." He points to podcasts like Dolly Parton's America — which isn't tied to a record release, but combines a deep-dive into Parton's diverse fanbase with a survey of universal social and political themes — as inspiration for future projects.
For 21 Days, there are some early signs that the podcast is helping out with mxmtoon's audience expansion. "It's still streaming a lot week-over-week, and I don't believe that's just her existing fans wanting to relisten to the podcast over and over again," says Gredinger. "It's helping with fan acquisition, and the show is kind of a constant that exists [on Spotify] that people can subscribe to and consume to learn more about her world and her brand as it grows."
Most of those podcast streams today are likely coming from a hybrid music-podcast playlist that mxmtoon has pinned to the top of her Spotify profile, titled "the adventures of mxmtoon: the masquerade to dawn & dusk." That's another benefit of these kinds of campaigns: Even if you don't partner with Spotify, you can still make and promote your own playlists of music and podcasts on the platform, a functionality that isn't yet available elsewhere.
Hybrid album-podcast releases should also be a natural strength for major labels like Sony Music and Atlantic Records that are growing their podcasting arms alongside their music catalogs. While they don't have the benefit of direct access to millions of paying consumers the way Spotify does, they do have access to a lot of the most in-demand talent, which will be an important asset to get people to listen in the first place.
Yet in some ways, releasing a podcast about an album seems almost antithetical to other hot marketing tactics in the music world today, like TikTok and Triller campaigns, that are meant to maximize virality and rack up surface-level metrics with ever-increasing velocity. Producing a podcast that tells a compelling story in its own right, and that extends an artist's world and brand in a cohesive way, takes a lot of time that not everyone may be willing to commit. But the demand and the resources — at least from bigger companies fighting for market share — are certainly there.