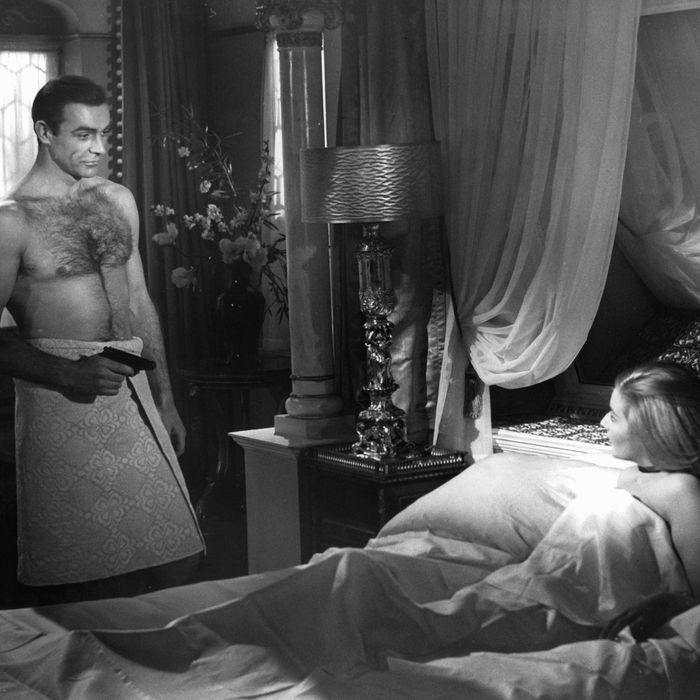 Photo: Archive Photos/Getty Images
On April 10, 2020, Daniel Craig's James Bond will end his five-movie run as the hard-drinking, problematically hot, impeccably dressed secret agent 007. Created by Ian Fleming in 1953 for the novel Casino Royale, the pun-tastic character of the movies has historically been a lot more fun than his dour non-joke-telling literary antecedent. That said, Daniel Craig's moody iteration is probably the closest to Ian Fleming's invention, the public perception of Bond in 2020 (he's kind of an asshole) being pretty similar to the perception of him in 1953.
No matter what you think of Bond movies today, Daniel Craig's impending 007 swan song (sure, there's a pun there if you're looking) will represent the end of an era, and the uncertainty of Bond's future has prompted fans and scholars to take a hard look at the history of the cinematic franchise, which, for 58 years, has literally found no time to die. Appropriately, a massive 700-page oral history of James Bond hit bookstores this week — Nobody Does It Better: The Complete Uncensored, Unauthorized Oral History of James Bond, written and compiled by longtime pop-culture historians Mark A. Altman and Edward Gross — brimming with more James Bond facts than M would deem acceptable for public consumption.
After spending several weeks with the book ahead of its publication (and chatting with Gross and Altman prior to the launch of the book), we've compiled a list of the Nobody Does It Better reveals most likely to leave you … shaken.
The Broccoli family is still in charge.
"It's really a family business," Mark A. Altman tells Vulture of the Bond franchise. "[It's] producer-driven rather than auteur-driven. No matter if it's Sam Mendes [Skyfall, Spectre] or Marc Forster [Quantum of Solace], for instance — two auteurs with very unique vision — a Bond movie is still a Bond movie. Because ultimately it's Barbara Broccoli and Michael Wilson's film and it's their imprimatur that is the most distinct on any Bond film of the contemporary era."
Barbara Broccoli is the contemporary boss of 007. She's also the daughter of Albert "Cubby" Broccoli, who, along with Harry Saltzman, began EON Production's "official" James Bond movies in 1962 with the film Dr. No. By 1975, Saltzman left EON, and by 1995, Barbara Broccoli and Cubby's son-in-law Michael G. Wilson took over the Bond franchise. For nearly six decades, every decision about big-screen 007 has been managed by the Broccoli family. But, Mark Edlitz, an author of another recent Bond book, 2019's The Many Lives of James Bond, points out that this "cottage industry" approach exists in print, too. "It's not just the movies," Edlitz says. "The success of the franchise that the films and the novels have been carefully overseen by EON and Ian Fleming Publications, respectively."
If the Casino Royale director had it his way, we'd probably have a different Witcher.
Long before he was Superman or the titular character in Netflix's The Witcher, Henry Cavill auditioned to play James Bond during the 007 drought between Pierce Brosnan and Daniel Craig. In Nobody Does It Better, we learn that the director of Casino Royale — Martin Campbell — actually preferred Cavill to Craig, but Barbara Broccoli pushed for the latter. According to Altman and Gross, "Barbara Broccoli is the one who immediately locked onto Daniel Craig and found herself in the position of having to convince just about everyone else."
Auditioning James Bond actors are required to read this one scene.
Assuming they had to audition at all (Roger Moore didn't!), all potential new Bonds — including poor Henry Cavill — are required to perform one specific scene from the second Sean Connery Bond film, From Russia With Love. In the scene, Bond walks into his hotel room and finds a woman — Russian agent Tatiana Romanova — already in his bed. In Nobody Does It Better, Michael G. Wilson says they chose that scene for the Bond tryouts because "it has everything you want to know about a potential Bond; drama, romance, and action."
The scene itself is also a double seduction: Bond is trying to get information from Romanova on a decoder machine, while she's trying to get him into bed so he can be photographed by hidden cameras. But yes, a kinky spy scene written in 1962 is the same scene Pierce Brosnan and Daniel Craig had to perform to get the part. And you can bet the next Bond will have to do it in 2021, too. Hell, who knows, because No Time to Die is Daniel Craig's last 007 movie, a bunch of famous actors could be rewatching From Russia With Love right now.
Every major James Bond cliché comes from the co-writer of Goldfinger.
Even if you've never seen the third Sean Connery James Bond film Goldfinger, you've likely heard of it. And if you've somehow never heard of it, you'll probably recognize the tropes it introduced. From a slick Aston Martin with a hidden ejector seat, to henchmen with superhuman abilities, to James Bond's wisecracks seconds before his testicles are about to make contact with a laser, the essential stuff of the 007 formula is largely derived from Goldfinger. Moreover, these ideas did not originate with the film's producers (nor were they pulled from Ian Fleming's books). Instead, the over-the-top elements of the cinematic James Bond story can be attributed to the Goldfinger co-screenwriter Paul Dehn (who is slightly more famous for writing four films in the original Planet of the Apes franchise). This was the only movie in the franchise Dehn worked on, and yet there is no question we would be living in an alternate universe without him.
"Goldfinger is a really unique turning point for the series. The Bond series would not have endured as a straight espionage series," Altman explains. "Dehn really minted the formula that would be the template for Bond for decades to come."
The year in which two different James Bond movies were in theaters, the one with the less-popular Bond actor made way more money.
Imagine: It's the year 1983. There are two Bond movies in theaters, one starring Roger Moore and one starring Sean Connery, going head-to-head at the box office. How did it happen? Well, at one point, a guy named Kevin McClory had partial rights to the concept of James Bond because he had co-written the story for Thunderball with Ian Fleming back in the '60s. This meant that several aspects of the James Bond mythos were tied in legal complications for years. In fact, the Daniel Craig films were only recently able to mention the evil spy organization Spectre, due to the same legal circumstances that allowed Never Say Never Again to exist alongside its "official" 1983 Bond competitor, the Roger Moore film, Octopussy.
Never Say Never Again was directed by Irvin Kershner the genius who directed The Empire Strikes Back. Starring Sean Connery in his return as an aging Bond (he'd last played Bond in 1971), the film co-starred Kim Basinger. Despite the star power, Never Say Never Again lost the "Battle of the Bonds" to the critically maligned Octopussy, starring Roger Moore (who began playing Bond in 1973) and Maud Adams.
"Octopussy isn't bad," Gross explains. "But sometimes you have Bond movies that have great opening scenes even if the movie wasn't great. Octopussy has a great opening scene." Gross is not wrong. In the pre-credits scene of Octopussy, Bond flies a miniature plane that was previously hidden inside of a horse trailer. When his tiny plane runs out of gas, he lands at a gas station, and says, "Fill her up." Take that Sean Connery! A rogue James Bond movie was never attempted again, and finally, by 2014, all the various legal complications were settled.
The cycle of each Bond era is nearly identical — start gritty … get silly … repeat.
For many contemporary moviegoers, Daniel Craig is the most hard-edged, realistic James Bond of them all. Indeed, in Nobody Does It Better, you learn that after Pierce Brosnan drove an invisible car and rode a snowboard "off a fucking iceberg" in 2002's Die Another Day, director Martin Campbell was tasked with bringing Bond back down to earth in 2006's Casino Royale. But it's hardly the first time a sequence of James Bond movies soared to oxygen-deprived heights of self-parody, only to be dragged back down to sea level. Gross tells Vulture that the "self-censorship" of the Bond films is the key to their success. He points out that after the popularity of Moonraker, in which Bond went to outer space, For Your Eyes Only opted for a more serious approach. "What tends to happen is that whenever they root the film in seriousness, it starts to gradually go back up to silliness," Gross says. "Just contrast the seriousness of Pierce Brosnan in Goldeneye in 1995, with Pierce Brosnan in Die Another Day in 2002. It's hard to believe it's the same Bond!"
The Bond franchise totally rebooted after its highest-grossing film ever.
Critics were pretty lukewarm on 2002's Die Another Die — the final of four Pierce Brosnan movies. Nonetheless, the film was a huge box-office smash. It earned a whopping $432 million worldwide, and was the sixth highest-grossing movie of 2002. (This is saying something, considering that's the same year of Attack of the Clones, the first Spider-Man, and Lord of the Rings: The Two Towers.) Still, after this huge cash success, Broccoli and Wilson decided it was time for a new James Bond. "You have to admire the chutzpah of Broccoli and Wilson to basically fire Pierce," Altman says. "They start over right after Die Another Day is one of the highest-grossing Bond films ever."
It was likely the right decision. The Daniel Craig movies have since broken every James Bond box-office record. Skyfall earned $1.109 billion worldwide and its follow-up Spectre earned a respectable $880.7 million. Because No Time to Die is Craig's last film, there's a good bet it will, like Die Another Day did in 2002, rake in more than all the rest.
And then the James Bond films will reboot again. As Gross points out, the silly-serious-silly cycle influenced the Craig era, too. Casino Royale may be firmly rooted in a real-world situation, but with both Spectre and No Time to Die, we've got cars with hidden machine guns, the return of supervillain Blofeld, and even rumors that Rami Malek is playing Dr. No — the first Bond baddie ever, famous for his scary metal robot hands. If history repeats itself, No Time to Die will be a self-referential James Bond romp, and then, a few years from now, a more serious 007 will reemerge. He (she?) will look different, sound different, and maybe end up in space by 2030.
Nobody Does It Better is out now from Tor/Forge books.