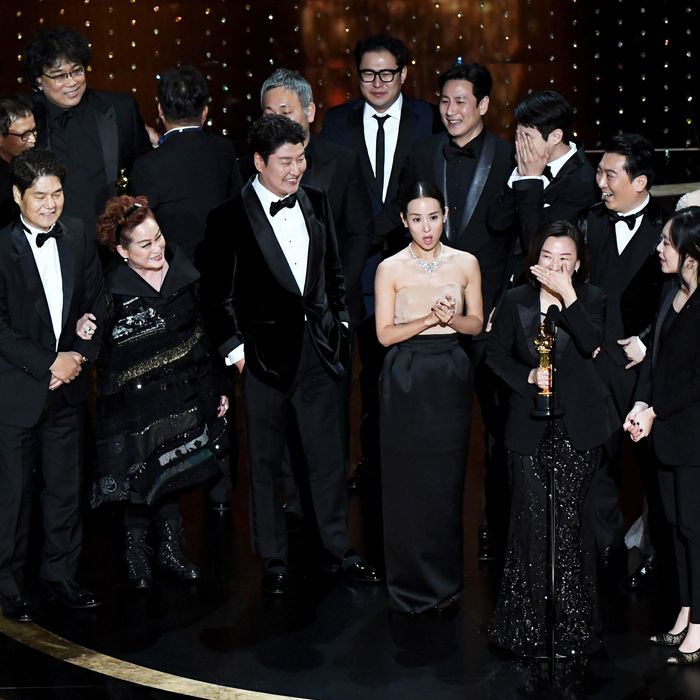 From
Parasite
's winning streak to Eminem's surprise appearance to Olivia Colman's sex confessions.
Photo: Getty Images
The 92nd Academy Awards tore a massive hole in the space-time continuum. Multiple Idina Menzels flooded the stage at once. Eminem performed a song from 2002, and nobody explained why. Diane Keaton and Keanu Reeves rewrote the ending of Something's Gotta Give. The lack of a host meant that presenters got up onstage just to introduce other presenters. Joaquin Phoenix spent a lot of time talking about milk. And despite predictions that Joker might take home several awards — including the big ones — in an utterly delightful upset, Parasite took home four Oscars instead, including Best Picture and Best Director. Below, we attempt to parse the highs, lows, and whoas of this completely chaotic ceremony.
HIGH: The show kicks off with Janelle Monáe's whimsical Mister Rogers–style entrance into what was basically a Janelle Monáe concert backed up by Hårga revelers, Jokers, Little Women, Dolemites, Tethereds … and Billy Porter! You have to appreciate when the lack of a host forces the Academy to try their darndest to kick everything off at an energy level of 11 out of ten — complete with a costume change into a May Queen outfit. Welcome to the Oscars, also a weird ritualistic cult!
LOW: The fact that most of the movies represented onstage — Midsommar, Dolemite Is My Name, Us, among others — were fully ignored by the Academy. Give the May Queen her flowers!
HIGH: Monáe waltzes through the audience, thrusting the mic into the faces of confused audience members who really did not understand how to sing along. A great moment to reveal who is game (Cynthia Erivo, who can always be relied upon to give it her all) and who is trying to be (Tom Hanks, of course), and who most certainly is not (Leonardo DiCaprio, mentally calculating an escape route to the nearest model-filled beach as Monáe approached him).
HIGH: Brad Pitt caps off a season of quippy speeches (likely written by a mysterious ghostwriter) with a surprisingly earnest 45 seconds ("45 more seconds than the Senate gave John Bolton") after winning Best Supporting Actor for his role as macaroni-loving stuntman Cliff Booth in Once Upon a Time in Hollywood. Pitt — who hasn't won an Oscar for acting until now — thanks Geena Davis and Ridley Scott for giving him his first role in Thelma & Louise, and briefly tears up remembering how he packed his bags and headed to Hollywood as a young, pathologically sexy 20-something. He also tells co-star DiCaprio that he'd "ride on your coattails any day, man," which is a mental image we won't soon forget.
HIGH: Frozen 2's absolutely buckwild performance of "Into the Unknown," featuring Menzel, the pop-star-slash-Norwegian-forest-spirit Aurora, and nine Idina Menzel Tethereds Elsas performing what was essentially a live YouTube-riff-compilation-video version of the song. It's fully the version of the song you witness when you do the Midsommar drugs. Thank whatever forest spirits haunt Frozen 2 that Menzel hit her notes this time and Josh Gad pronounced her name right, as he said, "Exactly as it's spelled."
HIGH: Diane Keaton and Keanu Reeves improvise a Something's Gotta Give sequel while presenting the award for Best Original Screenplay. The two banter their way to announcing Parasite's win, with Reeves blushing harder and harder as Keaton asks him if he "remembers her" and shares that they "frankly had a good time" during filming. I don't know what this means exactly, but I'm going to fan-fiction about it. Though Keaton's playwright Erica and Reeves's hot doctor Julian don't end up together at the end of Nancy Meyers's film, even Meyers herself couldn't help but wonder if, in some other universe, they did (or should have!).
HIGH: Taika Waititi dedicates his Best Adapted Screenplay Oscar to "all the indigenous kids in the world who want to do art and dance and write stories. We are the original storytellers, and we can make it here as well."
HIGH: Bong Joon Ho gazing deeply at his Oscar statuette while his collaborator Han Jin Won gives his half of Parasite's Best Original Screenplay speech. He's just having a nice time at the local awards show.
WHOA: is exactly what goes through Billie Eilish's mind when she witnesses Maya Rudolph and Kristen Wiig's presenting bit (or maybe when she witnesses herself on-camera during Rudolph and Wiig's presenting bit). The point is, at some point during Rudolph and Wiig's presenting bit, Eilish is like, "Whoa."
LOW: The lack of a host means random celebrities have to introduce the presenters who then have to present the awards. For instance, Beanie Feldstein introduces Mindy Kaling … who then introduces more things! Then, sometimes, people just walk out and do things without introduction, like the time Chrissy Metz suddenly wandered onstage to sing the Oscar-nominated song from Breakthrough. We crave stability in this ever-chaotic world, and we simply cannot live with this simultaneous surplus and lack of introductions.
LOW: Chaos continues to reign during the extremely random music montage introduced by Lin-Manuel Miranda: "Tiny Dancer" from Almost Famous. "Jai Ho" from Slumdog Millionaire. "Lady Marmalade" from Moulin Rouge … all leading up to … Eminem? Singing "Lose Yourself"? In the Year of our Lord 2020? Seventeen years after the song won an Oscar and he wasn't there? What is happening? Why did nobody explain this or reference it in any way? Did we enter some kind of horrible wormhole? How do we escape?
HIGH: The reaction shots to Eminem's performance. Idina does not lose herself in the music, the moment, but Marty very much does.
LOW: With no host to provide any sense of logic or structure to whatever chaos we just witnessed, the show speeds on through a Randy Newman performance to a rapped recap from Freestyle Love Supreme's Utkarsh Ambudkar (has Disney put every single one of Lin-Manuel Miranda's friends on its payroll after buying Hamilton?). He's a talented guy, but there is really no need to remind us of what just happened less than an hour ago, even if Idina, the true star of the evening, had a nice laugh at it.
HIGH: Cynthia Erivo's utterly flawless performance of "Stand Up," nominated for Best Song for Harriet — in which she also stars. Those runs! That dress! Those high notes! No one woman should have all that power! Where is Cynthia's EGOT?
LOW: James Corden and Rebel Wilson arrive onstage in cat suits to present Best Visual Effects, making the joke that as cast members of the movie Cats, nobody knows the importance of good visual effects better than they do. We'll call the obvious Cats digs a low, but honestly the practical cat suits did look better than the film's digital fur technology.
HIGH: Leo and Camila Morrone's reaction to James Corden and Rebel Wilson coming onstage in cat suits, indicating that this was perhaps the first time they had been introduced to the concept of Cats.
LOW: The Oscars patting themselves on the back for allowing a woman to conduct one (1) song for the first time in 92 years, immediately after making Brie Larson, Sigourney Weaver, and Gal Gadot stand onstage and say things like, "All women are superheroes!" All women should not be forced to participate in pandering, infantilizing bullshit!
HIGH: Bong Joon Ho celebrates his Best Director win by announcing that "after winning best international feature I thought I was done for the day and ready to relax," and then suggests he should break up his award with a chainsaw, Mean Girls-style, and shouts out the other nominated directors, giving particular attention to Martin Scorsese (who got his own standing ovation from the crowd) and Quentin Tarantino, and also (seemingly secondarily) "Todd and Sam, great directors I admire."
LOW: Sure it's already 11:03 and the show's running late, but here's a random cut to 1917's George Mackay off in a balcony introducing Olivia Colman who will then introduce the Best Actors (with their own clip reel!). There goes the idea that not having a host saves any time.
HIGH: Olivia Colman calmly sharing that she absolutely railed her husband on Oscar night last year.
WHOA: Joaquin Phoenix says "cows rights," in a deeply felt yet deeply confusing speech that combined his thoughts about veganism, racism, the general egocentrism of humanity (of which "having an event like the Oscars" probably counts as one), his problematic past, as well as his brother River Phoenix's death. Like most of his awards season speeches, Phoenix's points aren't exactly wrong, but they are delivered in the least coherent way.
LOW: Renée Zellweger, congrats on your Oscar, but why on earth did you decide to start listing famous Americans' names, including "Venus and Serena and Selena," during your acceptance speech? Given that she won so many awards in advance of this, you'd really think someone would've recommended having a better pre-written speech. Thank you to the Pirates of the Caribbean theme for its service in awkwardly cutting the speech short.
HIGH: The enthusiasm for Parasite's Best Picture win is so intense that the audience — led by the rapscallions Tom Hanks and Charlize Theron — cheers for the theater to turn the lights back on and bring back the microphone to let the Parasite team finish their speeches. Something good is happening when the show's running late and the people demand more.