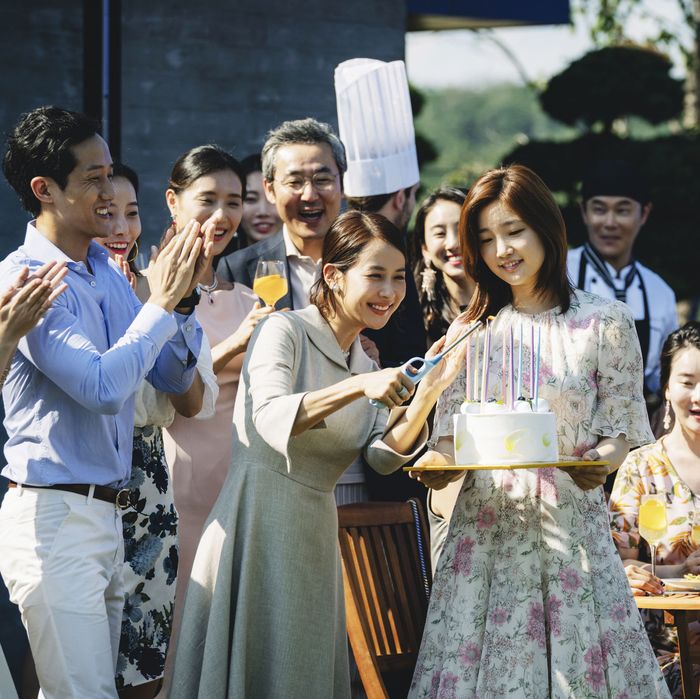 An occasion almost as happy as Park Da-song's birthday!
Photo: Neon
This article was featured in One Great Story, New York's reading recommendation newsletter. Sign up here to get it nightly.
Jane Fonda knew she was about to be part of Oscars history.
All through Sunday night's Oscars ceremony, it was hard not to filter every category result through the prism of what it meant for Parasite's chances of becoming the first foreign-language film to ever win Best Picture. A win for Best Original Screenplay early in the night sparked the flame, until losses in Production Design and Editing seemed to put it out again. Then Bong Joon Ho won Best Director — would voters hand the top prize to Sam Mendes's 1917 in an increasingly common Picture/Director split, or was Parasite about to actually sweep? To see if there was any precedent for 1917 to still gut out a win, I started crunching the numbers to find the last film to take Picture without directing, writing, or acting trophies: Rebecca, in 1940. Was this really happening?
Then Fonda opened the envelope, and I knew, even before she said anything. You knew, too. Bruce Dern's character in Once Upon a Time in Hollywood probably knew. There was something about her face in that long wordless second that said this was not just any Oscar win. And there was also something cosmic about it being Jane Fonda — outspoken, once-so-widely-hated, spent-the-fall-getting-arrested-to-protest-climate-change Jane Fonda. Even if the Academy didn't know the contents of that envelope, there was no way the universe was going to bring her out to hand Best Picture to a single-take war movie, no matter how well crafted.
There will be much to discuss about Parasite's history-making night: How besides the obvious achievement, it was also the first film to win Best Picture without any acting nominations since Slumdog Millionaire. How it was the first film from South Korea to win an Oscar, period. And how, if you count the Best International Film trophy, Bong Joon Ho tied Walt Disney for most Oscars won by a filmmaker in a single night. But in the wake of 92 years of Oscars history falling away like so much peach fuzz, it's also worth trying to work out just how we managed to get to such a place with the same awards body that, 11 and a half months ago, decided Green Book was the film of the year.
Of course, the basic answer is easy: Parasite won because it was that rarest of creative accomplishments, an utterly hypeproof film. I can't count how many times these past few months I heard someone say, "I usually don't go for things everybody else likes … except Parasite." No film is ever unanimously acclaimed — just ask our lovely commenters — but Parasite seemed to enjoy the kind of approval rating that any of the Democratic candidates would kick a woman down the stairs for. It was funny. It was scary. It was highbrow. It was accessible. Above all, it was the kind of film that reminds you how exciting it can be to place yourself in the hands of a master craftsman. As one of Parasite's many fans put it: "That was a fucking movie!"
Even so, this is the Oscars we're talking about, where Best Picture so rarely goes to the actual best picture, and has never before Sunday gone to a foreign-language film. (The Artist, a silent film from France that's in English, with multiple American stars, doesn't count.) So, how did Parasite pull off its history-making win?
I can think of a few reasons, and, like the Kim family, they all work in concert with each other. First, Parasite's win was proof that, no matter how much conventional notions of what is and isn't an "awards movie" still hold sway, the Academy's recent attempts to expand its membership are indeed paying dividends. Much has been made of the new voters' diversity in terms of race, gender, and age, but another effect of the rapid expansion is that the Academy is also much more global than it used to be: By many accounts, nearly one-fifth of the membership is now international. For them, proving the Academy would no longer shrink in fear of what Bong called the "one-inch barrier of subtitles" was a chance to strike a major blow for global cinema. And for Americans, Parasite was not exactly medicine. In other words, it was not Roma, a movie that, as beautiful as it was, also had a slight eat-your-vegetables quality to it (to say nothing of the Netflix issue). By voting for Parasite, U.S. voters could help tear down one of Oscar's oldest glass ceilings, and they could have fun doing it.
(This is just a hunch, but it's possible the subtitles made some English-language voters like it more — they made the film more glossy, less genre.)
I'm also reminded of something composer Alexandre Desplat told me earlier this season, about why he won his first Oscar after failing to take home the gold so many times before. "As good as you think your [work] is, what counts is the vibe of the moment," he said. "It's about what's happening around the world, in the industry, and in cinema at the same time." As it happens, Parasite was both the best film and the one that could lay claim to being the movie of the moment. Plenty of this year's Best Picture nominees examined contemporary anxieties, but there's no getting around the fact that most of them were set decades in the past, while Parasite was thrillingly contemporary. Despite being set in a specific slice of Korean society, its story of class warfare was universal enough to resonate across the globe. As Bong so memorably said, "We all live in the same country … called Capitalism."
Parasite may have become even more timely as the race went on. In a season that saw the president's impeachment trial end in acquittal, and where the final days of voting overlapped with the clusterfuck of the Iowa caucuses, the bitter sense of injustice that pervades the film only became all the more prescient; its pessimism began to seem more and more like realism. Parasite's rivals attempted to plant the seed that the film's third act was its major weakness, but if there was ever a year in which a film could win Best Picture without a happy ending, this was it.
Just as important, too, was Parasite's lack of internal competition. This was a very white, very male, very "dad" year for Best Picture, and with the exception of Little Women, whose Best Picture hopes were comparatively slim, Parasite had what we might call the Moonlight lane all to itself. (Compare it to two years ago, when Get Out, Three Billboards Outside Ebbing, Missouri, and Lady Bird could all make a solid claim to be the Zeitgeist pick; their votes duly split, the award went to The Shape of Water instead.) If you were one of those Academy voters who was slightly ashamed that Green Book won Best Picture last year, well, there was no mystery in what you were ranking No. 1 this year — it was Parasite or bust.
But the greatest movie in the world is worth nothing if you can't message it, and credit must also go to Neon, the indie distributor that nabbed the rights to Parasite back in the fall of 2018 and ran a masterful campaign. The path they planned for Parasite was slow and steady: After garnering tons of raves and the Palme d'Or at Cannes in May, the film went away for a while before popping back up at the season-launching festivals and then beginning a gradual rollout over the fall that helped it attain the air of a priceless objet d'art (plus a slew of headlines about its record-breaking per-screen averages that couldn't have hurt its chances with voters for whom the theatrical experience is still paramount). The sense of mystery around the film became a virtuous cycle: Once they fell in love with it, viewers tended to feel protective of Bong's movie, steadfastly refusing to give any details about the plot away. Becoming a fan of Parasite felt like entering a secret club; I don't know if there was a phrase spoken more often in Hollywood over the past five months than "Have you seen Parasite?"
We've spent the past few weeks discussing how 1917's fortunes were aided by the shortened season, but Parasite's breaks were well timed, too. As Joker, The Irishman, and Marriage Story were pummeled by the inevitable slings and arrows of the awards race, the movie just kept lurking quietly in the background of the conversation — a pipe dream for Film Twitter, not a major threat. All the talk in the season's first half was always about whether it could crack Picture and Director; by the time Parasite proved how strong a contender it was at the SAG Awards, it was too late for its rivals to mount a strong counteroffensive.
While none of the film's actors managed to score an Oscar nomination — a snub you can probably chalk up to the film's ensemble nature, the cast's low profile outside Korea, and racism — that doesn't mean Parasite lacked a star. Bong was his film's most effective pitchman, and he seemed to be everywhere this season. He perfected a winning persona: an outsider coming at the process with a skeptical remove, who amused himself by not taking anything too seriously. Every day seemed to bring forth a new genius Bong quote, whether he was calling the Oscars "a local film festival," or claiming he couldn't direct a Marvel movie because the outfits were too tight. Voters loved him; he spent so much time at awards podiums that even his translator became a minor celebrity.
Parasite's SAG Ensemble win was proof the film did, indeed, have enough support from actors to actually have a chance of pulling off the upset; no international film had ever made it that far, either. At that ceremony, the cast got a standing ovation from the crowd before it'd even won anything. Reporters spoke of similar things happening all season long: There was a vibe in the room whenever Parasite's name came up, an energy that only comes around once every few years. Moonlight had it, too, and now Parasite has joined it in the pantheon of the best Oscar winners of the young century. The knock on the Best Picture preferential ballot is that it privileges good films that find a consensus over great ones that spur passion, but credit where it's due — twice in the past four years, the Academy's done its job and wound up with a pick that will stand the test of time. I'm deadly serious.