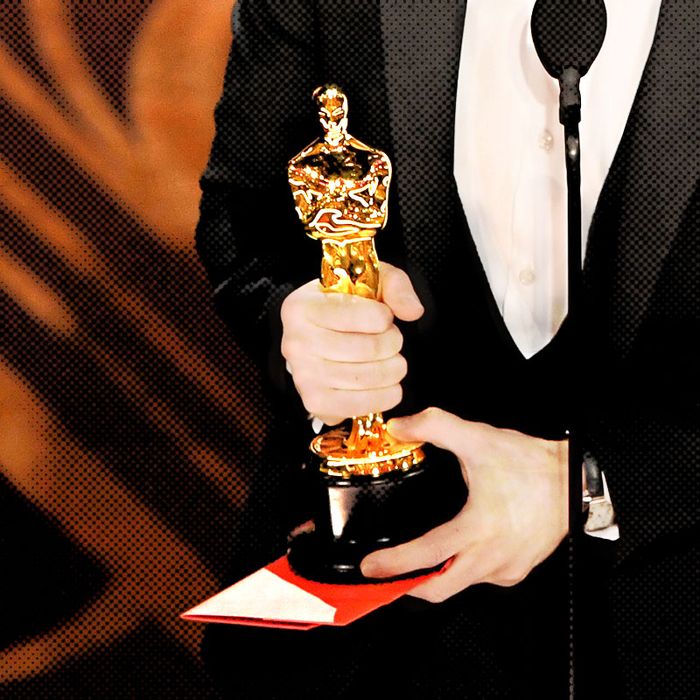 Three long-denied Academy Award nominees describe in detail their moments on the podium — and how long the high lasts.
Photo: Valerie Macon /AFP via Getty Images
In the mid-'90s, the title of Best Actress Who'd Never Won an Oscar was held by Susan Sarandon. She'd been nominated four times without a win, and was coming off a three-in-four-years stretch of Thelma & Louise, Lorenzo's Oil, and The Client. When she finally won in 1996 for Dead Man Walking, her acceptance speech was fast and breathless, like she'd just finished a 5K.
In the early '90s, the title of Best Actor Who'd Never Won an Oscar was held by Al Pacino, who'd been nominated six times without a win, going back to the first Godfather. Early in the 1993 ceremony, in Best Supporting Actor, he lost a seventh time. Then finally, in Best Actor, his moment came. When his name was called for Scent of a Woman, Pacino leaned back in his chair, as if thanking the heavens. Once he ascended to the podium, he savored the moment, waiting 35 applause-filled seconds before beginning his speech. "You broke my streak," he joked.
In other words, while winning an Oscar undoubtedly feels good no matter who you are, the specific experience is different for everyone. The relative pleasure imbued by an Academy Award down the line may vary, as well. Does the sun shine brighter, food taste sweeter? Or does the high wear off quickly, with the lucky winners finding themselves stuck in traffic on Monday morning just like everyone else?
To find out, I decided to speak to people who would not only know what it felt like to win an Oscar, but who also had plenty of experience in not winning — that small handful of Hollywood luminaries who had to get nominated seven, eight, nine times before they finally won. What did their big moment actually feel like?
"You never reach anywhere. You just go on working."
Though he's now a two-time winner, Alexandre Desplat's first trophy was a long time coming. After working regularly in Europe, the French composer burst onto the American film scene after scoring Girl With a Pearl Earring in 2003. The Academy took notice of him three years later, for The Queen, which kicked off an Oscar hot streak: six nominations in eight years. But no wins.
He didn't take it personally. "I decided that I should never think that I'd be winning, because it's too disappointing," he said over tea, in a brief break from his ongoing Little Women campaign. (He carries his own packets of green sencha.) "I knew from things that I had heard that it would come when it had to come. It's like love: It may take a while, but it happens — boom, it's there."
At the 2015 ceremony, Desplat was convinced he would once again be going home empty-handed. He was nominated twice in Best Original Score, for The Grand Budapest Hotel and The Imitation Game, and naturally assumed the vote would be split. When it came time for Julie Andrews to present the award, he slouched in his chair; after Andrews announced he'd won for Grand Budapest, he ambled unexpectedly to the stage, kicking off his speech with a stunned "Oh, well … merci beaucoup."
After missing out so many times, he had enough perspective to know that the win was less a statement about the quality of the work, and more about timing. "As good as you think your score is, what counts is the vibe of the moment," the composer says. "It's about what's happening around the world, in the industry, and in cinema at the same time. It doesn't mean that the score that wins is the best; it's just the one that at that moment is the most attractive." That night, Grand Budapest turned out to be the movie of the moment. This was the year the Academy welcomed Wes Anderson into the club, with the film taking three other trophies as well, and though Anderson himself wouldn't win anything, he had cracked the Best Director lineup for the first time in his career. "The movie's so stunningly different, inventive, and fun," Desplat says. "And the music is playing almost all the time."
So what did it feel like to get up onstage and finally win? "Fabulous," he says. He had been judged by a jury of his peers and declared worthy of entering the pantheon. "You're the flower of the day, and it's beautiful." But the win also brought with it a new pressure. "You're part of the family of the best filmmakers, so your work should be as good, if not better," Desplat recalls thinking in the wake of the victory. "And I must say for that the next year or two, I was really obsessed by that. I just thought, Don't stop. Don't relax. Don't think that you've reached a point. You never reach anywhere. You just go on working." He was back on a job in Paris within days of the ceremony.
Desplat's hard work would pay off three years later, when he won another Oscar for the Shape of Water score. You might think that nothing could compare to your first Academy Award; you would be wrong. Desplat had previously scored movies like The King's Speech and Argo, where the film won big, but he'd missed out. And on the Grand Budapest win, as great as that night was, his joy couldn't be shared with Anderson. "But on Shape of Water, we won everything," he says. "Best director, best film, best composer, best production design. Before the others had an Oscar, I was part of the band, but I was not playing with the band. Then, there, I could play with the band."
"I'd go into a store, and the teller would say, 'Have a nice day, and congratulations on your Oscar.'"
Sound mixer Paul Massey had to wait even longer for his first Oscar, finally winning for Bohemian Rhapsody last year, his eighth nomination. (Like Desplat, Massey is nominated again this year, for Ford v Ferrari.) "When I first started doing film mixing in the late '80s, it seemed like just the possibility of getting an Oscar nomination was wildly extravagant and ridiculous," he says. "It was so beyond the horizon I didn't even think about it."
Like Desplat, Massey says that he was content with his place in the industry even without a win. He was established and comfortable, and working on exciting movies. At every ceremony he tried to push any thought of winning out of his mind, and just have a good time. To be on the safe side, though, he did always prepare a speech beforehand. "Unlike actors, I'm not a public speaker on a regular basis," he says "It would be absolutely horrific to get up on the stage and just go blank."
At the 2019 ceremony, Bohemian Rhapsody was widely pegged to take home both sound awards, but Massey didn't put any stock in those predictions; it would only screw with his head. He needn't have worried. BoRhap did indeed win Sound Editing and Sound Mixing, and Film Editing and Best Actor, too. The victory was even sweeter for being shared, and for Massey, who'd gotten his start working in the music industry, there was a special meaning in the win coming for this particular project. "As I walked down to the stage, Brian May and Roger Taylor got up and shook our hands. It was pure joy, to be honest."
How did winning feel for Massey? "I obviously felt a sense of satisfaction, but it was like something in my bucket list that I didn't even know was in my bucket list," he says. "I felt like I had achieved a goal I hadn't really set for myself, to be honest." He noticed, too, that in the days afterward, people began to treat him differently. "Within the industry, they seem to take you a little more seriously, which is pleasant. And people outside the industry think it's just magic." Massey lives in Ojai, a small city about two hours north of Los Angeles. After his win, it suddenly felt like everyone in town knew him. "I'd go into a store, and the teller would say, 'Have a nice day, and congratulations on your Oscar.' I'd never met them before in my life. It was a bit surreal."
Massey's Oscar now sits on the mantelpiece in his family room; every so often he'll glance at it, and get a nice warm reminder of the months he spent working on Bohemian Rhapsody. Desplat had spoken of an industry legend, the "Oscar curse," after which winners find themselves in a professional lull — everyone assumes they're too busy, or have gotten too expensive. In the 12 months since his win, Massey has not experienced that. Or he hopes he hasn't. "Put the word out there," he says, laughing, "the rates haven't changed!"
"I ran to the stage in a full sprint."
But Desplat and Massey's Oscars droughts might as well have been a sandbox compared to sound mixer Kevin O'Connell, who held the record for nominations without a win: 20, stretching back to Terms of Endearment. "I don't think anybody can put it in perspective more than someone who has gone 20 times without winning," he says.
Both Desplat and Massey claim they would have been totally happy without ever getting an Oscar, which is of course a slightly easier thing to say after you've already won. For O'Connell, constantly coming up short was agonizing. When it came time for the Sound Mixing award, his body temperature would rise, and his heart would start pounding — only when someone else won would things return to normal. "Everybody used to say, 'Oh, this is your 12th time. You must have a better chance next year.' Or 'This is your 15th time,' then 'This is your 18th time …' But it really doesn't matter." Actors may be able to build a case over time for a "makeup" award. For sound mixers, every year is a reset; he had to start all over again.
It got even worse once he became the record holder. "That's a title I don't wish on anybody else on the planet," he says. "It's not a fun thing to own." The record got him lots of press, but not always the good kind of press: Headline writers, pressed for a punchy angle, had a habit of referring to him as "Hollywood's biggest loser." In 2006, he even made the cover of the L.A. Times. "I said, 'The one thing is, I wish you wouldn't refer to me as a loser.' Then the headline read: 'Sound Advice From a 14-time Loser,' with my picture on the cover. I gotta be honest, it didn't feel good. It didn't feel good at all." Even now the L-word remains a touchy subject; O'Connell has been burned too many times by reporters who swear they won't use it, then go ahead and do it anyway.
It got so bad that when O'Connell got his 21st nomination, for mixing Hacksaw Ridge, he didn't want to do any press at all. Especially now that his children were old enough to read interviews, he didn't want them having to read about how their dad was a loser. Finally the film's producer Bill Mechanic (who also happened to be an Academy board member), as well as a family friend whose husband had won an Oscar, convinced him it was worth it to get back out there, especially as it had been nine years since his last nomination.
At the 2017 ceremony, that nine-year gap came into play in unexpected fashion. O'Connell had been used to an Oscars format where the names of the winners were read first — if he didn't hear a "keh" sound come out of the presenter's mouth, he knew he hadn't won. But in the interim, the Academy had switched it up: Presenters now said the name of the movie first. When he heard Chris Evans say the 'H' in Hacksaw Ridge, he didn't clock that he'd finally won.
"All of a sudden, my wife was shaking me," he says. Three years later, O'Connell remembers what happened next in vivid detail: "I flipped out. I barely composed myself. What the show didn't show was that I ran to the stage in a full sprint. When I got up there, I saw what I had been dreaming about for 37 years, which was standing on that stage and looking at the audience, rather than sitting in the audience and clapping for the person onstage."
At the end of his acceptance speech, O'Connell gave a shout-out to his late mother, Skippy O'Connell. The year he'd been nominated for Apocalypto, Skippy was in the hospital. Kevin says he rushed from the ceremony to go see her, and she'd died in his arms an hour later; the two events had been emotionally tied together in his memory ever since. Skippy had gotten him his first job working in movies, and now he finally had the chance to give her the proper thank-you she'd requested all those years ago. "Mom, I know you're looking down on me tonight, so thank you," he said onstage, to a round of applause.
The rest of the night unfolded in a blur. From talking to people whose friends had won, he knew the drill: You take photos, you answer some questions, then you party. "But when I was actually doing it, it was as though I had died and gone to heaven in some respect," O'Connell says. "I wasn't even sure it was actually really happening." He was the last person to be interviewed at the ceremony itself, and he was set to be the first person interviewed on Good Morning America, which had a four in the morning call time. So, to the dismay of his wife, O'Connell decided to skip the Vanity Fair after-party, and just head home and get a little sleep. After everyone else went to bed, it was just him and the Oscar in the middle of the kitchen, at 2:30 a.m.. "I was just sitting there looking at it, thinking, I can't believe this really happened."
Then, the next morning, he went back to work on a Netflix film he was mixing. "No one could believe that I was actually sitting there," he recalls. "But you know what? I thought to myself, nobody was going to be at my home. My kids had to go to school and my wife is going to be out. I just didn't want to sit home all day. I'd rather be at the studio, which is where this all happened."
And the best thing about the long-awaited win? "Nobody that year referred to me ever as the loser," O'Connell says. "It was the best year of my life."