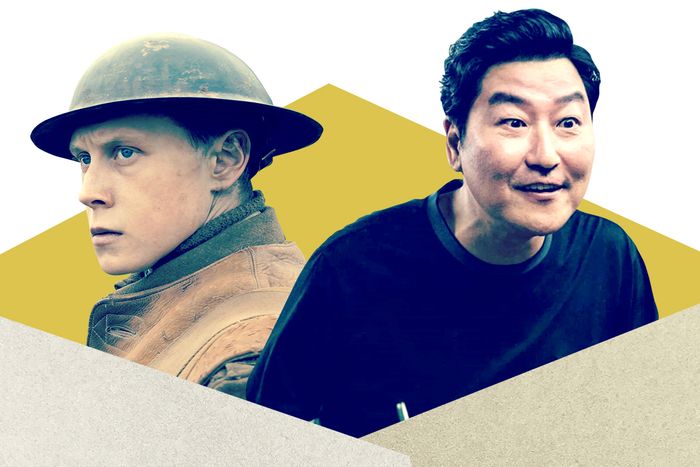 1917
versus
Parasite
: A battle of consensus versus passion.
Photo-Illustration: Vulture and Photos by Storyteller Distribution Co., LLC and NEON
We've come yet again to the end of awards season, with the disorienting twist that it's all happening about three weeks earlier than usual this year. The accelerated schedule has had screwy effects on the various races — the acting categories seemed to be sewn up even earlier than usual, while throughout fall Best Picture looked like it was going to be one thing, only to turn into something quite different once the calendar turned to 2020. But now that voting has closed, it's time to offer our final predictions in advance of Sunday's ceremony. One thing's for sure: The Oscars may not have a host this year, but they'll certainly have a Parasite.
Best Picture
1917
Ford v Ferrari
The Irishman
Jojo Rabbit
Joker
Little Women
Marriage Story
Once Upon a Time in Hollywood
Parasite
What began as a contest between five great films, three good ones, and Joker seems to have narrowed into a face-off between 1917 and Parasite. On 1917's side are honors from both the PGA and the DGA, and all those BAFTAs, too. Certainly, if you were imagining a Best Picture winner in your head, it would look a lot like 1917: a Brit-adjacent, history-driven, box-office smash that marries technical artistry with inspiring emotion. And crucially, the film's last-minute sprint to the front of the race has insulated it from any major backlash. They say that the Oscar often goes to the nominee that best represents the moment, but that's not always true. (Did Shape of Water represent the Zeitgeist more than Three Billboards or Get Out did?) Sometimes it just means you came out at the moment voters were primed to appreciate your strengths. Whether by skill or by luck — probably a little of both — 1917 managed to peak at the perfect time in this abbreviated season.
But sometimes being the movie of the moment does matter. And can any film in this field make that case the way Parasite does?
Before we get ahead of ourselves, you can't talk about Parasite's chances without talking about the statistic that looms above all others: No foreign-language film has ever won Best Picture. This week has brought reports of older Academy members outright refusing to vote for a subtitled film, and some have even come from the voters themselves! And yet … I can't stop thinking of that standing ovation for the Parasite cast at the SAG Awards, even before Bong Joon Ho's movie became the first-ever foreign-language film to win the top prize there. We know that actors love Parasite. We know it's got social relevance on its side. We know it's inspiring a fire in its supporters the way few films since Moonlight have. The question of the season: Is that enough to overcome the weight of all the history that says it won't be?
So the race comes down to a battle of consensus versus passion. My head says 1917, my heart says Parasite. If you've got money on the line, go with the Brits; the preferential ballot is set up to reward films with the least amount of last-place votes. But me, I'd rather be wrong and interesting than right and boring. Parasite it is.
Best Director
Bong Joon Ho, Parasite
Sam Mendes, 1917
Todd Phillips, Joker
Martin Scorsese, The Irishman
Quentin Tarantino, Once Upon a Time in Hollywood
When there's a Picture/Director split, as there so often is these days, Picture goes to the more emotionally accessible film, while Director goes to the rigorously crafted technical achievement. The funny thing about this season is that both Bong and Mendes feel slightly like a Director pick in a year where something else wins Best Picture. But something else isn't winning Best Picture, so in lieu of sawing this Oscar in half and giving it to both of them, we'll keep the splits coming and go with the DGA winner, whose hard work is apparent in nearly every frame of his picture: Sam Mendes.
Best Actor
Antonio Banderas, Pain and Glory
Leonardo DiCaprio, Once Upon a Time in Hollywood 
Adam Driver, Marriage Story
Joaquin Phoenix, Joker
Jonathan Pryce, The Two Popes
The next four are going to be quick, since I don't anticipate any surprises in the acting races. Iconic character + degree of difficulty + never won before + clearly the best thing about his film all adds up to a Joaquin Phoenix victory.
Best Actress
Cynthia Erivo, Harriet
Scarlett Johansson, Marriage Story
Saoirse Ronan, Little Women
Charlize Theron, Bombshell
Renée Zellweger, Judy
When I was a young Oscar pundit, a grizzled veteran once pulled me aside at a swanky party in the Hollywood Hills and whispered, "Kid, never bet against a physical transformation, especially a transformation into a legendary artistic/historical figure." (I'm paraphrasing.) One nominee has that, and a comeback narrative to boot. It's Renée Zellweger.
Best Supporting Actor
Tom Hanks, A Beautiful Day in the Neighborhood 
Anthony Hopkins, The Two Popes 
Al Pacino, The Irishman 
Joe Pesci, The Irishman 
Brad Pitt, Once Upon a Time in Hollywood
Brad Pitt's charismatic turn as a laid-back stuntman in Once Upon a Time likely earned him his first acting Oscar even before he got placed in a category with four past winners, and then proceeded to give a string of incredibly charming, possibly ghostwritten acceptance speeches at every precursor. But those things didn't hurt!
Best Supporting Actress
Kathy Bates, Richard Jewell 
Laura Dern, Marriage Story 
Scarlett Johansson, Jojo Rabbit 
Florence Pugh, Little Women 
Margot Robbie, Bombshell
This is the only acting race where we might see a bit of a wobble, with rumors swirling during voting that Dern could be vulnerable to a Bates or Johansson upset. But you know what they say: When there's one purported dark horse, predictions get blurry; when there's two, not to worry. I think Laura Dern still gets her Oscar, a fitting reward for this season's most tireless campaigner.
Best Original Screenplay
Rian Johnson, Knives Out
Noah Baumbach, Marriage Story
Sam Mendes and Krysty Wilson-Cairns, 1917
Quentin Tarantino, Once Upon a Time in Hollywood
Bong Joon Ho, Parasite
The path to Best Picture traditionally leads through Director or Screenplay, so if you think Parasite has enough bite to win the big prize, you've got to figure it takes Original Screenplay, too. A win for 1917, which is entirely wordless for large chunks of its runtime, would tip off a major haul for Mendes, while Tarantino nabbing his third trophy in this category would maintain the suspense up to the final envelope.
Best Adapted Screenplay
Steven Zaillian, The Irishman
Taika Waititi, Jojo Rabbit
Todd Phillips and Scott Silver, Joker
Greta Gerwig, Little Women
Anthony McCarten, The Two Popes
Four Best Picture nominees, and two pontiffs that are just happy to be there. Little Women and The Irishman would both be worthy winners, but this race seems to be tipping toward a more lighthearted choice in Jojo Rabbit, whose Hitler high jinks recently pulled in both the WGA Award and BAFTA. Gesundheit!
Best International Feature Film
Corpus Christi
Honeyland
Les Misérables
Pain and Glory
Parasite
Come on. It's Parasite.
Best Documentary Feature
American Factory
The Cave
The Edge of Democracy
For Sama
Honeyland
American Factory is the popular pick here, and it's a tempting choice — a socially conscious fish-out-of-water tale that arrived on Netflix with the Obama stamp of approval. But I'm struck by the fact the Academy liked the summer hit Honeyland so much they nominated it both here and in International Feature, which this year was determined by a much wider slice of the membership than before. It's the first time such a double nomination has ever occurred, and it's enough to make me say "да" to those Macedonian beekeepers.
Best Animated Feature
How to Train Your Dragon: The Hidden World
I Lost My Body
Klaus
Missing Link
Toy Story 4
Normally you just write down the Pixar film here and call it a day, but the Animated Feature race is especially unsettled this year. The Producers Guild went with Toy Story 4, the ostensible front-runner; the Golden Globes went with the stop-motion adventure Missing Link; the Annie Awards with Klaus, the other Christmas movie about the perils of tribalism, while also handing a prize to the French dismembered-hand travelogue I Lost My Body. Of those disparate bodies, the PGA feels like its taste overlaps most with the Academy, so Toy Story 4 it is. I'm still writing down the Pixar film here, but like, with effort this time.
Best Film Editing
Andrew Buckland and Michael McCusker, Ford v Ferrari
Thelma Schoonmaker, The Irishman
Tom Eagles, Jojo Rabbit
Jeff Groth, Joker
Yang Jin-mo, Parasite
Cuts upon cuts tends to rule in this category, which explains both why 1917 wasn't nominated and why Bohemian Rhapsody won last year. (I'm kidding, of course — it was actually revenge on Bryan Singer.) Ford v Ferrari's thrilling racing sequences have earned it pole position here, but I think voters will ultimately steer toward the artfully suspenseful setpieces in Parasite, especially as this award is rarely a film's sole win.
Best Original Song
Randy Newman, "I Can't Let You Throw Yourself Away," Toy Story 4
Elton John and Bernie Taupin, "(I'm Gonna) Love Me Again," Rocketman
Diane Warren, "I'm Standing With You," Breakthrough
Kristen Anderson-Lopez and Robert Lopez, "Into the Unknown," Frozen II
Joshuah Brian Campbell and Cynthia Erivo, "Stand Up," Harriet
Erivo EGOT-ing thanks to her Song nomination would be fun, but this one seems poised to go to Elton John and Bernie Taupin, especially as the longtime collaborators made such a big point at the Globes about never having won a major prize together before. Honor the friendship, honor the song!
Best Original Score
Hildur Guðnadóttir, Joker
Alexandre Desplat, Little Women
Randy Newman, Marriage Story
Thomas Newman, 1917
John Williams, Star Wars: The Rise of Skywalker
After her Globes win, Guðnadóttir has the momentum. After more than a dozen nominations without a win, Thomas Newman has the narrative. Of the pair, Guðnadóttir's score does more to elevate the material onscreen, while Newman's is a bit more recessive. Joker gets its second win.
Best Cinematography
Rodrigo Prieto, The Irishman
Lawrence Sher, Joker
Jarin Blaschke, The Lighthouse
Roger Deakins, 1917
Robert Richardson, Once Upon a Time in Hollywood
Let's take a moment to appreciate The Lighthouse's cinematography holding up the banner for all of A24's efforts this year before we hand this award to Roger Deakins like God and nature intended.
Best Costume Design
Sandy Powell and Christopher Peterson, The Irishman
Mayes C. Rubeo, Jojo Rabbit
Mark Bridges, Joker
Jacqueline Durran, Little Women
Arianne Phillips, Once Upon a Time in Hollywood
A tough category to figure out. Jojo Rabbit was the only nominee to win anything at the Costume Designers Guild Awards, but that group's picks overlap with Oscar less than others' do. The Academy does love frocks in Costume, which could be cause for Little Women to finally win something, but they also love to reward iconic getups, and nothing in this category can beat Joaquin Phoenix's instantly recognizable maroon suit. I think Joker gets its third.
Best Makeup and Hairstyling
Kazu Hiro, Anne Morgan, and Vivian Baker, Bombshell
Nicki Ledermann and Kay Georgiou, Joker
Jeremy Woodhead, Judy
Paul Gooch, Arjen Tuiten, and David White, Maleficent: Mistress of Evil
Naomi Donne, Tristan Versluis, and Rebecca Cole, 1917 
My only hesitation about slotting this award to Bombshell is that Kazu Hiro just won two years ago for a more impressive transformation in Darkest Hour. Could Joker win the Suicide Squad Memorial Makeup Award in its stead? Ultimately, I think Charlize Theron's uncanny transformation into Megyn Kelly will tip the scale for Bombshell, but watch out for an upset here.
Best Production Design
Bob Shaw and Regina Graves, The Irishman
Ra Vincent and Nora Sopková, Jojo Rabbit
Dennis Gassner and Lee Sandales, 1917
Barbara Ling and Nancy Haigh, Once Upon a Time in Hollywood
Lee Ha-jun and Cho Won-woo, Parasite
Like Original Screenplay, this one could be a Best Picture bellwether. 1917 just won the BAFTA, while Parasite has been getting a lot of acclaim for constructing that entire mansion on a soundstage. A win for either would tip off which way voters are leaning in the big prize, but as I think both films will be well taken care of in other categories, this could be the right place to reward Once Upon a Time in Hollywood's psycho-geographical re-creation of late-'60s Los Angeles, catnip for the Academy's nostalgic-Boomer segment.
Best Sound Editing
Donald Sylvester, Ford v Ferrari
Alan Robert Murray, Joker
Oliver Tarney and Rachael Tate, 1917
Wylie Stateman, Once Upon a Time in Hollywood
Matthew Wood and David Acord, Star Wars: The Rise of Skywalker
Every year in this paragraph of Oscar predictions, pundits note that many Academy members don't know the difference between the two Sound categories, and patiently explain that Editing rewards the creation of individual sounds, while Mixing rewards the overall sonic landscape. Soon this tradition may come to an end, as the Academy is mulling merging the two categories like the BAFTAs do. But until that day comes, we've gotta do picks for both. In 1917 and Ford v Ferrari, voters will be hard-pressed to decide between their two favorite things in this category — war films and car films. (When Mad Max: Fury Road was nominated, they got to have their cake and eat it, too.) War films have had the edge recently, and with 1917 looking like it might dominate the crafts, that's my pick.
Best Sound Mixing
Gary Rydstrom, Tom Johnson and Mark Ulano, Ad Astra
Paul Massey, David Giammarco, and Steven A. Morrow, Ford v Ferrari
Tom Ozanich, Dean Zupancic and Tod Maitland, Joker
Mark Taylor and Stuart Wilson, 1917
Michael Minkler, Christian P. Minkler, and Mark Ulano, Once Upon a Time in Hollywood
The sound categories' winners have matched eight of the last 13 years, which is reason enough to go with 1917 here, too, and if you think this blurb is too short, I assure you I am giving this as much thought as many Academy members do.
Best Visual Effects
Dan DeLeeuw, Matt Aitken, Russell Earl, and Dan Sudick, Avengers: Endgame
Pablo Helman, Leandro Estebecorena, Stephane Grabli, and Nelson Sepulveda, The Irishman
Robert Legato, Adam Valdez, Andrew R. Jones, and Elliot Newman, The Lion King
Guillaume Rocheron, Greg Butler, and Dominic Tuohy, 1917
Roger Guyett, Neal Scanlan, Patrick Tubach, and Dominic Tuohy, Star Wars: The Rise of Skywalker
Sorry, nerds — the Academy likes to go with Best Picture nominees in this category, which means the streak of non-Black Panther MCU films getting shut out will likely continue this year. Between 1917 and The Irishman, I think 1917's computer-enhanced single-take trickery went over better with viewers than The Irishman's $100-plus-million digital Young De Niro technology.
Best Animated Short
Dcera (Daughter)
Hair Love
Kitbull
Memorable
Sister
Being an Oscar pundit is not a particularly grueling job, all things considered, but every season does come with one obligatory low point: the weekend you spend watching all the nominated shorts, which reliably spotlight uplifting subjects like dead children, aging parents with dementia, and animal abuse. France's Memorable is one of the dementia ones, but its visual imagination sets it apart. Voters for whom that's too grim will probably gravitate toward the joyous Hair Love instead, but even that one has a mom with cancer!
Best Documentary Short
In the Absence
Learning to Skateboard in a Warzone (If You're a Girl)
Life Overtakes Me
St. Louis Superman
Walk, Run, Cha-Cha
St. Louis Superman, the story of a battle rapper who became a Black Lives Matter activist, then a Missouri state representative, has garnered some A-list cosigns. But the smart money is on Learning to Skateboard in a Warzone, a documentary about shredding preteens in Afghanistan than fits within the tradition of last year's winner, Period. End of Sentence.
Best Live-Action Short
Brotherhood
Nefta Football Club
The Neighbors' Window
Saria
A Sister
Pundits are split between Brotherhood, a Tunisian short about a ginger Scott Eastwood look-alike who returns from fighting in Syria with a new bride, and The Neighbor's Window, a dramedy that plays like a High Maintenance spec script written by someone that just watched Rear Window. The Neighbor's Window is the lighter option, and has the benefit of being in English, so I'll go with that. Don't count out the delightful Nefta Football Club, though — I think it's the only nominated short where nothing bad happens.