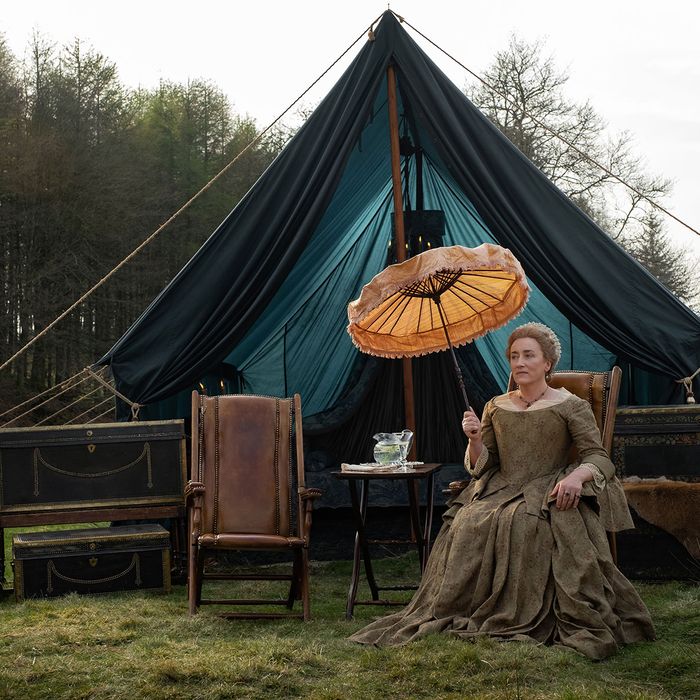 Note: The season five premiere of Outlander is streaming early online for Starz subscribers; it will air on Starz on Sunday, February 16 at 8pm ET.
We have a Murtagh problem, people. I repeat, A MURTAGH PROBLEM. Someone hold me. It was obvious enough when season four of Outlander concluded with Jamie receiving orders from Governor Tryon to hunt down his godfather. But there's really no denying it now after seeing that the season five premiere opens with a young Murtagh making his oath to follow tiny Jamie anywhere. Outlander is setting us up to watch this lovely relationship get put through the ringer this season. Murtagh's fate has always been a ticking time bomb for Outlander to play around with since, as even non-readers now know, TV Murtagh has made it much farther than Book Murtagh. Since Culloden, our favorite Silver Fox has been living on borrowed time. Now with Governor Tryon's talk of hanging Murtagh's body as a warning to would-be traitors to the Crown, I fear the worst. Don't even try to soothe me with copious shots of Jamie putting on and taking off his tiny glasses, show! I WILL NOT BE SOOTHED.
I will, however, be momentarily distracted by the delightful amount of shade Jamie Fraser is giving Roger on his wedding day. Yes, that's right: Roger and Bree are getting married on Fraser's Ridge (now complete with a gorgeous main house)! Claire's every part the proud mother-of-the-bride, tearfully getting her daughter ready for the big walk down the aisle. Jamie, however, has notes. First of all, I love that everyone is basically in agreement that Jamie and Claire giving Brianna, Roger, and baby Jeremiah the old cabin was the right choice because it would take literal years for Roger to build any kind of working shelter for his family. I mean, Roger is sitting there letting his father-in-law shave his beard because he doesn't know how to use a razor, so even he is like, "yeah, I have zero skills." Since he knows Roger's a time-traveler, Jamie can sort of get past his uselessness. What the man cannot abide is that Roger is Presbyterian, which means Jamie has to watch his daughter get married in a ceremony that is not in Latin and not presided over by a Catholic priest. Jamie is so heated about this that he's running around the Ridge telling small children that Roger is a heretic. Jamie is being the pettiest bitch I know and it is an honor and privilege to witness it.
Even though those two strikes against ol' Rog are bad, they are merely superficial problems. What really bugs our big guy about his son-in-law is what went down in season four: After hearing that Bree was raped by Bonnet and might be pregnant with his child and not Roger's, Roger needed time to make sure he could still love Bree. I'm very Team Jamie on this entire issue — especially because Young Ian sacrificed himself to get Roger out of captivity. So by the time Roger brings it up to Bree as if he can't at all understand why Jamie's still mad at him about it and Bree's all like "but you did come back!" I legit said out loud, "oh, Bree has Stockholm Syndrome." So, guys, a lot has changed on Fraser's Ridge, but much has stayed the same.
Although Jamie isn't quite ready to give his daughter away when he only just met her a few months ago, he puts that all aside and tearfully walks his daughter down the aisle. It's nice! More than that, several important things happen during Bree and Roger's wedding. First, watching Bree and Roger recite their vows — in English, the horror! — sends Claire and Jamie back to their wedding and we get to relive one of the best episodes of the series for a few moments. Hold that moment in your heart, because way less fun is the arrival of Governor Tryon, who has come to critique Jamie's letter writing capabilities. Apparently, they have too much about sustaining the land he and the King granted him, and not enough about how he is making progress on the hunt for Murtagh. This is almost as bad as when a wedding guest shows up and their gift is just one giant spoon. Thanks but no thanks, Deborah.
So, Tryon is putting the heat on Jamie over fulfilling his oath to do the governor's bidding, which means he doesn't have much time to wrap his head around some other information that comes by way of Lord John Grey: Stephen Bonnet is still alive — he survived the explosion at the prison. Jamie's disturbed when he hears the news, but even worse off is Brianna, who while on her way to ask her dad to dance with her, overhears everything. It sends her reeling. She tries her best to cover in front of her mother and her husband, but it won't be long until that information gets out.
Lest you feel like all the bad guys are winning and this wedding is a bust, let's end talk of the festivities on a good note. The best note, really. And no, I'm not talking about how Marsali (preggers again, BTW) completely owns that weird tongue-twister drinking game going on. Guys, clearly I'm talking about the sex montage!
As the history books tell us, weddings make people horny as hell, even (especially?) in Colonial times. Sure, this sex montage is set to Roger serenading Bree with an acoustic version of "L-O-V-E" which couldn't be less of an aphrodisiac if he tried. The fact that Bree still wants to have sex with him after this one-on-one jam session makes less sense than the rules of time travel, and yet, here we are. But the newlyweds aren't the only ones getting it on. Obviously, Claire and Jamie are included because if there's a sex montage on Outlander and the OGs aren't in it, does it even exist? Elsewhere, Auntie Jocasta and yes, the Murtagh Fitzgibbons are getting cozy in Murtagh's secret tree fort in the woods. Jocasta rolls in after the wedding, asks if Murtagh is the "fairy king" and those two go at it. Everyone has their own kink, you know?
As fun as that is, the harsh light of day arrives and with it, some additional problems. Poor Murtagh learns that Duncan Innes, another Scot from Ardsmuir Prison, has proposed marriage to Jocasta and there's nothing he can do about it. Neither of them wants her to go through with it, but they can't live in that hidden shack for the rest of their lives. He tells her he won't stand in the way of her happiness, because he is the best of us (and also a fugitive). Maybe it's the adrenaline from that encounter, but next thing you know, Jocasta is meeting with Roger for a little reverse psychology session. She's basically like, "I'm leaving River Run to Jeremiah because I don't trust that you actually love him since he might not be yours and you'll probably divorce Bree, and if I left it to her like I planned you'd run off with it because 18th-century laws about women owning property are bullshit." And Roger's like, "HOW DARE YOU, OLD HAG." And then he runs off and makes a blood oath to Jemmy, claiming him as his son, and Jocasta is like, "Haha, sucker, that was my plan all along."
The biggest post-wedding problem, however, is yet to come. Jamie may think he's in for a day of hanging around the Ridge, proposing a young hunter named Josiah become a tenant on his land, and helping Claire with her front porch full of patients, but he is wrong. By the way, if you're wondering why Claire is mentioned so little in this recap, it's because she's mainly relegated to "proud mom" and "concerned wife" for the entirety of the episode — here's hoping she'll be back in full heroine mode soon. But for now, Jamie will need her support. Tryon returns and this time doesn't mince words. Jamie needs to find and kill Murtagh now. Tryon's even leaving a platoon of men behind to help. There's no turning back now.
Jamie's in a tough spot, not only with the Murtagh stuff, but also because he knows the Revolutionary War is coming and if he's still aligned with the British then, he's in for a world of hurt. Still, if he goes back on his oath to Tryon now, he'll lose all of Fraser's Ridge, hurting not just his family, but all of the tenants. Jamie decides now is the time to make sure all of the men on the Ridge are loyal to him, no matter who Jamie is fighting for, and he does this with an old Scottish tradition (the man even puts his kilt back on for this!) of burning the fiery cross and having men pledge their oath of loyalty before him. He pretty much has to call out Roger in front of everyone, but once he does, Roger knows the vows by heart. It's all very stirring, but the knowledge that a war really is coming and these loyalties will be tested adds a sense of foreboding to the proceedings as well.
And then there is only one thing left for Jamie to do: He has to tell Murtagh to run. We start the episode with Murtagh making his vow to protect Jamie, and we end it with Jamie releasing his godfather from that vow. Jamie's in tears as he repeatedly tells Murtagh to leave. "Be hard to find," he begs, not knowing what's going to go down the next time they are face to face. This is all devastating and made even worse by the fact that Jamie and Murtagh don't even hug good-bye. NOT ONE HUG. Once Murtagh's gone, Jamie doubles over in grief, and I don't blame him.