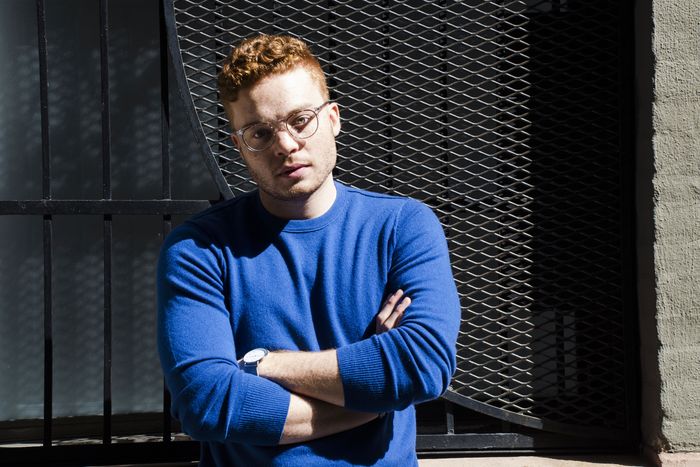 Paul McCallion.
Photo: Hayley Kluska
Paul McCallion (@OrangePaulp) is a Brooklyn-based writer, performer, and aspiring New York darling. His comedy sketches have been featured by BuzzFeed and Billboard, and he has acted in Amy Schumer's I Feel Pretty and in the Lifetime original movie Web of Lies. You can hear Paul's writing on the Paperweight podcast, or in person at his shows around New York City.
This week, Paul and I discussed bad Photoshops, romanticizing awful things, and being part of the Capital One family.
How'd you get so funny?
Oh go on!! Honestly, I would say 90 percent of my creative inspiration stems from seeing a piece of content and thinking, Hmm, I bet I could do that better. I'm almost always wrong, but here we are! As to "how" I became funny, I have no idea! I think I've had many of the same shitty, formative experiences that a lot of homos have. However, I unfortunately have a great relationship with my parents (brag), which — let me tell you — is a HUGE hindrance when pursuing comedy. (Ugh, I know! I'm working on it!)
This sketch was inspired by my own misadventures dying my hair in college, my desire to save other gay men from the same fate, and my lifelong dream of receiving a cease-and-desist from the Make-a-Wish Foundation. I love creating characters who are earnest, self-serious, and (above all) delusional. The best part of making this sketch was collaborating with the funniest people in the world: Michael Benjamin, Johnny LaZebnik, and Keelin Q. Ryan.
Do you think that social media has changed your sense of humor at all?
Absolutely. On the positive side, admiring and collaborating with so many hilarious people has inspired me to be sharper and funnier than I could ever be in a vacuum. On the negative side, Twitter's algorithm has me addicted to all online validation, regardless of how uninteresting or unoriginal the content may be. To combat this, I try to remember what my goals are on Twitter (strengthen my joke/sketch writing/performance skills, connect with other creatives, etc.), and let that guide me. Other times, I poorly Photoshop a picture of Lady Gaga sniffing poppers and ride that sweet rush of dopamine, baby!!
I like this tweet, because it shows that I am gay, stupid, and sometimes use my dad's Washington Post log-in.
Tell us about your podcast, Paperweight!
I'd love to! Paperweight combines sharp written comedy with the energy of a live show. Every month, we pitch pieces around a theme, then perform them for a live audience. It started as a podcast produced by Spoke (a division of Sirius XM), and has evolved into a monthly show at various venues around NYC. My favorite thing about Paperweight is that you never know what you're going to get from us. An episode theme will be "Teens," and you'll hear a diary entry from an angsty priestess in ancient Greece, and a guide on how to pregame prom when your best friend is a goblin.
Is there anything you find irritating about the "industry" as it exists in NYC? Anything you find endearing?
This is in print, right? Every producer, casting director, agent, and manager in this city is a total SLAY queen WERK mama! Shantay you stay!! No notes!!! In all seriousness, I would say that the double-edged sword of living in NYC is how talented everyone is. You have to work so hard to distinguish yourself, because there's someone equally talented sitting right next to you in that audition waiting room. The most endearing thing about performers is how good we are at romanticizing awful things. It's a great built-in coping mechanism. Your apartment could burn to ash on the same day your agent drops you, and actors will be like "omg this is gonna be such a good medley in my 54 Below show!"
One of my favorite (read: least favorite) Twitter phenomena is billion-dollar corporations trying to be cool. That was the premise behind a sketch I did recently with the brilliant Ziwe Fumudoh. I'm also obsessed with the phrasing of this tweet in particular, and so I tweeted this thread from the perspective of a deranged fan who just wants everyone to sign Taylor Swift's e-birthday card "from her Capital One family."
Did you end up getting a chance to sign Capital One's e-birthday card for Taylor Swift? I know it meant a lot to her.
Thank you for bringing that up. Guys, if you do anything after reading this article, PLEASE sign Taylor Swift's birthday card from her Capital One family. I'm so serious you guys, do it RIGHT now, I'm about to lose it.