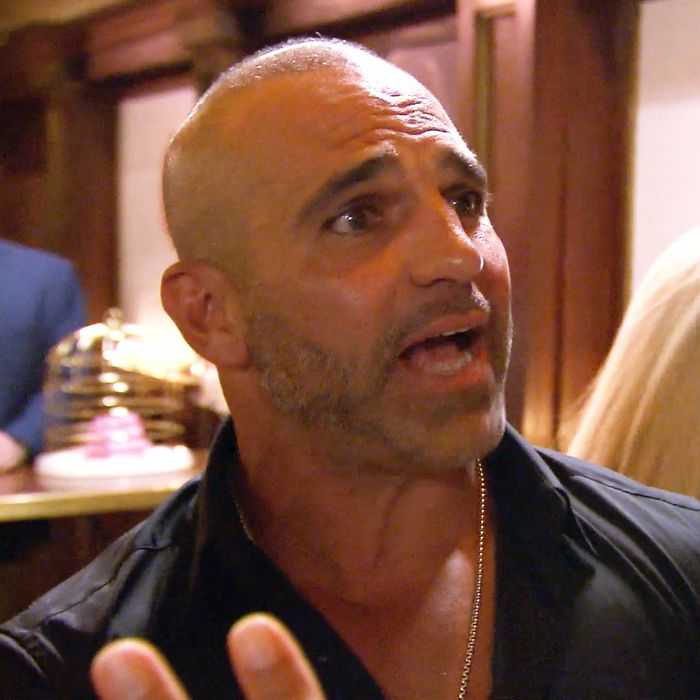 Is it … February? Brian Moylan lost me, his intern-for-life, in a poker game to Sonja Morgan, and it's been three long weeks in Gstaad. Anyway, as the permanently inflamed tattoo on the inside of my lower lip says, "I'm back to bring the zen. Namaste, bitches!"
Yes, Teresa really did forget both her license and her daughters' birth certificates, which are strictly required for their first visit to her more or less estranged husband in months. This is the kind of psychologically revealing plot point that, if it happened in a movie, would feel a little on the nose, no? Fortunately, they're admitted to the ICE facility anyway, thanks to speedily Joe Gorga–dispatched copies of their documents.
Afterward, Tre relays to her brother that her husband told her he feels "nothing" for her and that she should "go find somebody else." If working in that Italian fish factory doesn't pan out, Joe could find a second career as a contributing writer for Hallmark. Joe Gorga gently suggests it's time for her to move on, and then, less gently, that he always thought their marriage was kind of shitty anyway, so, whatever.
Did we talk about how Little Frankie and Gia are going to prom together? By 2035, we'll be watching some manner of family rumble at Frankie III's christening, provided that a band of post-climate-apocalypse marauders led by Danielle Staub haven't stolen the gas we need to power the generator for the TV. "For me, he too thick," Giacinto opines of Frank Jr. Sorry, Nonno Goldilocks, but he is in fact just right.
Jackie has enlisted professional cleaners to de-junk her father's house. In the kitchen alone, Barry has more mismatched, precariously stacked wicker baskets than the Easter Bunny's uppers-abusing cousin, plus a decades-old TV set that I would be genuinely shocked to see turn on, a stapler, and a lone Beanie Baby. Again, this is the kitchen. For a serious conversation about how his lifelong yo-yo dieting affected his own daughter's issues with eating, Barry switches out his baseball cap for a more formal fedora. The Real Housegrandfathers of New Jersey remain one of my favorite parts of this show.
Then there's Jennifer. Ugh, Jennifer. Jennifer, Jennifer, Jennifer. Forget baseball, there is no hobby more quintessentially American than looking up the value of your friends' and acquaintances' property on the internet, but if only her relatable nosiness had been the end of that story arc. Instead, with her insistence that Jackie is "stingy," Jennifer careened three exits too far down the Parkway and spun out into the EZ Pass lane of the Anti-Semitism Toll Plaza. (Another season of this and I'm going to have to compete for traffic with the Daily Stormer's RHONJ recaps.)
Jennifer stands by her opinion that serving pizza at a child's birthday party is a human rights violation, but as she tells Bill, she's ready to offer an apology — or at least something like a distant evolutionary cousin to an apology. "I'm willing to tell her, like, I'm sorry that it came out that way," she says. "Hopefully she can move past it."
Our Jersey girls cross state lines into RHONY's jurisdiction to attend Margaret's 20th anniversary celebration for the Macbeth — excuse me — the Scottish Play Collection in Manhattan. What is the precise legal definition of a "spree?" Because Larry the party planner has struck again. His delicate touch is on display (each and every day, every day, every day), with unforgettable details like what appear to be room-temperature popsicles trapped inside birdcages and "Warhol" Margaret, a terrible-quality Xerox portrait of the lovely lady of the hour, halfheartedly spray-painted into what I can best describe as Harley Quinn fan art.
But the clear highlight of the evening is the squad of models bewigged in blonde pigtails (a hairstyle Margaret no longer wears, but sure) and decked out in heavy drapes of Macbeth Collection jewels, crystals, and chains that are large enough to no longer qualify as jewelry but as window treatments.
Jennifer and Melissa barely acknowledge each other, and yet they're on far better terms than Jen and Jackie are about to be. Jackie responds to Jennifer's attempt to make amends by informing her that she "ruined" the Hamptons trip and that, at this point, she should have "I'm sorry" printed on a T-shirt. (Jennifer … Venmo me $500.)
How about we all cool down by heading to a place famously associated with rational behavior and sobriety? Dolores has rented the group a Jersey Shore house, to which the husbands are also invited. Surely, Marge suggests, the men will be calming influence.
Joe and his three sperms take that as their cue to march over to Bill. With an energy that's 10 percent Dr. Ruth, 90 percent aggro paranormal bros from Ghost Adventures shouting at dead people, Joe politely inquires as to "what the fuck is up" with his wife. "The word is out that you've got to bang her more," says Joe, sounding much like someone who's slated to appear in an event called the Real Italians of Comedy in West Nyack, which he is, "She's sexually frustrated." I have an admitted soft spot for Joe because he is, in case you have neglected to notice, hot, but this entire maneuver is both extremely rude and dumb. It's not cute when the men insert themselves where they're not supposed to be. (You can use that double entendre in West Nyack if you like, Joe.)
And then, as if a breast implant-shaped signal appeared in the night sky over Gotham, Dr. Aydin abruptly leaves mid-conversation, possibly the most sensible action ever taken by a human being on this television program.