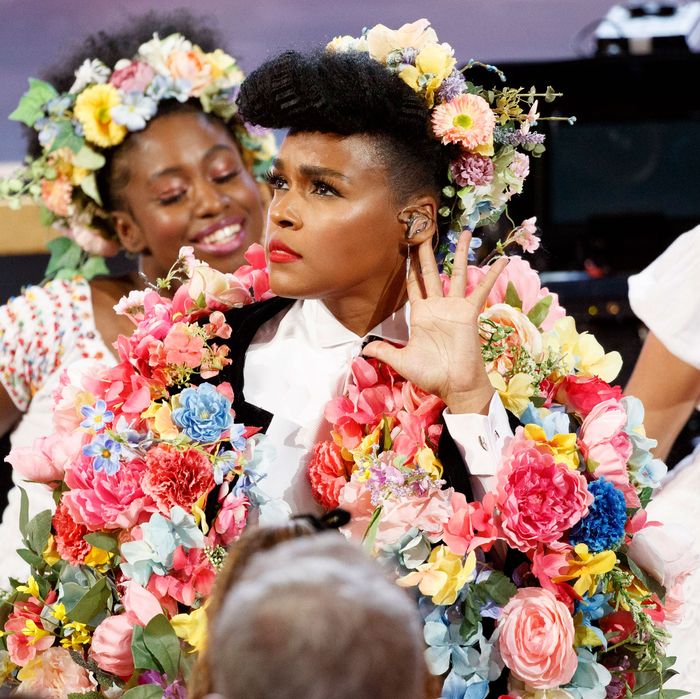 Janelle Monáe, killing it in the Oscars opening number.
Photo: ABC/Getty Images
At three hours and 32 minutes, the 2020 Academy Awards ceremony was longer than its notoriously sprawling Best Picture nominee, The Irishman. It was also 15 minutes longer than last year's ceremony, but not as long as the longest Oscars ceremony of all time — the 2002 marathon that lasted four hours and 23 minutes. Can you imagine sitting through that whole show only to find out at the end that Moulin Rouge! lost Best Picture to A Beautiful Mind? Well, I can, because I actually did.
Bloated Oscar broadcasts are nothing new, and jokes about the show going long have provided comedians with material for decades. But now that there is no host — following last year's post–Kevin Hart-debacle decision to go emcee-less, this year went the same route — the Academy Awards should, in theory, be much more streamlined. The most maddening thing about this year's Oscars, which featured many delightful moments, including a semi-surprising Best Picture win for Parasite, wasn't that it ran late. It was that there was absolutely no reason it needed to run late. If just a few segments had been snipped and some awkward transitions had been finessed, this could have been one of the best Oscar broadcasts in recent memory. It came close, but didn't quite get there.
Some of the later speeches went on a little long, and, sure, things like that can never be helped. (Somewhere out there, Renée Zellweger, bless her, is still talking about how our love of Judy Garland, Bob Dylan, and Serena Williams can unite us.) But producers Lynette Howell Taylor and Stephanie Allain, handling the broadcast for the first time, with veteran Glenn Weiss directing, found ways to add more obvious, glistening fat onto what should have been a lean cut of meat. My apologies to Joaquin Phoenix, the Oscar winner who speaks for the cows, for using that metaphor.
Hosts in the past have opted for a musical number and a monologue to start the show. (That was a staple of Billy Crystal's approach back in the day.) But if there is no appointed host, my feeling is: Why not just pick one of those two options? Taylor and Allain made an incredibly smart choice by asking Janelle Monáe, accompanied partially by Billy Porter, to kick off the night with a performance of her 2010 track "Come Alive," surrounded by dancers representing an array of 2019's films. Monáe is one of the most energetic live performers of her generation, in addition to being an actress who has been to this rodeo before, so she was perfectly comfortable doing her thing, taking the mic right into the audience and announcing how proud she was to be a black, queer artist telling stories. It was also pretty great to see dancers representing several fine, non-nominated films — Us, Midsommar, Dolemite Is My Name — featured so prominently in her act, an out-of-the-gate reminder that what was absent from the Oscars had as much value as what was represented. She ended her performance on an incredibly high note, and if she or the announcer had segued directly from that to Regina King handing out Best Supporting Actor, it would have been a faultless opening.
Instead, Steve Martin and Chris Rock strode onto the Dolby stage to tell some jokes. Their jokes were not bad necessarily. ("A couple of years ago, there was a big disaster here at the Oscars, where they accidentally read out the wrong name," Martin quipped. "It was nobody's fault, but they have guaranteed that this will not happen this year, because the Academy has switched to the new Iowa-caucus app.") But after Monáe's high-spirited sing-along, it was certainly a comedown. Martin and Rock didn't add much to the broadcast, other than more minutes on the play clock.
There were several other instances of unnecessary, and sometimes confounding, acts of time-suckage. For reasons I do not understand, a handful of presenters actually came out to present other presenters. Beanie Feldstein introduced Mindy Kaling, who handed out the Oscars in the animated categories; Kelly Marie Tran introduced Diane Keaton and Keanu Reeves, imparters of the screenplay awards; and Anthony Ramos brought out Lin-Manuel Miranda so he could segue into a pointless montage of great movie songs that then segued into an out-of-left-field performance of "Lose Yourself" by Eminem. I like all three of those actors and was happy to see their faces, but this whole process added another layer to the proceedings when the show should be looking for ways to shed them.
Then, in a move that defied the principle of using as many presenters as possible, several of the nominated original songs were not introduced at all. Randy Newman got no intro before he began "I Can't Let You Throw Yourself Away," nor did Elton John before he belted out the eventual winner, "(I'm Gonna) Love Me Again." Chrissy Metz of This Is Us performed Diane Warren's nominated song "I'm Standing With You," but no one bothered to acknowledge Metz's work.
As for the Eminem performance, it was a makeup for that time he neglected to show up to accept his 2003 Best Song statue for "Lose Yourself." Was it also Oscar's attempt to compensate for the fact that this year's Best Song nominees aren't all that terribly hip? Is trotting out a winner from 17 years ago the best way to achieve that? In any event, it seemed extra pointless to have Slim Shady onstage when huge chunks of his song were bleeped out by censors. Four days ago, our president said "bullshit," uncensored, in the middle of the day on several major broadcast and cable networks. If you're going to ask Eminem to perform, then let him do it without dropping so much of the audio it sounds like he has the hip-hop hiccups.
Speaking of hip-hop, Utkarsh Ambudkar, a very talented actor and member of Freestyle Love Supreme, showed up midway through the show to do a rap recap of what had happened so far. Pro tip: If you need to recap a show before it's over, the show is taking too long.
All of this is a shame since, as I said before, the highlights of this year's ceremony went very high. Winners Brad Pitt, Laura Dern, and Bong Joon Ho gave lovely, gracious, and concise speeches. And while the acting categories went as expected, there was enough surprise in the big Parasite wins and an early Adapted Screenplay victory for Jojo Rabbit to make it feel like anything was possible.
But the problem with the Oscars, always, is that the categories everyone cares the most about are presented at the end of the night. The task for the producers is to figure out a way to make the journey fun and entertaining enough so the audience doesn't lose interest along the way. The easiest way to do that is to get right to the awards and spend less time screwing around in between handing them out. Turns out the actual awards are reason enough for us to watch.
Now, no one's asked for my advice about handling the broadcast, probably for good reason. But if they did, I'd say this: You're the Oscars, one of the most illustrious awards ceremonies in the world. Trust that your purpose, which is to honor great filmmaking, is enough. Because it is. That one of the most memorable moments of this year's ceremony was the roar that followed Jane Fonda's Best Picture announcement is a testament to how true that is.