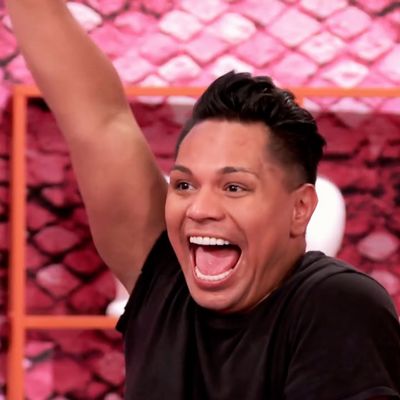 Bonjour, ladies! After what has seemed like an eternity, Drag Race is BACK. RuPaul, mother of the Haus of VH1, has deigned to grace us with yet another season of the best show on TV (you heard me, Watchmen). And along with a new crop of queens comes a new recapper. This year, I have the honor and pleasure of breaking down the stunts, shenanigans, and buffoonery of these gag-worthy drag entertainers. If you like these recaps, you can follow me @OrangePaulp. If you are from Reddit, please contact me on my business account @MattRogersTho.
But enough about me, let's get into this jam-packed season premiere! Or, apparently, just the first half. Ru took a page from her own book this season, and, in the great tradition of season six, only showcased seven of the 13 announced queens in the season premiere. After watching this group of girls, I can see why. The level of polish and preparedness of the contestants on season 12 is higher than ever, and dividing them into two groups gives them the opportunity to show us what they can do, and gives the audience the chance to get to know them better. Time to meet the dolls!
Let's talk standouts. First out of the gate is Brita Filter. Brita proclaims that she is "THE queen of New York City drag," and, honey? You better believe it. Brita is a polished pro, known for her high-energy lip syncs to gag-worthy remixes of Top 40 hits. At this point, you've probably guessed, dear reader, that I am a bona fide Brita STAN. Although I will be rooting for her to take the crown, as a deputized internet recapper, I pledge to stay neutral and impartial (kidding).
Heidi N. Closet enters the workroom on a high note. Literally. The North Cackalacky queen positively drips with southern charm, kooky humor, and pageant glamour. I'm eager to see what she brings both to the competition and the confessional booth.
The much anticipated Gigi Goode walks in wearing an ensemble that's high fashion for the high seas. Gigi Goode is young, stunning, and polished. It's easy to see why she's been an early fan favorite online. As Gigi is well aware, her entrance instantly invites comparisons to previous Drag Race legends (Aquaria, Max, Violet, Sasha, etc.), and she tells us she knows she has to distinguish herself from the young, "look queen" mold to be a real contender for the crown. But will she? Time will tell.
Finally, Crystal Methyd sashays into the werkroom, in an ensemble that's Pennywise meets Sasha Velour meets "Trixie Mattel after an hour in a pottery kiln" (in a good way!). In what should go down as a top-five entrance line, she asks: "Who's ready to party and play?" Based on this episode alone, I will freely admit that I am addicted to Crystal Methyd. She's hilarious, irreverent, and bizarre, a veritable drag triple threat. I find it difficult to imagine her snatching the crown, but I have a strong feeling she'll leave this season a fan favorite.
After the seven queens — who also include "French diva" Nicky Doll, Widow Von'Du ("the naaastiest bitch from Kansas City"), and Jackie Cox ("the Persian Annette Funicello of drag") — have made their debuts, Alicia Keys RuPaul enters the werkroom to explain the first mini challenge. Taking yet another page from her own book (that's GuRu, available wherever books are sold), Ru announces that we are having a fashion show! The queens must turn two high-fashion looks: one fall, one spring. This episode is quickly becoming a Frankenstein's monster of past season premieres, but I don't mind it! The season-seven fashion show was iconic, and brought us one of the most legendary looks in Drag Race herstory: Violet Chachki's two-in-one tartan jumpsuit reveal. I'm eager to see if any of these queens can live up to it.
Well … not quite. But it's a great runway! Some standout moments: Widow's neoprene Missy Elliot jumpsuit, Heidi's headpiece malfunction ("You can see her civil-rights hair!"), Brita's high-concept oil-spill gown, Crystal Methyd's STUNNING high-drag Freddy Krueger couture, and Gigi's "average, everyday BDSM horse jockey." What gay boy's mom hasn't whipped him up a little fetish gear with nipple cutouts for a drag competition show? How delightfully Rockwellian.
With Fashion Week concluded, it's time to announce this week's maxi challenge, and it is a DOOZY. The queens must write and perform original rap solos AND create original choreography for the latest Drag Race single: "I'm That Bitch." The twist? They will be performing it live in front of Nicki Minaj! Brra ta ta ta and rejoice, Barbz. The girl-group challenge has quickly become a staple in the Drag Race Cinematic Runiverse, and for good reason. It's the perfect opportunity for the girls to introduce themselves while showing off their wit, charisma, and stunts. "Sitting on a Secret" stans and Frock Destroyers Hive RISE UP. But can these queens deliver a song of that caliber?
Based on the dance rehearsal, maybe not. Widow and Heidi are tapped to choreograph, but Brita and Jackie seem nonplussed by the uncreative choreography, and Gigi Goode has two left feet. This conflict culminates in a Ru d'etat (okay, that one was a stretch), where Brita installs Heidi as the sole choreographer.
Back in the werkroom the next day, the girls commiserate about staying up all night rehearsing. All except Heidi, who we learn had an allergic reaction and had to be taken to the emergency room?! Soju and her cyst have 24 hours to respond. With Heidi's revelation out of the way, the sleep-deprived queens prepare for their performance.
"I'm That Bitch" is a mid-tier Drag Race original — that is to say, completely forgettable, but the chorus will be stuck in your head for two weeks. However, there are three clear standouts. First, Gigi's solo is a GAG. She struts center stage and salutes us: "Good morning campers … I hope you saved room for thirds." Get it? 'Cuz she's the third verse? I live.
Second, Heidi N. Closet. Heidi admirably pushes through her exhaustion, and pulls off a break-dance routine that would give the Rock Steady Crew a run for their Flashdance residuals.
I really thought Heidi had it in the bag, until Widow Von'Du stepped out. Sorry did I say "stepped?" I meant "flew into a jump split and a one-handed back bend." There's absolutely no topping Widow's verse: She not only establishes herself as one of the preeminent stunt queens in the Drag Race canon, but also spits the line "Girls get mad when they look at these thighs / they rub together like they harmonize." To borrow a phrase, Widow is "That Bitch."
It's off to the runway! The theme this week is, umm… "sparkle." Well, it's been 12 seasons! They can't all be winners. Including their sparkle runway, the queens have turned a total of four looks this episode. I'm tired just typing that! My personal faves are Gigi's green pantsuit, Jackie Cox's sheer gown and '60s bouffant updo, and Crystal's Powerpuff Girls villain couture.
Finally, it's time for critiques. The praise is relatively even-handed across the board, but the judges are in love with Gigi's fashions, Widow's performance, and Jackie's lyrics, establishing a de facto top three. The judges praise Heidi N. Closet's performance, but hate her name. (Can we cut this girl a break??) They also admonish Nicki Doll for not owning her star quality, a critique that's often a death knell on Drag Race.
It's worth mentioning that there's definitely some drama brewing between two of the drag queens this week during judging. I'm of course referring to Nicki Minaj and Michelle Visage, who clash over whether Nicki Doll is serving cool, mysterious Paris girl, or just plain Flazéda. But Ru makes sure Nicki gets in the last word at the end of the judges' deliberation. "Now, Nicki, I'm curious," Ru begins innocuously. "What would your 'I'm That Bitch' rap sound like?" Suddenly, Nicki has her iPhone X in hand and begins to do what she does best: SPIT. BARS. "American Express in my Birkie / If he got a real big D he can hurt me." God, I missed this show.
One by one, the judges call queens safe, until Widow and Gigi are left standing onstage with the infamous Bottom Two orchestrations underscoring their shocked silence. That is, until Ru announces that no one is going home this week. Personally, I love this twist. These queens are so talented; it's worth keeping them around for another week at least. Ru introduced this gambit in the season-nine premiere, but by letting us know there would be no elimination at the beginning of the episode, robbed the audience (and the queens) of the show's usual stakes. By leaving this twist to the last minute, Ru solved that problem. Even better? We still get a lip sync. And boy is it a LIP SYNC. Gigi is cute and funny, but Widow is ferocious. She claims her place as a Lip-sync Assassin™ and as the queen to beat this season.
And with that, we're off to the races. Next week we meet the second half of the queens, who have the tall order of topping this jam-packed episode, which I hope brought you as much joy as it did me. After nine long months of Drag Race withdrawal, this premiere reminded me how much I love this show, and suffice it to say, I'm craving more.
"It DO Take Nerve!"
Quotes that left me mouth agape.
• "What is it you hate so much about my face?" –Heidi N. Closet
Can you imagine raising your hand, and saying this straight-faced to NICKI MINAJ? It DO take nerve.
• "Who would've thought that behind that clown makeup was this cute twink?" –Jackie Cox
Do you hear that? That's the sound of 10,000 gays tweeting this screenshot with the caption "me." A meme is born.