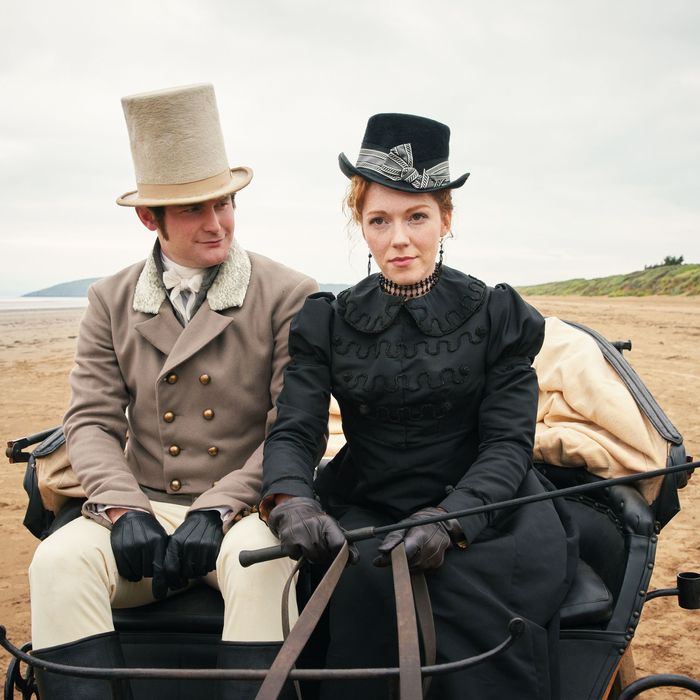 I KNOW. I KNOW YOU'RE MAD. The U.K. was mad too. With no promise of a renewal, our bonneted drama series has ended on a giant cliffhanger. Not even a cliffhanger really, more like a very large anvil dropped squarely on top of Sidney and Charlotte's newly blossoming relationship. He is engaged! To that woman no one likes but me! How devastating for almost everyone. Probably Charlotte the most. Or Sidney. Or you, who have perhaps made Tumblr GIFsets of them staring at each other's lips with a text overlay of Sidney's speech from the last episode. How dare they, truly.
Let's go back to happier times, before Sidney destroyed all of Charlotte's hopes and dreams by putting family before romance. Remember earlier in the episode when they were just being weird around each other? And by weird I mean intensely awkward? This turns out to be because of their seemingly overpowering sexual tension, which reminds me of nothing so much as being a teenager who is also bad at flirting. They take a constitutional on the Sanditon cliffs, walking so closely that Sidney's arm keeps hitting Charlotte's in that way that if you're not into the person, you go "oh, sorry!" and move farther apart. But these two fuzzbuckets are basically sophomores on a school field trip, so they're both very into the arm-bumping.
There would be no reason for them to be walking on this cliff if they weren't going to make out while violins play. This is a period drama. We know how this goes. The camera switches to a wide shot and they are STILL making out, because this is Sanditon: Let the Romance Sweep You Off Your Feet (if Sanditon had a marketing department, it would be Tom alone in a room, and that is what he would write).
I hope you liked that scene, because it's one of the last good ones you're getting. Charlotte and Sidney spend almost the entire rest of the episode just missing each other (until he comes back with the news he's ruined both of their lives). The one exception is at the Midsummer Ball (I love a ball!) when he returns to the Rudeness Balcony and my suspicions that Old Sidney is dead become canon. New Sidney says, "What a brute I was. Not now, though. That man is dead." Charlotte says he's the same man, but much improved. False. That man is in a ditch, and we're all better off for it.
Sidney soon has to rush off, though, because fire! There is a fire! The thing about the past is everything could easily be on fire. There were no sprinklers! There was no official fire department! But let's backtrack to Young Stringer dooming his father to a certain end.
Young Stringer's life is all set before him. He's been offered an apprenticeship with a London architect. He's reasonably certain Charlotte is not into him, so he's able to cut those ties. All that's left is his dad. His dad tells him he's only going to London to raise his social standing for Charlotte. In the words of the notes I took for this episode, "Stringer calls his father a selfish, miserable old man, which means something bad is going to happen to his father." Sure enough, Old Stringer has a heart attack and drops a candle, setting the new building on fire, which leads to Tom's ruin, as he never paid the fire insurance company. (Did anyone else immediately think of G.O.B. Bluth hurling the check into the sea?) So now Sidney must offer himself to Mrs. Campion, the woman he spent ten years getting over, but now is just not that into.
You know who IS kind of into the person they're marrying, but not that much, but we're still supposed to see it as a successful love story? Esther. Lord Babington proposes after Edward tells everyone at the ball that they may be siblings, but they were also in love. Babington asks no follow-up questions about this. He says he wants to marry her because he wants to make her happy, which is … it's just really nice, you guys. It's weird that Babington was fine with Esther saying she likes him but does not love him, but let's ignore that, because there's so little happiness otherwise in this finale.
Speaking of: Georgiana Lambe. Look, show. It's clear you didn't know what to do with Georgiana, but could you not think of more plot for her than "she's really angry all the time and almost always hangs out in her room alone"? She's one of the only people of color on the entire show, and you end up isolating her physically and emotionally from everyone else. Not your best look, Sanditon.
And you know who's received short shrift but whom I have loved from afar for many an episode? Arthur Parker. Oh Arthur, with your love of toast and ill-fated attempts at hiking, and eternal joy and optimism about every task in life. Arthur's friendship with Georgiana is a treasure, as he's the only person trying to lift her spirits. His sister Diana is worried he's going to marry and leave her, but he assures her he's gay via Regency Englandspeak ("I don't really know how ladies work"; "I'm a lifelong bachelor"). Arthur finishes out the series by winning the hearts of introverts everywhere with the following: "Much better to be snug in one's own home, toasting crumpets by a roaring fire." Has anyone investigated the possibility that Arthur might be Winnie the Pooh?
But that's the end. Sidney tells Charlotte he doesn't love Mrs. Campion, which Charlotte rightfully chastises him for saying, then they bid each other farewell forever. Charlotte rolls off in a carriage crying. Sidney stands by his horse looking shook.
THE AUDACITY. THE HUBRIS, that the creators, like wingèd Icarus, put such trust in their show's mortality that they flung its heroes' love at the sun, trusting it would survive into a second season. WELL GUESS WHAT, THE SHOW WAS CANCELED. There is still a possibility that, post its airing in the US, renewal may yet happen, but the odds are not great. If you squint, you can view the incomplete feeling of Sanditon as a tribute to Austen's unfinished novel. We'll never know its true ending, so maybe we shouldn't try to give it one.
… No, that's ridiculous, #SaveSanditon.