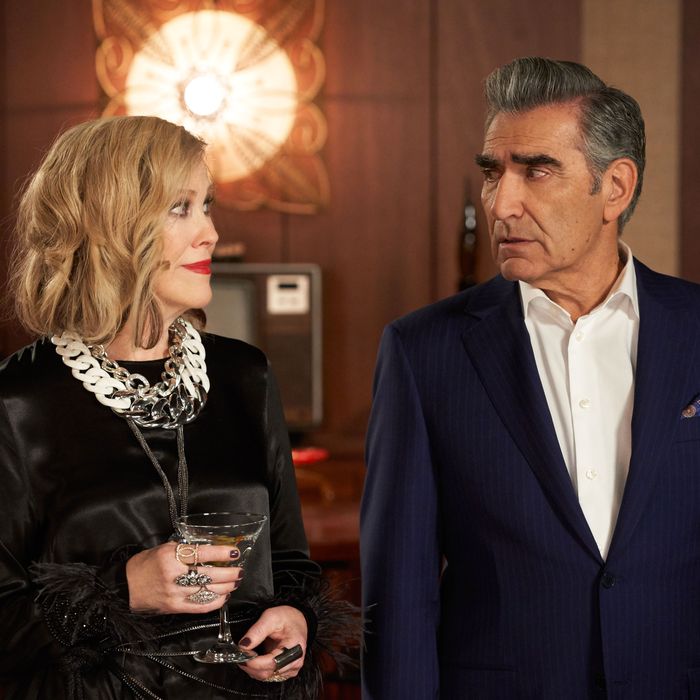 It seemed pretty obvious from the moment Ted took his dream job in the Galapagos Islands that there was no way Alexis would be able to join him long-term — and that especially became true once her career as a publicist took off. Still, that doesn't make Alexis and Ted officially ending this any easier. It's Alexis and Ted! Remember their huge rom-com moment during Singles Week? Someone hold me.
It all starts out so nice, too. Alexis is alone at the motel and hears a knock at the door: It's Ted! He's come to surprise her with a long-weekend visit. Sure, it's already Sunday and he's late because his first flight was delayed and then on his second flight he got food poisoning because the guy just had to order airline milk when they started handing out cookies, but he finally made it to Schitt's Creek. Like so many of us, I imagine, Alexis has several milk-related follow up questions, but she has no time to ask. They have the motel to themselves and very little time. I guess having sex is more important than getting the gory details of a rancid milk experience. FOR NOW.
How happy! How blissful! These two love birds (love turtles?) have finally reconnected. And then Ted drops the bomb about why he really showed up this weekend: He's been offered a permanent position on the Galapagos research team with a three-year contract. Alexis is both sweating and has a chill. It is an instant mood-killer. And Alexis needs some time to think this through.
She ends up at Cafe Tropical, hoping for some wisdom from Twyla, but what advice can you hope to receive when there is really only one clear option? So Alexis and Ted meet for one final romantic dinner at the cafe, the place where they first met. Okay, well, the all-dairy menu Alexis has selected because it's full of Ted's cheat day favorite and she forgot about his current milk issue sort of kills the mood for a second, but mainly the evening is lovely. It's truly the most amicable breakup in history, with Alexis telling Ted that there's no way he can turn down the job of his dreams, and Ted telling Alexis that she has to stay because she's building something special here. They're proud of each other and they know the only reason they've achieved so much success is because of one another. It's sweet and mature and sad, but there is no other way. Alexis's journey on this show has never really been about finding a guy, it's always been about her learning to bet on herself. And that's exactly what she's doing here. Okay, someone get me a four-cheese lasagna to cry into.
The Alexis and Ted storyline really carries the bulk of "The Presidential Suite," as the rest of the Roses are relegated to some throwaway storylines that are fun but probably not very memorable in the grand scheme of the series. Actually, you know what? I'll forever treasure the image of Moira Rose halfheartedly hate-dusting the Presidential Suite at the new Rosebud Motel location. We should all treasure it.
She's doing so because when Johnny nixes Roland and Jocelyn's idea to take a staycation in the fanciest suite in the new place — you can't treat business assets as personal property — Moira assumes it was simply to get rid of them so they could have the room for themselves. After making a big stink about how cold the water is in their actual room (she only has the cold tap on — sorry she's "not an alchemist!") and how small the doorways are (she just rolls over Johnny when he's standing near her), she tells her husband that she wanted that room as a permanent upgrade. Because they deserve it. At least until they get out of Schitt's Creek. Moira's desire to get the hell out of this town is still strong, and I'm still deciding what a real happy ending for Moira and Johnny looks like.
Until then, we'll have to comfort ourselves with sweet sounds of Eugene Levy's JFK impression, as Johnny and Roland have a JFK-off when Roland and Jocelyn sneak into the suite, only to find Johnny and Moira already there. They brought Roland Jr., and a sad story about renting out their spare bedroom in order to pay for the motel, and Johnny and Moira aren't monsters, so of course they give it up. At least we got to see a few seconds of Johnny and Moira sipping on martinis and slow dancing together. Maybe that's everyone's happy ending.
The Wig Wall
• David forces Patrick to get a tan before their engagement photo shoot — I'm sorry, he gives him a pre-wedding day-of-pampering gift — and Patrick comes back as a human cheese puff. Needless to say, their pictures turn out terribly.
• David tries to art direct the shoot in Ray's "studio" — I missed Ray so much! — and explains what he's going for: "I want us to look like two very rich people that have just woken up after fainting on a dusty old couch." You know, understated.
• Sometimes I wonder how in the hell Jocelyn ended up marrying Roland Schitt, but then we see things like the "under the sea" mouse pad she created with her photo on it for her school's computer lab and then I understand everything.
• What really gets Moira inspired to move into the Presidential Suite is that it reminds her of a place she and Johnny used to stay in their former life: "I'm reminded, John, of Shanghai, and our party secretary suite with its own aquarium. I'd lay in our claw foot tub and watch the orcas."
• Another great credit to add to Moira's filmography: Her "gritty, feminist police drama, Miranda Rights."
• Wow, so not only did Alexis dump Brian "B-Rok" Litrell during the Backstreet Boys's Millennium Tour, but she once had a very serious relationship with another famous boy band-er, as she reveals while trying to decide if she should move to the Galapagos: "Do I leave everything behind and move to some random island to be with the love of my life? I did that with Harry Styles in England. It was, like, too rainy."
• "Be careful John, lest you suffer vertigo from the dizzying heights of your moral ground."