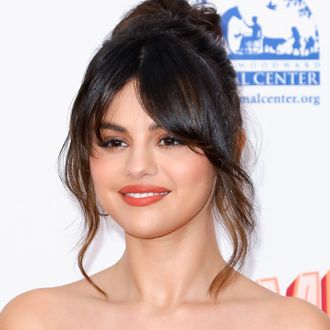 And with that, Selena Gomez can stop releasing songs about Justin Bieber.
Photo: Tibrina Hobson/Getty Images
A long time ago, back before Selena Gomez and Justin Bieber got back together, before Trump was elected, and before we had TikTok to tell us what songs are good, Selena Gomez performed "Feel Me" on her Revival Tour in the summer of 2016 and fans were hooked. The unreleased track lived on solely through live recordings … until now. "On the Revival Tour, I introduced a song that you guys haven't stopped talking about since," Gomez tweeted, throwing in a kissing emoji. "Soo you asked and I listened. Today, 'Feel Me' is out online and vinyl everywhere." Doesn't "Feel Me" sound like 2016 in all the best ways? This is the song we could've had to dance us through the election. You know, something for the end times, something for the girls to get ready and protest to. In January, Gomez gave us a whole album of bops. Rare was her first record since her 2015 album Revival. So much has changed since then, but a good pop song never goes out of style. Alexa, play "Feel Me"!