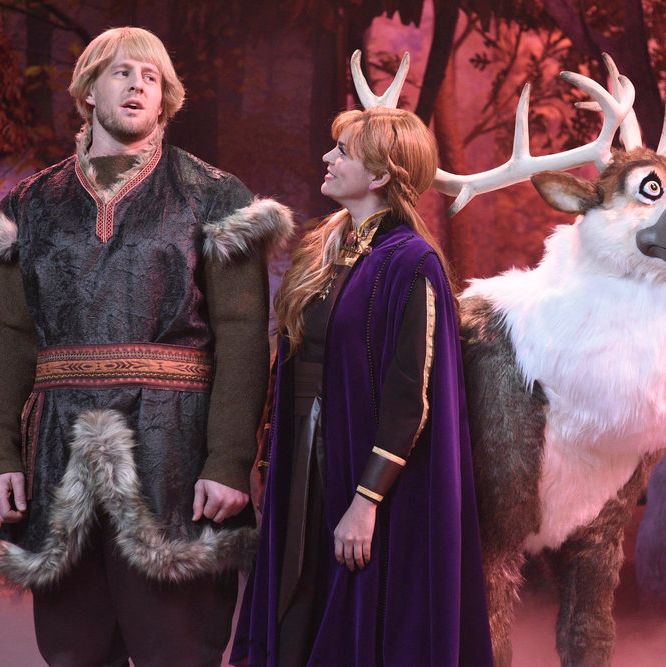 Super Bowl Eve, as everyone's thinking about nachos and concussions, is the natural time for a SNL host who's a football player, and though not a household name, J.J. Watt fits the bill. It should be said, he is a notable athlete. In his career as a defensive end for the Houston Texans, he has been named the AP NFL Defensive Player of the Year three times, and became the first player in NFL history to chalk up more than 20 sacks in two separate seasons. Yeah, yeah, yeah, but in SNL terms, is he more The Rock or (Andy) Roddick? Watt has played bit parts in comedies including New Girl and had a fully fledged (funny) character in Bad Moms. As far as SNL goes, this surely gave him a leg up, even if it didn't reveal a new comic superstar.
Impeachment Fantasy Cold Open
To appease the part of the American public interested in seeing witnesses during Trump's impeachment trial, SNL presents a fantasy of John Roberts (Mikey Day) booted from his judge's chair by Judge Mathis (Kenan Thompson). Mitch McConnell (Beck Bennett) and Lindsey Graham (Kate McKinnon) make way for the testimony of John Bolton (Cecily Strong), Hunter Biden (Pete Davidson), and Trump himself (Alec Baldwin). While this open certainly has an opinion about the events of the week, it's another instance of a lot of news headlines and stage traffic without much bite. Bennett, McKinnon, and Strong — whatever mad, mush-mouthed bloviating she's doing — all earn their air time.
J.J. Watt Monologue
Watt just wants to get SNL fans on the same page, so he makes sure everyone knows that football "is the sport with the helmets." From there, he talks family history: He and his two brothers are all in the NFL, and are all big guys because their father was the Fox Sports robot. Watt gamely does his best, but he's not exactly a natural onstage alone reading cue cards, and the material the writers manage to scrap together for him is thin at best.
Frozen II
To celebrate the release of Frozen II on DVD, Disney is releasing deleted scenes. In one, Elsa (Kate McKinnon) comes out to her sister Anna (Cecily Strong); in another, Kristoff (Watt) is a woke dude who really delivers in bed. There's one that highlights the oddity of the single black character, Matias (Kenan Thompson), and one in which the snowman Olaf (Mikey Day) has not just a carrot nose but a carrot boner. These cartoon characters have lots of information to divulge and songs to sing, so it's more about hitting marks than finding moments. This sketch starts on a smart and promising note — while Anna enjoys her "fulfilling heterosexual marriage," Elsa's love life is what, exactly? — things degrade. By the time they're singing about Olaf's "Coke can"? Meh.
Robbie
In this filmed play on Rudy, the Notre Dame football coach (Beck Bennett) preps the team to take the field, and several of the guys want to give Robbie (Chris Redd) his big shot. The only player to talk sense is Riley (Watt), who knows that putting this twerpy benchwarmer on the field during a playoff is a terrible idea. Eventually, the coach gives the passionate Robbie one locker-room challenge: If he can best Riley, he can play. More often than not, this is the reality behind football dreams like Rudy, but the bullying and berating all feels a bit much here. Robbie's epic failure, and the gratuitous shitting of his pants, doesn't pay it all off. Bullies, though, will love it.
The Sex Talk
In the aftermath of a kid (Kyle Mooney) walking in on his parents having sex, the kid's dad (Watt) comes into his son's room to apologize. The kid is already pretty savvy, and forgiving, but the dad wants to talk about manning up to "clap them cheeks." Once the son is thoroughly grossed out, his mom (Aidy Bryant) drops in to talk about the finer qualities of her "ill na na." After the initial oversharing, the course of the scene is set, and there aren't any surprises. Thankfully, Bryant's childlike energy comes through, elevating what could be just some canned references to her biz into something weirder.
Men's Product
In order to prevent puffy eye bags, Watt recommends Olay Eye Black: stickers that guys can affix under their eyes, just like the pro footballers. It's "just gay enough" for most hetero dudes to be okay with it. The smell? It's "Jack Daniels, Gasoline, and Matcha." There isn't an awful lot to this bit, just the idea that athletes (and their acolytes) might be convinced to go a little metro. The performances are fine, in that they get the material across, but it's so quick there's not much to note otherwise.
Weekend Update
Parnas and John Bolton to "video-game characters who give you the best information." Michael Che insists there's no better way to start Black History Month than with a failure of the justice system, and Colin Jost makes a fine argument about why Trump's disgruntled aides ought to let the American people know the truth long before writing a book. Bowen Yang returns as Chen Biao, the former trade rep who is now the Chinese Health Minister. As he deflects concerns about the coronavirus, the jokes are not as sharp and densely packed in this visit, but Yang's energy is completely infectious.
In its second chunk, Update takes on Harvey Weinstein's walker, Greece's first female president, and a Canadian hotel in which visitors can stay free on Valentine's Day if they prove they conceived a child — according to Che, it's called the "Leave It Inn." Ego Nwodim comes on as professor of African-American studies Angie Hynes, and rather than talk about Rosa Parks and Martin Luther King Jr., Hynes wants to talk about lesser-known figures in black history. Cynthia Woods, for instance, is a bitch that Hynes thought was her friend. "She is black and she is history … to me," says Hynes. This vehicle for this vendetta is just the right balance of smart and silly, and it's so nice to see Nwodim get time as an Update character.
Pilot Hunk
In this edition of the ongoing Bachelor-style reality show sketch, Pat the Pilot Hunk (Watt) sits on a bench as a bunch of lady contestants spills their guts and seduce him. One of the contestants (who are all named Hannah) is "brutally fragile at home," so on set "the wheels come off." One died in the previous episode, one is carried off for confessing she turned 30, and one is worried because the "producers confiscated my vitamins and gave me a knife." Though the format doesn't change, these parodies are as bonkers as they are brutal, and the density of the jokes is impressive. It's also a perfect sketch for Watt, who not only looks the part but doesn't have all that much to do.
Madden '21
J.J. Watt steps into the voiceover booth to record audio to be used with his character in the new Madden '21 video game. With the encouragement of the engineers (Mikey Day, Ego Nwodim), Watt reads a few exclamations celebrating his hits, followed by a few questionable ones such as "Whoopsies," and "Captain Clumsy strikes again." While Watt would rather not mock a nearby kid who's in a wheelchair, that's what's in the script. Though there's a long ramp up to the weirder and more sniveling lines, the specifics are funny. Watt hits his one note of annoyance, while Day and Nwodim offer one note of calm reassurance, so there's not a lot of movement over the course of the scene.
Food Dudes
For all men who get drunk, order food delivery, and get embarrassed by just how much they've ordered, there's Food Dudes. These realistic mannequins don't just look lifelike, they talk and are a little bit overweight, so no delivery person will ever think less of the drunk dialer. This commercial solves a problem that doesn't feel all that universal, but there are some absurd specifics that work well. By the time the ostensible customers start to flee their creepy companions, anyone watching will be ready to do the same.
Society Debut
At a party in early 20th century London, Henry (Alex Moffat) has extracted Bigfoot from the woods and trained him to be a civilized member of society. Bigfoot (Watt) makes jokes and poses for pictures with the best of them, but sadly the party host (Kenan Thompson) reports that there's "excretia" on the floor of the bathroom. Bigfoot can't escape the inferences, and determines to return to "doing naked cartwheels under the sequoias" back in the woods. The mannered Bigfoot gags aren't all that sharp, so the sketch has only a shit joke on which to rely. There's a nice homonym gag about dooks and dukes though.
Pizza Place
Anyone who has watched a terrible porn, or even a parody of terrible porn, will know the trope: A pizza delivery guy arrives at a house where the penniless women would do anything to get those pizzas. This sketch takes place at the pizza shop just after the action, where the pizza guy (Watt) faces his angry manager (Kenan Thompson). After all, each delivery takes an hour, the driver comes back with no money, and he smells like "shellfish and karate class." The premise is perfect for a 10-to-1, and some of the little clues about how the pizza place became a dick-delivery service (e.g., answering the phone with the phrase, "Big Willie's, we come when you ask") are great.
Give this to the SNL writers: They stayed on topic. When J.J. Watt didn't play himself, he played a footballer, a lunkhead, or a lunkhead footballer. And Watt tried, damn it, he tried. While he does have charisma, reading the cue cards and, well, acting on his feet do not appear to come naturally to him. (Given his on-camera work thus far, it seems like he benefits from some quality time alone with a script.) The sketches themselves don't help all that much, often reaching out for that dangling, stanky low-hanging fruit. When the political material doesn't quite cut it, either, the few bright spots aren't enough to keep the show afloat. Let's hope another first-time host, RuPaul, can rise to the challenge next week.