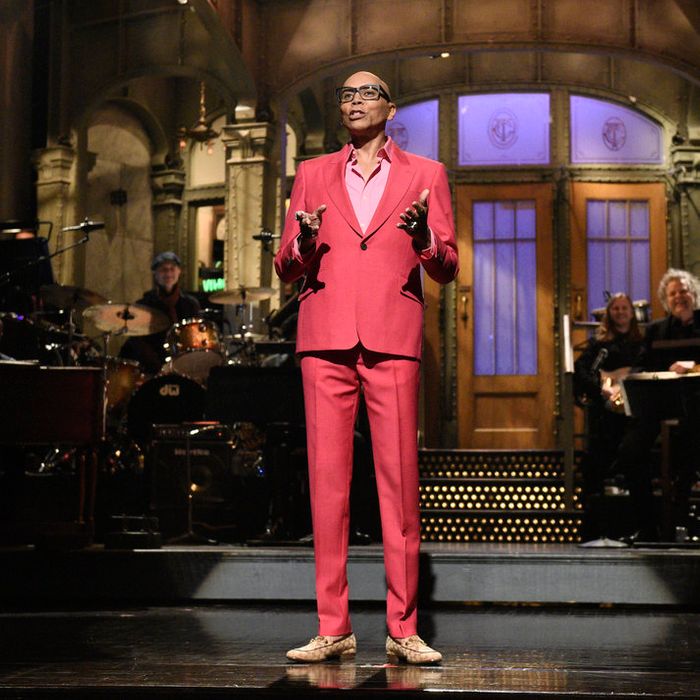 After decades of RuPual's ubiquity in music, on TV, and in clubs, SNL has finally invited earned the presence of the drag queen Queen of Drag. Since RuPaul's Drag Race really caught on in the early '10s, Ru has been riding a wave; currently, he's not only hosting Drag Race on its current home at VH1, but starring in the Netflix series AJ and the Queen and shepherding a live Drag Race show in Vegas. As SNL doesn't often play host to drag performers, much less drag royalty with crystal-clear personas, Ru's presence puts a lot of new material at the show's disposal. So much material that the show only barely touches on lip-sync battles and the ebb and flow of Sashay and Shantay.
Note: This week's sketches are presented here in order from best to worst.
Democratic Debate Cold Open
Democratic hopefuls gather for a debate in advance of the New Hampshire primary. Though sad about the Iowa results, Joe Biden (Jason Sudeikis) vows to do what he does well: "creep up from behind." Bernie (Larry David) laments apps and doesn't quite disavow the "army of internet trolls called Bernie Bros." Mayor Pete (Colin Jost) makes a play for the black vote, Warren (Kate McKinnon) appeals to moms in fleece, and Klobuchar (Rachel Dratch) plays second fiddle to Warren and gives Shakira's Super Bowl tongue wag. It's a long open, but it's packed with gags. Given how much material the writers have here, and the fact that they said just about everything they wanted to say about impeachment last week, it's nice this sketch zooms in on the debate, rather than to the Senate chambers or one of Trump's reelection rants. Aside from Jost and Pete Davidson (who plays Tom Steyer), who just read their lines, the stage is packed with keen character actors and Larry David, who is already Bernie.
The Library
RuPaul joins the librarians, parents, and kids at the San Diego Public Library to help the children understand that reading is fundamental. Of course, "reading" for Ru means throwing shade at the books while wearing novelty sunglasses. Eloise looks like she's "popping a fart" and Corduroy the bear isn't BoHo, he's "broke ho." Ultimately, the librarians (Mikey Day, Aidy Bryant) are a little more upset than the parents (Ego Nwodim, Kate McKinnon, and Beck Bennett), and one of the kids even tries to deliver one of Ru's "personalized insults wrapped inside glorious word play." This is a perfect use of RuPaul, and the jokes suit him perfectly. If there's a single sketch to be shared, revisited, and quoted in the future, it's this one.
Weekend Update
The Update hosts start off with the impeachment vote and its aftermath, but several of the best jokes relate to the State of the Union: "During his address, Trump gave a Medal of Freedom to Rush Limbaugh and celebrated the creation of the Space Force," says Colin Jost, "a moment that was predicted by a Mad Lib I did in 1992." A lot of the jokes have more to do with Trump's flubs, physical appearance, and dietary habits than his policy, but it's not unusual for this era of Update. The Oscars are Sunday, giving Chloe Fineman a good excuse to come on with her impressions. Framing them around the idea of "steering-wheel acting" — the Oscar-bait scenes of women breaking down in their cars — Fineman does Saoirse Ronan, Timothée Chalamet, Meryl Streep, and Renée Zellweger as Judy Garland. She also does an excellent Scarlett Johansson before asking Jost, "Do you feel like you're at home, Colin?" Put simply, Fineman kills. It's so exciting to see her really get free rein to do what she does best, and her dynamic performance will be a revelation for those who haven't seen what she's capable of.
Once Fineman exits, the hosts have a hard act to follow. There's a fun gag about a photo of Rudy Giuliani in Spain, and the audience gets sensitive about a joke regarding the display of dolls at the MSU gift shop. (Che defends it as a perfectly good "math and history joke.") Cecily Strong returns as the addled lady always screaming out Che's window, Cathy Ann. She talks "politricks," impeachment, and the Dems' chances in 2020. Che says Cathy Ann is "on fire," which leads to another bit, but it's true of Strong, too. Not all the material is stellar, but Strong fills every moment.
Check-Splitting
As co-workers try to settle a restaurant bill, one woman (Heidi Gardner) resists doing an even split because she didn't drink wine. The office supervisor, Candice (Aidy Bryant), insists, and two irate women (Cecily Strong, RuPaul) leap up to defend the nondrinker. Blustery and bloviating, this duo locks down the restaurant, thoroughly embarrasses the woman they vowed to help, chasten Candice, and walk out triumphantly. With Strong doing a jittery, emphatic Julia Sugarbaker and Ru doing Ru, the two of them brew a tempest in a teapot. It's full of five-dollar words, misappropriated aphorisms, and a bit of TMI — not what anyone expects from a couple of temps, but worth watching.
Thirsty Cops
This time, the Thirsty Cops (Ego Nwodim, RuPaul) pull over a college student (Pete Davidson) who was texting and driving. The horny officers are much less interested in road safety than they are in whether the young guy is "headed straight" or if his "journey is more fluid." There are some overtly sexy, leading questions, and eventually a third cop (Kate McKinnon) joins in the shenanigans. As far as story goes, that's it. But all of the over-the-top innuendo in the laugh lines is solid, e.g., "I'm like black ice, you won't see me coming." Davidson spends the latter part of the scene giggling as McKinnon sidles up alongside him to tell him she's just "flooded her she-shed." And though Leslie Jones isn't around to bring that aggressive heat, Ru makes a worthy playmate for Nwodim.
Family Charades
At a get-together for the new neighbors, the Barrons (Kate McKinnon, Beck Bennett, Kyle Mooney, and Heidi Gardner) challenge the Johnsons (Chris Redd, Ego Nwodim, Kenan Thompson, and Ru) to a rousing game of charades. While the Barrons do the standard miming, the Johnsons help one another with plenty of verbal clues, e.g. "Not big, rhymes with Skittles." They've also got some charades shorthand that makes things a lot easier. When Ru goes up, he indicates his face and then points to Bennett, and his teammates understand he means 12 Years a Slave. The central conceit is a funny one, and Ru et al play the sudden surprises in the sketch just right, though the stodgy white folks are a collective yawn.
The Old New York Show
Old friends Madge and Dickey (Aidy Bryant, Kate McKinnon) can't leave the hotel room they've lived in for 50 years because they're afraid of being kicked out; for that reason, these drunken pals host a talk show inside it. They bring out a man they've both married, Terry (RuPaul), to prank room service, sing songs about the subway, and talk about how things used to be waaay back in '94. (They love Giuliani, for instance, because he "killed all the whores.") While the world of these characters feels a bit scattered, the Bryant-McKinnon partnership is a playful one. There are some great specifics in the lines, e.g. a tiny craps table where rats bet and a confessed pastime of "throwing costume jewelry off the Empire State Building." Given time, these two could mature into worthy cousins of Nick Kroll and John Mulaney's Gil Faizon and George St. Geegland.
Chad & RuPaul
Ru halts what is just another photoshoot for Drag Magazine to announce that the future of drag is demurely holding a reflector just off-camera — it's that startlingly seductive, monosyllabic dope Chad (Pete Davidson). Ru teaches Chad to tuck, beat his face, and finally, lip sync for his life. Chad just ends up playing with his cutlets, trying to kiss Ru (not knowing that he's a man), and falling right through a craft services table in an attempt to sissy his walk. This Chad sketch takes the shape of a teaching scene rather than the standard seduction, and leans more on Ru's wisdom than Chad's abject stupidity. People will appreciate it as Ru's big drag scene in the show, but without the personal stakes underlying the other Chad scenes, it's less interesting.
RuPaul Monologue
For his opening, Ru gives viewers a basic overview of his reign: He's been in the business since the '80s, when he moved to NYC. "Drunks, hookers, and seedy nightclubs — but it wasn't all good," he says. The powers-that-be won't allow him to provide further details for fear of things getting too explicit, but suffice it to say that drag in the East Village involved corrections officers, a House of Pancakes, and feet. And, of course, he offers the uninformed a little glimpse into Drag Race, including how the girls "slay the house down boots." It's as much an introduction as a bit of a pep talk encouraging everyone to "use all the colors in the crayon box." Ru's sparkling presence comes through, and his timing, as expected, is impeccable.
Boop It
This commercial parody introduces the Bop It clone Boop It, a skill game with all kinds of buttons to boop and wands to doink. The kids (Mikey Day, Chloe Fineman, and Chris Redd) are having such a great time, Dad (Beck Bennett) wants in on the action. He's terrible. But rather than leave it alone, he drinks a little more bourbon, sends Tyler home and makes his kids watch as he plays. Eventually, a disappointed Mom (Heidi Gardner) arrives to chastise Dad — he didn't drop the kids off, and they clearly haven't eaten. It's an interesting twist on the standard parody, but even in such a short performance, it feels like Bennett could find a bit more life and more levels in the dad character.
The show uses Ru to the fullest: As himself, as an enthusiastic ensemble player, and as a lead in both glam and tawdry drag. Some sketches suit better than others, but for his part, Ru looks perfectly at home regardless of what he's doing. While the Cold Open provides the star power — which, in this case, is thankfully due to the performers' comic resumes — the real breakout performance of the show goes to Chloe Fineman. In finally getting real airtime, she proves (to anyone who hasn't been keeping tabs on her Instagram feed) the careful craft of her mimicry. There are some sketches that don't quite get off the ground, but not due to lack of ideas. It'll be a few weeks before SNL is live again — but given John Mulaney's track record as a host, it's bound to be a good one.