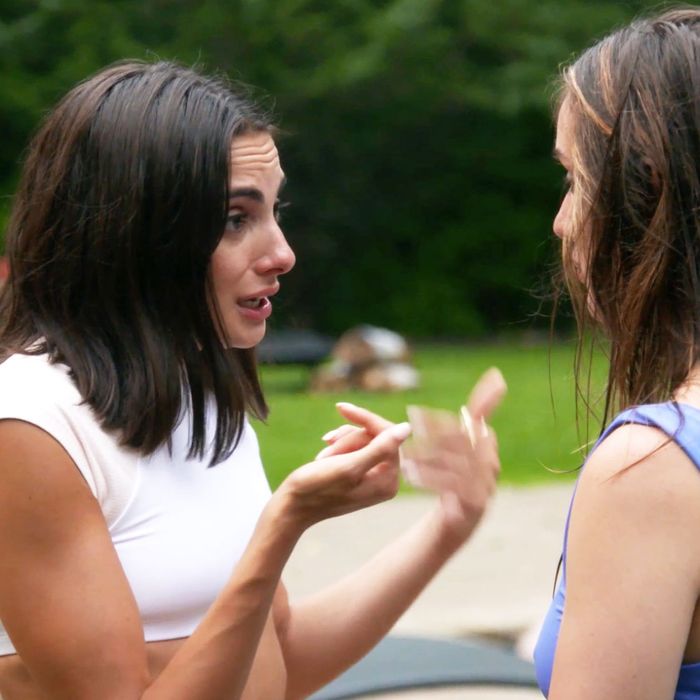 The most disturbing thing about this season of Summer House is how every week our witless revelers arrive at their production-paid-for estate to find an art installation's worth of Amazon boxes perched on the front step. The only thing they have more of than Amazon boxes is novelty floats in their pool. What exactly are these children ordering? Is it just all novelty floats? I know that package delivery in New York can be uncertain (that's what she said!), but does Lindsay need to get her Prime packages sent to the Hamptons house just to lug everything back with her? Or is it something just for weekend use? That might make more sense.
However, the only other discernible thing they seem to be ordering is paper towels. These kids are all driving through Long Island to get there, don't they know that suburban wasteland is peppered with Sam's Clubs and Costcos and other such establishments where they can get all the paper goods they need, as well as maybe a free sample of turkey sausage, along the way? I guess this is the future, where stores no longer exist and all of our groceries are dropped by the drones that will one day take over by pelting us with individual cans of White Claw until we are all dead.
If Amazon package delivery is the villain of this season, I think that the secret hero of the season — no, perhaps the whole series — is Amanda Batula. There are two things in this episode that made me want to make her my forever queen and style icon. The first is when Kyle is rummaging around their room complaining that her shit is everywhere while she lies on the bed, thumbing through Instagram and simultaneously brushing her teeth with little regard for where her frothy spittle might land.
The second also comes when Kyle is hectoring her, this time about getting design work done on Loverboy right as she gets home from her day job. Amanda walks through the door, pours herself a glass of red wine, installs herself on the couch with her phone, and, to top it all off, puts on the Real Housewives of Orange County reunion. I have never, in all of my years watching television, seen anything more relatable. It was like I was Amanda and Amanda was I. We are unknown twins, two moons orbiting the same planet, two refugees from an overly tidy partner who just wanted to watch some fucking Bravo and not be bothered right now, okay?!
There is something else that makes Amanda my hero, though, and it's that she finally has the upper hand with Kyle. (I did not come upon this theory on my own, it was pointed out by the genius Jessica Knoll.) We were introduced to her in season one as the too-young love interest who wanted to nab Kyle when all he wanted was a fun summer fling. As their commitment intensified, it was always Amanda chasing Kyle, trying to rid her relationship of insecurity through his unwavering commitment. Now that she has that in the form of an engagement ring, she is the one having second thoughts, as Kyle has to get her to prove that she's the one who is all in after his dalliances last season.
We can see this in her ambivalence toward planning their wedding, which takes center stage as they attend Amanda's cousin's wedding on Long Island. (The thought of how delicious the desserts were at this wedding is making my fanny flutter and my eyes turn into sprinkle cookies.) At lunch with her parents, Amanda dissembles about why they're not further along in the process, but she tells the audience that it's because she's still working through the struggle of moving in together and isn't sure she wants to make the full commitment. Who wants to marry Kyle when all he does is make her feel bad about not working and hector her about cleaning up the PrettyLittleThing.Us bags in the guest room?
Kyle is also questioning how things will be for them in the future, especially after hearing that Amanda's mom is a messy procrastinator too, and just so happens to look exactly like Amanda. If you want to see into your partner's future, just look at their parents. I am sorry to my husband, because I was birthed by an alcoholic donut and the ghost of Jill Zarin.
As for the other couples in the house, the most progress is made between Hannah and Luke, an Invisalign wearing a motorcycle jacket. I love Luke, mostly because when they show a picture of him as a kid, his father has a mustache, a mullet, and a pink striped shirt, like some kind of '80s costume party look but it is actually real and I want to make sweet passionate love to it. Luke, however, is a bit dull. But then he tells us about his former three-year relationship that he ended just before joining the show. He says that he gave up everything about himself for this woman, was even going to propose to her, but that wasn't enough for her. Eventually she got physical with him and he had to leave. Wait. Back up. I haven't had more questions about something than when Carl finger blasted Lindsay without kissing her. What does all of that mean? I don't think anyone should stay in a relationship that gets physical, but that is a lot of vague details obscuring what is surely a blockbuster of a story and I want it all. My body is ready.
Hannah in her banana pajamas (say that five times fast while playing flip cup) keeps flirting with Luke despite the fact that things are going well with Armand, the tiny, itty bitty 5-foot-11 guy she's dating. After plenty of banter and games of shirtless tennis, Hannah and Luke wind up alone in the hot tub, even though they are wearing swimsuits. I would like to think that this is because there are television cameras around, because the only thing more uncomfortable than wearing your swimsuit in a hot tub is when someone serves Joaquin Phoenix beef at a dinner party. There they are, mooning into each other's eyes, as Hannah slowly caresses Luke's lower shin regions. All of that caressing must be making Hannah horny, which is why the most present thing in her confessionals is her nipples. Seriously, her chest looks like the stars in your eyes emoji, but instead of stars the eyes are nips.
The weird thing about Hannah and Luke is that when they hang out with Carl, he's always bringing up Hannah's man, Armand. Why is he even bothering? Hannah told everyone they haven't had a talk about exclusivity, so she can do whatever she wants and Carl, who is in a dubious position of his own, should keep his mouth shut. It's sort of like when he gives Luke guff for not manscaping but then shows up at a pool party with shoulders that look like Brillo pads used to clean the pubes out of a gym shower drain. I didn't want to go there, Carl, because a man's grooming is his choice, but you opened that door, bro.
He also opens the door to speculation about what is going on with him and Lindsay. The most heated exchange happens at a group dinner, when Lindsay turns on everyone asking and says, "We're trying to figure it out and you're all putting pressure on the situation." New girl Jules, biting off of Paige's satellite sleeves from last week, chimes in with, "Maybe your yelling is adding pressure to the situation." Oh girl, no. No no no no no no no. Girl. A million times no. Girl. Girl. First of all, if you don't want yelling, you are in the wrong line of work. Secondly, as Paige quickly points out, adding this kind of heat to Lindsay's fire is going to get you nothing but scorched eyebrows and a giant welt across your toned ass.
As the episode starts, Carl and Lindsay finish their talk that ended the previous episode, and it kind of goes nowhere. They spend the rest of the episode talking about the finger bang heard round the world, this time with Danielle, a returning champion. She says that Carl and Lindsay are her best friends and they keep referring to themselves as the Tres Amigas, which, sorry, but Tamra Judge holds the legal trademark on that name, and thanks to Andy Cohen doing her dirty will never relinquish its usage to Bravo again. When Danielle hears about the finger bang, she busts into uproarious laughter, which is the only way to react to someone in their third decade of life talking about third base.
Finally, at the end of the episode, during the world's most staged pool party, Carl takes Lindsay aside and they talk about what is going on in their relationship. He says that he likes her and she says she likes him too and not to worry about rejection. She's more worried about the long term effects of turning their friendship into a relationship. With fear of rejection aside, Carl then asks her out on a date. A date? Aren't all the store openings and perfume launches and nights at axe throwing parlors (you know they go to them!) haven't been dates already? You know about dates. Just bang already. Bang like a screen door in a tornado. Bang like the thunderclaps that roll over the Hamptons in late August. Bang like a fighter jet going faster than sound. Bang like space debris crashing into a satellite. Bang like the unending thud of Amazon boxes being gently tossed onto your front porch.