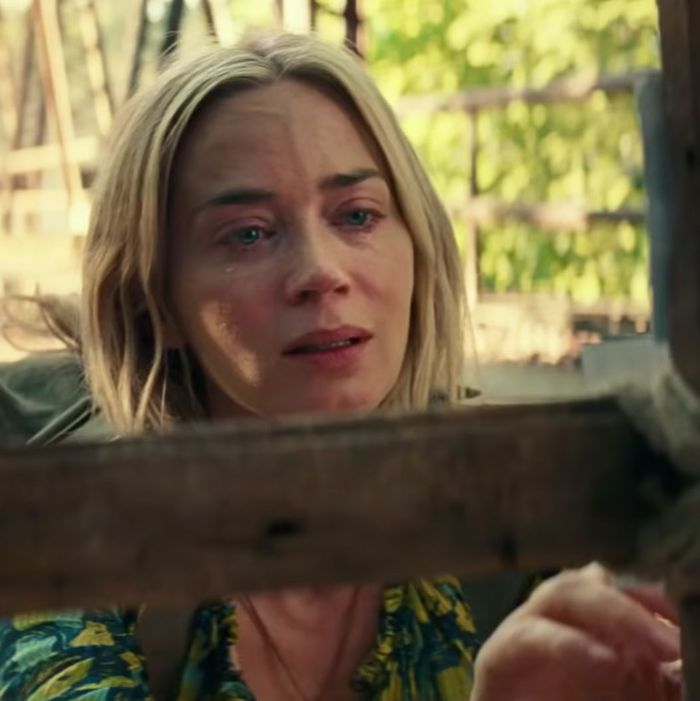 If the dramatic spectacle of football or the celebrity-laden universe of Super Bowl beer commercials doesn't suit you, maybe this slate of new movie trailers will. This year's big game broadcast is peppered with some exciting previews, including a sequel to the beloved film The SpongeBob Movie.
A Quiet Place Part II
The sequel to John Krasinski's silent sci-fi drama features a hefty amount of running. You can see what else unfolds in this apocalyptic survival story when it hits theaters on March 20.
Hunters
Al Pacino, Logan Lerman, and Jerrika Hinton star in this upcoming TV show following a group of American Nazi hunters. Jordan Peele's new series, Hunters, premieres February 21 on Amazon Prime Video.
Sonic the Hedgehog
A squad of professional athletes praise the spin moves and speed of Sega video-game icon Sonic, who sits in the director's chair in this trailer for his very own movie. Jim Carrey and James Marsden buttress Sonic's leading performance. The adventure film is out this Valentine's Day. What could be more romantic?
The SpongeBob Movie: Sponge on the Run
Mr. Krabs is not feeling the financial implications of a "Big Game Spot" trailer, but there's a lot of action packed into this 30-second movie preview. We even get a cameo from Snoop Dogg. Fans of the nautical cartoon can catch the rest of this road-trip flick when The SpongeBob Movie: Sponge on the Run arrives in theaters this May.
Fast & Furious 9
It's been almost two decades since the release of the first Fast & Furious movie that spawned eight sequels. The ninth film in the franchise, which arrives this summer, features a fierce sibling rivalry that takes Dom Toretto and a surprise reveal that will truly shock you.
Flipped
In one of the first extensive looks at Quibi's upcoming slate of "quick bite" show offerings, Flipped stars Kaitlin Olson and Will Forte as a couple who quit their unfulfilling jobs in favor of becoming the "next dynamic duo" within the home renovation world. When they discover a wall stuffed with an absurd amount of cash in one of their home projects, though, things start to unravel for the worst. (Crime lords are involved, obviously.) Andy Garcia, Arturo Castro, and Eva Longoria also star.
The Fugitive
A man at the wrong place at the wrong time (Boyd Holbrook) is blamed for a terrorist attack, and is pursued by just about every member of the police (lead by Kiefer Sutherland) this side of the Mississippi. Run man, run!
No Time to Die
The latest Bond spot continues this year's trend of brief 30-second commercials instead of new, full-length trailers, but at least you get a sneak peek at the film's 007s getting sucked out of a airplane in the Super Bowl ad for No Time to Die, due out in theaters April 10.
Minions: The Rise of Gru
The upcoming prequel Minions: The Rise of Gru ostensibly takes us back in time to learn how the Minions' titular master became so goshdarn despicable, but if you're a little kid AND you already have loyal minions? You're definitely already pretty far down the road to Anti-Hero Ville. Either way, Gru is set to rise on July 3.
Top Gun: Maverick
The 30-second Super Bowl spot for Top Gun: Maverick, premiering on June 26, reminds you of your most basic needs. Specifically, your need for speed.
Mulan
The latest spot for the live-action Mulan, which debuts on March 27, focuses on the action and adventure awaiting our Disney princess on the battlefield. Hopefully bravery and loyalty to one's inner self is enough to best a witch who can literally turn into a hawk mid-fight. Just kidding! We know it is.
Black Widow
Speaking of loyalty, Black Widow's Super Bowl spot has Scarlett Johansson's Natasha Romanoff contemplating how much fidelity one owes their family. Okay, now, answer the same question if your family is made up entirely of assassins. Black Widow debuts on May 1.
The Invisible Man
As if the premise of The Invisible Man, set to be released on February 28, isn't harrowing enough, the movie's Super Bowl spot allows the film's imperceptible sociopath, played by The Haunting of Hill House's Oliver Jackson-Cohen, to explain his plan in his own horrifying words. Note to self: always carry a bucket of paint, just in case.
WandaVision, Loki, and The Falcon and the Winter Soldier on Disney+
Sure, Disney+ could have dropped three full-length trailers, but opted instead to give you ten seconds each of their new Marvel series, which isn't nearly enough. We need more context for the WandaVision sitcom scenes! Like the trailers themselves must be, The Falcon and the Winter Soldier, WandaVision and Loki are all coming sometime soon.