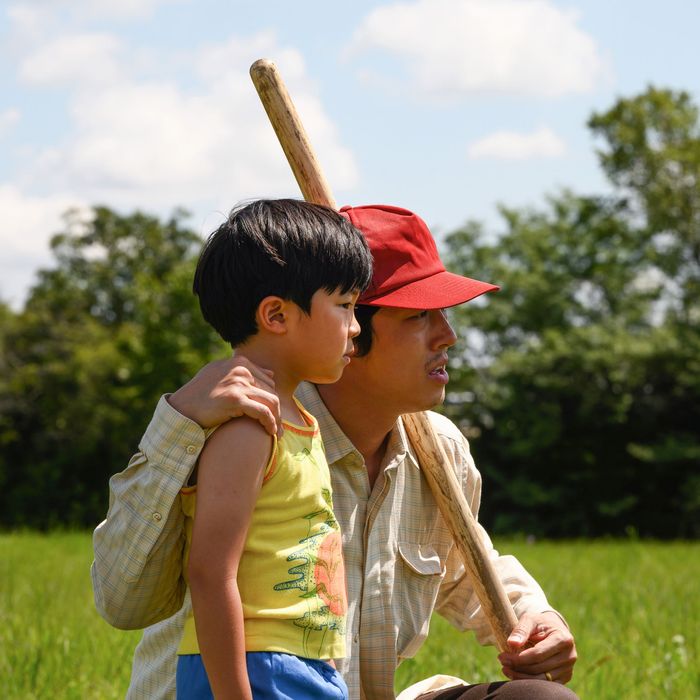 Lee Isaac Chung's
Minari
.
Photo: Melissa Lukenbaugh/A24
Despite its share of big deals, this year's Sundance Film Festival was a surprisingly low-key affair. Few films came with the prefab advance buzz that the festival has in the past been known for, and no one or two movies seemed to dominate the discussion on the ground at Park City. But that was a good thing, because it spoke to the overall excellence of the slate: There was so much strong, diverse work this year that it was impossible for only one or two titles to break out. With that being said, here are our 12 favorites from the festival — just know that there are at least 12 other movies that we could have easily included on this list.
Boys State
The student state government program that's the focus of Boys State so neatly reveals itself to be a microcosm of the U.S. voting landscape it feels like it could have been scripted. But of course, that's one of the points of this stirring documentary from directors Amanda McBaine and Jesse Moss, the team behind 2014's The Overnighters. The 16-, 17-, and 18-year-old boys gather in Austin, Texas, to play politics emulate their heroes. One teen, Steven Garza, an achingly earnest gubernatorial candidate who's canvassed for Bernie Sanders, runs against Eddy Conti, who's enthusiastically described by his supporters as being just like Ben Shapiro. But where this film really offers up glimmers of hope and despair is in the differences between the young men and the figures they're modeling themselves after, and how much of what happens over the course of the week suggests we're destined to break away from the past or repeat it. —Alison Willmore
Documentarian Kirsten Johnson embarks on a radical experiment that completely pays off in Dick Johnson Is Dead. Frightened of losing her beloved father who's beginning to show signs of dementia, Johnson asks if she can film him pretending to die in a variety of absurd and banal scenarios (falling down stairs, being punctured by a construction worker's nail). He's incredibly game for all of it, and the movie is as much a story about a one-of-a-kind father-daughter bond as it is about mortality and pain and love and memory — and the way that film can, in some ways, defeat death. —Rachel Handler
The Father
Like Dick Johnson Is Dead, The Father is about a woman (Olivia Colman) struggling with how to care for her father (Anthony Hopkins), whose dementia has made it impossible for him to keep living by himself. But Florian Zeller's film, adapted from his own 2012 stage play, unfolds largely from the disorienting perspective of the aging parent, putting us in the head of someone whose grasp of time and reality has been slipping. People appear in the apartment in which the film takes place and claim to have been living there for years, and then that apartment becomes another, and it becomes clear that the main character has been taken in by his daughter. It's deftly and disturbingly done, and what holds it together is a masterful performance from Hopkins, who allows the audience to feel for his character without needing to like him. —A.W.
I fell really hard for Miranda July's latest, a bizarre and bittersweet film that's partly a love story and partly a story about learning to accept the love you don't think you deserve. Evan Rachel Wood is wonderfully weird as Old Dolio, an utterly detached 26-year-old woman whose parents (played by Debra Winger and Richard Jenkins) see her as nothing more than an accomplice to their low-stakes con jobs, and who has apparently never cut her hair. When she meets Gina Rodriguez's luminous Melanie, Old Dolio begins to realize that there's a lot more to life than scamming the local post office. On top of being an affecting portrait of loneliness and the parent-child bond (or lack thereof), the film is full of classically Miranda July touches, like a magical-realist scene filmed inside a pitch-black gas station bathroom with walls that leak pink bubbles. —R.H.
Minari
Minari, from writer-director Lee Isaac Chung, is a sweet, occasionally heartbreaking semiautobiographical film about a Korean family trying to start a vegetable farm in Arkansas in the 1980s. Steven Yeun is predictably wonderful as Jacob, the family's determined patriarch, who's spent years "staring at chicken butts" for a living as a chicken sexer and is hell-bent on proving to himself and to his family that he's destined for something more. His wife Monica (the lovely Yeri Han) is lonely and skeptical, and just wants to move the family back to California. Alan Kim steals the film as 7-year-old David (Chung's avatar), a spunky and delightfully restless little kid with a heart murmur who yearns to run freely through the grass in his oversize cowboy boots, but Yuh-Jung Youn is just as memorable as Monica's mother, who comes to live with the family and slowly wins David and his sister Anne (Noel Kate Cho) over with her twinkly-eyed wit and card games. Minari is a beautiful, naturalistic story of a family coming apart and together. —R.H.
The Nest
A darker transatlantic cousin to Minari, The Nest is another '80s-set drama about a patriarch (Jude Law) who uproots his family in order to chase his own, probably doomed dreams of success. In the case of Sean Durkin's film, though — his first since 2011's Martha Marcy May Marlene — the location is a gloomy country pile outside of London where wife and mother (Carrie Coon) finds herself unable to settle in, the teen daughter (Oona Roche) falls in with a destructive crowd, and the young son (Charlie Shotwell) cowers in fear of his home and fancy new school. Law, as a flashy class-climber whose bullshit is not as convincing as he thinks it is, is cast perfectly in a role that makes use of both this beauty and his touch of artificiality. But Coon may run off with the movie as a woman increasingly embittered by the expectation that she just accept her husband's decisions to run them off yet another financial cliff in his need to feel impressive. — A.W.
In Eliza Hittman's understated, realistic drama, two best friends from Pennsylvania come to New York City so one of them can have an abortion. That setup suggests drama enough, but part of the film's beauty lies in watching these two very different personalities navigate a situation neither of them entirely knows how to handle, and Hittman's attention to the subtle ways that friendships can both splinter and be reconstructed marks this as the work of a compassionate behavioralist. The scene referenced by the title — in which one of the girls must answer a series of multiple-choice questions at the abortion clinic about what has happened to her — is probably the most powerful collection of moments in any film at this year's festival. —Bilge Ebiri
Relic
Dementia was obviously a major theme at Sundance this year, and the inevitable end point of the progression from the warmth of Dick Johnson Is Dead to the turmoil of The Father is Relic, a horror film from writer-director Natalie Erika James. A chamber piece involving three generations of women, Relic starts with a mother (Emily Mortimer), daughter (Bella Heathcote) in tow, traveling from Melbourne out to her childhood home, where her own mother (Robyn Nevin) has been living alone — and from which she's reportedly gone missing. Spooky things start happening in the house, a place cluttered with the remnants of family members who've moved on, but just as frightening is the prospect of a loved one who's slowly losing her sense of self, and who refuses to accept help. James's impressive debut has been netting comparisons to The Babadook for its blend of domestic fears and nightmarish ones (as well as for being a horror debut from an Australian woman), and they're warranted. Relic manages to end on a note that's both grotesque and intensely poignant. —A.W.
Time
Garrett Bradley's haunting film follows the dogged, eloquent, wary Fox Rich, as she fights for her husband Rob's release from a 60-year sentence for a holdup they committed together decades ago, even as she raises six kids and tries to have a life of her own. Partly using reams of video footage Fox shot of herself and her family since leaving prison, Bradley's approach is impressionistic; she focuses on faces, gestures, glances, and she loves to luxuriate in passages of intimacy and everyday interaction. Filmed in shimmering black-and-white, there's a grace and generosity of spirit throughout Time that runs counter to our expectations of a picture about incarceration and justice and single-parenthood. — B.E.
Zola seemed like the sort of thing that would be nearly impossible to pull off: a dark comedy based on a Twitter thread about stripping and sex work and murder and abuse and suicide attempts. But Janicza Bravo more than pulls it off, thanks to an idiosyncratic tone, quirky structural choices (a trip deep into Zola's brain; Twitter chirps that punctuate the story), and an incredible breakout performance from Taylour Paige, who plays Zola with equal parts detached bemusement and barely disguised horror. Riley Keough is simultaneously monstrous and sympathetic as Stefani, "this bitch here" whom Zola falls out with, and Succession's Nicholas Braun is perfectly pathetic as Stefani's long-suffering, permanently cucked boyfriend Derrek. —R.H.
This Is Not a Burial, It's a Resurrection
The first film from the enclave country of Lesotho to screen at Sundance — apparently, the first film from Lesotho to screen at any international festival — director Lemohang Jeremiah Mosese's meditative, visually striking drama follows an elderly woman suffering from grief who struggles to protect her village when she discovers that it's being resettled to make way for a dam reservoir. Told like a fable and shot like a dream, it's a stunning work that immerses us both in the earthy textures of this world and in the spiritual crisis of its central character. —B.E.
Epicentro
Austrian director Hubert Sauper's portrait of modern-day Cuba as a place where the legacies of the slave trade, colonization, and globalization all converge is a brilliant mixture of historical-poetic analysis and a ground-level journey among the denizens of Havana — schoolkids, teachers, parents, artists, sex workers, tourists, and others. The director's remarkable eye for lived-in detail and for spectacular imagery will mesmerize you, even if you don't agree with all his theories about the state of the world and where Cuba fits within it. —B.E.