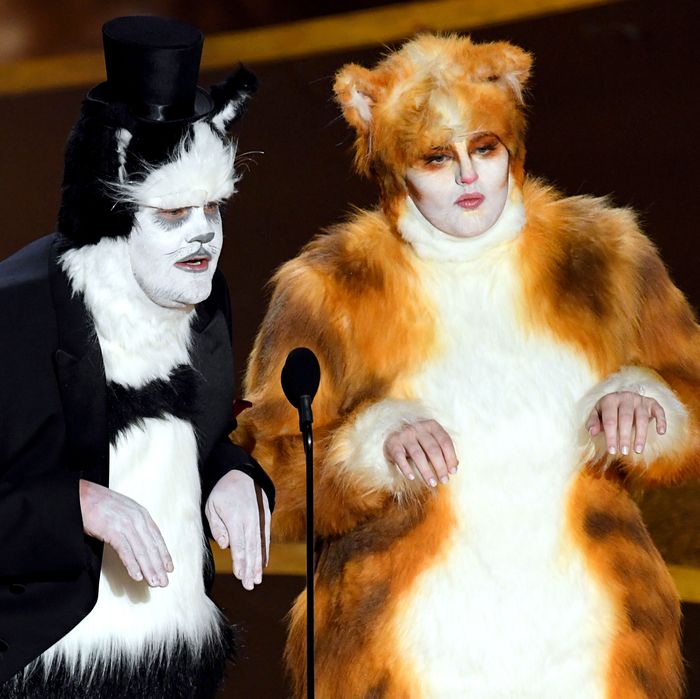 James Corden and Rebel Wilson as,
erm
, cats at the 92nd Academy Awards.
Photo: 2020 Getty Images
It started with Janelle Monáe. Not the Oscar ceremony itself, though Monáe kicked that off too, with an outsize song-and-dance number that had her donning a Midsommar May Queen cloak and sprawling in the aisles. What Monáe did first was call out the institution behind the festivities, which would prove to be a running theme throughout the night. "We celebrate all the women who directed phenomenal films," Monáe declared, apparently on behalf of the attendees. It was a reference to the women who had been shut out of the Best Director race this year. Steve Martin and Chris Rock, who came up next to deliver an opening non-monologue, would repeat the point by way of a clunky zinger about what they noticed was missing from the directors category ("Vaginas?"). Rock also noted that at the very first Academy Awards, there had been zero black Oscar nominees, and 92 years later, that number had risen to one. Later, Salma Hayek clutched co-presenter Oscar Isaac's arm and joked that she could finally say she'd held an Oscar onstage. "Congratulations, Oscars not so white now," he responded.
This year's Academy Awards ended with a supremely satisfying upset that saw Bong Joon Ho's Parasite making history for, among other things, becoming the first non-English-language film to win Best Picture. But before the Academy took a turn toward that real, honest-to-god breakthrough, it engaged in a ritual that felt more familiar — one that was all about making sure that we knew that they knew the Academy has problems. It's been five years since activist April Reign created the #OscarsSoWhite hashtag to highlight the lack of diversity at the awards. This latest slew of nominations included no women directors, only one acting nominee of color, and a mess surrounding what the newly dubbed "International Feature Film" actually meant. Which is why 2020 was an Oscars ceremony of self-flagellation, filled with instances of the institution making gestures toward its own shortcomings in lieu of actually addressing them.
What made the Parasite wins — which also included ones for Best Director, Best Original Screenplay, and Best International Feature — even more surprising is that they came at the end of an event that seemed to be settling into a comfort zone of castigating itself for its own failures of diversity, while handing out awards to the long-predicted winners. It's funny to think that in 2018, Natalie Portman made news and garnered some criticism for daring to introduce the "all-male nominees" for Best Director at the Golden Globes. At the Oscars this year, that sentiment had basically become the aesthetic, down to Portman (who's only worked a handful of times with women directors herself) wearing a cape with the names of overlooked female filmmakers embroidered on it.
Acknowledging a need for change is easier than actually making it, something apparent in the gap between the list of presenters and acting nominees this year. It had become clear early in awards season that the four acting categories were shaping up to be all or majority white — the outcome as inexorable as a ship too large to have its course changed in time to avert an accident. As if to make up for that, the ceremony itself seemed to invent instances in which someone could introduce someone who would then introduce someone else in order to include more young talent, often people of color — a fact that was made fun of by 1917's George MacKay toward the end of the night, as he did that very thing. We know, the Academy seemed determined to assure us, and we're bothered by all of this, too. But there are limits to how much applause that self-awareness can be expected to generate, whether for enduring systemic blind spots or creative failure. The desperately unfunny moment when James Corden and Rebel Wilson showed up in full, furry costume to poke fun at their own participation in Cats felt like a testament to that.
There's always been an irreconcilable gap between the Academy Awards as Hollywood's glittery annual celebration of self, and a still-widely-watched platform for acknowledging issues in the film industry and in society as a whole. It's an event that features impassioned political pleas and swag bags that include a free yacht cruise. It simultaneously means something and nothing at all. It's a place where Gal Gadot, Brie Larson, and Sigourney Weaver could come onstage to offer the awful platitude that "all women are superheroes," in the same evening in which Sound Editing winner Donald Sylvester got a round of applause for thanking his wife for giving up her editing career so he could pursue his. When Eímear Noone was announced as the first female conductor to lead the orchestra through samples of the nominees for Best Score, it was hard not to think that the Academy was patting itself on the back for a milestone few of us had even realized was so egregiously long in coming. Protests about the Oscars' deficiencies can be flipped a little too readily into acts of self-congratulation.
It's why the Parasite wins felt so striking, and not just because of the records it set — the first film from South Korea to be nominated at all, much less win; the first film with a primarily Asian cast to be awarded Best Picture. The Oscars, as Bong so witheringly put it, tend to be "very local." It's easy to imagine that merely nominating his brilliantly uneasy, resonantly anti-capitalist film would be considered enough of a salute. To watch the ceremony — overall, not a bad one, inexplicable Eminem performance and all — was to be reminded that even discussions about diversity can be turned into a way for the industry to continue examining its own reflection, instead of also taking time to look outward to a whole slate of international cinema that's tended to be consigned to a single category. Parasite's Best Picture win wasn't just a daring choice for the Academy, artistically and culturally. It was an acknowledgment of American cinema as representing only a fraction of global filmmaking, and an admission that a film being in a non-English language shouldn't make it a specialty title.
Who knows what this might mean for the future of the awards — as the last few years have evidenced, one year's wonderful surprises don't guarantee any lasting trends. But in the giddy afterglow at least, it feels like, if not a door being thrown open, at least a window getting cracked. The question that remains is whether the Parasite win is in itself an act of self-flagellation for an industry so anxious to prove its progressive bona fides — not just a way of lauding one of the best movies of the year, but one that happens to speak to the feeling of crushing inequality gripping so much of the world. Unlike the hollow showmanship of 1917, the complicated nostalgia of Once Upon a Time … in Hollywood, or the intentionally garbled politics of Joker, Parasite comes with a biting message about the desperation of the poor and obliviousness of the rich. It doesn't let anyone, including the most well-meaning attendees in that room, off the hook. The question remains, of course, who in Bong's movie they might relate to most.