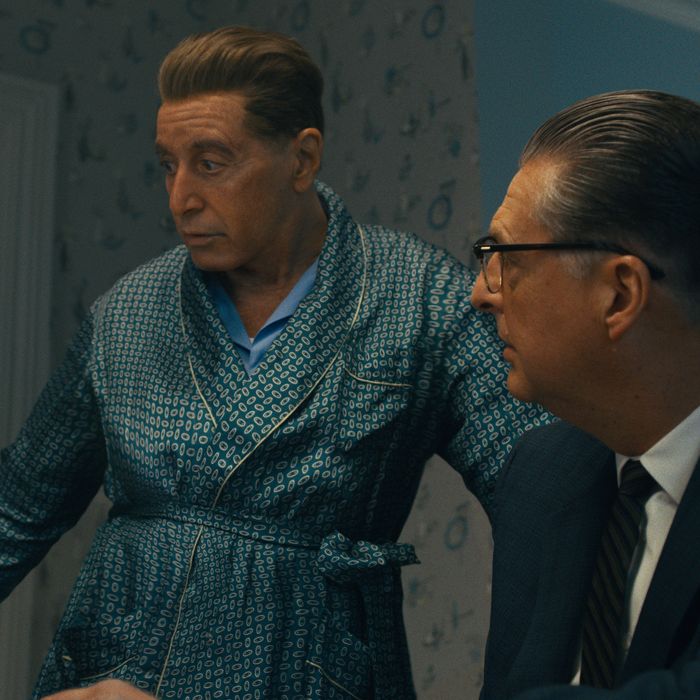 Longtime Martin Scorsese collaborators Sandy Powell and Christopher Peterson walk us through the suits, rings, knits and nighties of their film.
Photo: Netflix
Costumers Sandy Powell and Christopher Peterson are giants in their field, and no stranger to Martin Scorsese; together they've worked on films like the Wolf of Wall Street and The Departed. Their most recent collaboration with the icon of mobster cinema is The Irishman, an organized-crime epic about impenetrable loyalty, restrained grief, and carefully chosen jammies. Of course, Scorsese's films have long been marked by iconic threads — the capo collars in Goodfellas, Ginger's beaded dresses Casino. The Irishman is no exception, though what makes these costumes superlative is unique, as Powell and Peterson explained to Vulture. "We always come back to our first meeting with Marty," says Peterson. "He said to us that it wasn't Casino and it wasn't Goodfellas. They're supposed to be real men." And real men, as we all know, wear pajamas.
Below, Powell and Peterson break down the nuances of their Irishman aesthetic, and explain to the importance of tailored nightwear.
The Suits
According to Peterson and Powell, about half of the suits in The Irishman were bespoke or custom made, while the other half were vintage suits that they deconstructed and put back together. To do so, the pair worked with Leonard Logsdail, a Savile Row tailor based in New York with notable film and television work on his résumé (he made Logan Roy's suits, in Succession).
Dressing a film that spans five decades demands particular attention be paid to lapels and ties, which widen and narrow depending on the era. In the 1940s and early '50s, thanks to the end of wartime fabric rationing, wide lapels and wider ties were en vogue. As fashion moved into the '60s, though, the pendulum swung and ties became skinnier again, as did the lapels, before ricocheting back again to more boastful cuts in the 1970s. But while the lapels and ties changed depending on the era, the shirt collars were specific to the proportions of the men wearing them. According to Powell, fitting each Irishman actor involved a delicate and precise calculation. An eighth of an inch could make "a huge difference. It's incredible."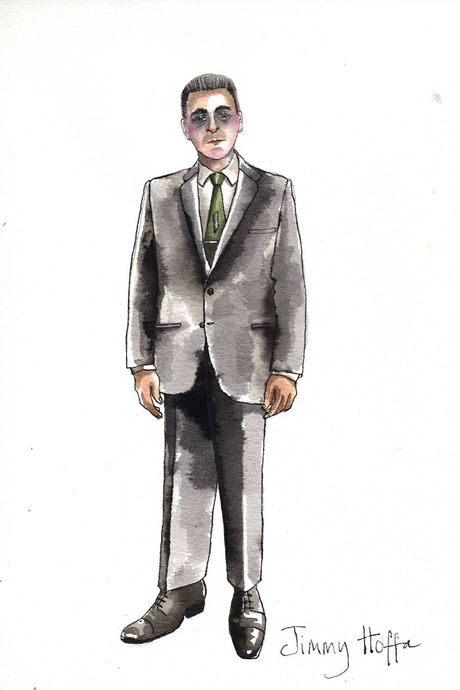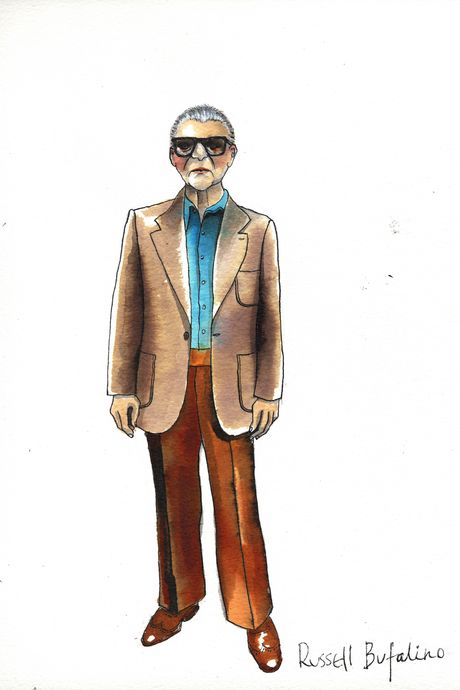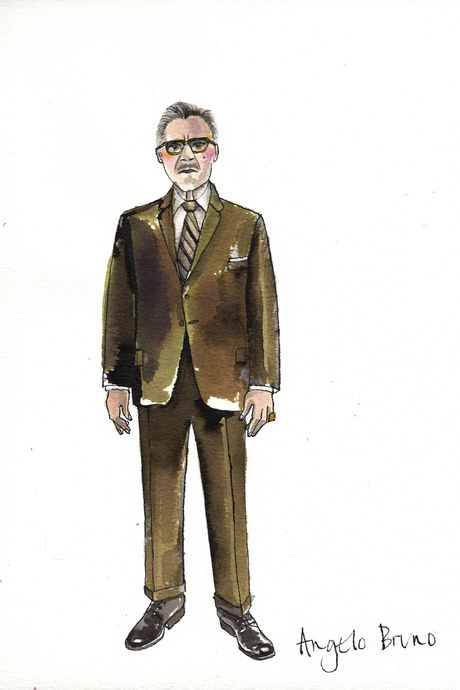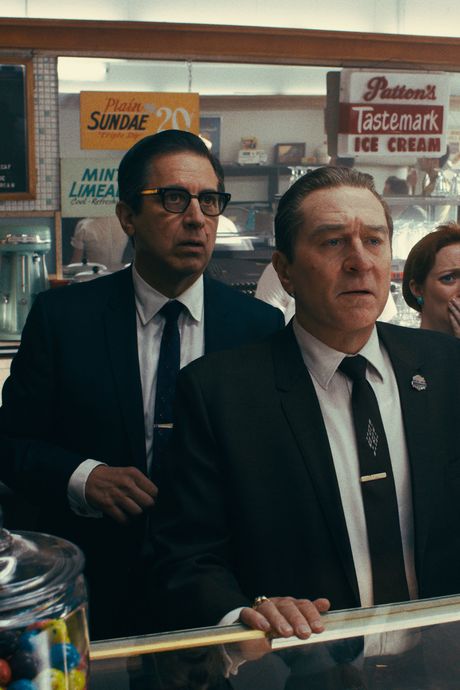 In total, the suits were meant to telegraph each character's lot in life. Jimmy Hoffa, for example, was styled to look "off the peg," as Powell and Peterson put it — as if Jimmy had walked into a store and bought the first thing he saw, not one perfectly tailored to him. At the beginning of the story, Frank's suits appear off the peg as well, the way the back of his jacket collar hovers slightly detached from his shirt collar while Russell's lies flat as if the two garments were welded together. As the film progresses, however, and Frank becomes more successful in organized crime, his suits sharpen, sometimes involving two tone fabrics, mohair, and shark skins.
Still, no matter how high Frank climbs, his suits never match those of Angelo Bruno and Russell Bufalino. We almost never see Russell without an expensive, pristinely tailored jacket, a marker of respect in organized crime culture. He's also the only character we see in anything close to the iconic capo collar of Goodfellas and Casino; the oversize spearpoint, which Powell and Peterson say is an exaggeration of a memory from Scorsese's childhood, has become a staple in his films. But the men of The Irishmen need to blend in, says Powell and Peterson, and so even the capo collar on Russell is smaller.
Russell's suits, they explain, were also "backdated" somewhat. As the eldest of all the characters, "he didn't rush into a '60s shape at the same time as everybody else did. So, he would still be in a sort of late-'50s lapel width and tie when the younger men were going into a narrower lapel," Powell explains.
The Bling
Accessories played a critical role in the costuming of The Irishman. All of Frank's jewelry pieces were exact replicas of the ones owned by the real-life Sheeran, whose family gave Powell and Peterson access to his diamond-studded ring among other accessories. "The ring is a thing that Russell had custom-made for himself, Angelo Bruno, the boss of the Philadelphia crime family, and then Frank," explains Peterson. "And it's composed of like an 1851 liberty coin, and it's surrounded by about it must be about 25 diamonds."
Even his jewelry speaks to his progression within the mob. When the movie starts, he wears only a simple, leather-band tank watch and a ring with the four birthstones of his daughters. "And then as it moved forward, as he became a leader of one of the Teamsters, he got the Rolex that actually on the face of it has the Teamster logo," says Peterson. "It was a thing."
Until finally, he is gifted the gold Tissot watch by Jimmy Hoffa the night of his honorary dinner, which we see on him both at the start of the movie, when he embarks on the road trip that will end with him killing his longtime friend, and years later in his nursing home. "It was intentional because both the ring that Russell gives him and the watch that Jimmy gives him on the night of the Frank Sheeran appreciation dinner, it's a real turning point in the script," says Peterson.
The actors themselves frequently collaborated with Powell and Peterson, helping them to ensure the authenticity of accessories. "[The actors and Scorsese] actually grew up in the environments where these men existed. So, they knew the language of the clothing and how the tie was worn and what kind of tie pin and what kind of suit it would've been and how it would've fit," says Peterson. "Bob [Robert DeNiro] and Joe [Pesci] especially … So, there was no getting away with anything."
"[Joe Pesci's] character was much more particular," Powell adds. "And, in particular, things like the tie pin and the cuff links were every important for us to get right and for his character. And actually, for Joe himself."
The Pajamas
According to Powell and Peterson, there were no script notes that specifically put Jimmy Hoffa and Frank Sheeran in pajamas. "We saw [production designer] Bob Shaw's sets and kind of just the environment that they were going to be in, and also went into it with the knowledge that people just, I mean … [wearing pajamas has] sort of fallen away in contemporary times," says Peterson.
In choosing the pajamas, the two say that they tried a number of vintage and contemporary styles to get the shape and fit just right before eventually having each pair tailored for the film. Hoffa's are a solid powder blue with navy piping, while Frank's are a light plaid and appear slightly less crisp. Those subtle differences intentionally illustrate the power dynamics at play.
"You're picking up on the fact that Hoffa's pajamas were much finer," says Peterson. "Hoffa's are a bit more like the classic Brooks Brothers sort of pajama that's been around for years and still is now," Powell adds.
More than the differences, though, the fact that both men appear in their nightwear together is meant to signal a closeness between Frank and Jimmy. "It emphasizes the intimacy in the scene," Powell says. "That the two men are obviously very comfortable around each other."
On several occasions, we see Jimmy in a vintage silk bathrobe. While less common nowadays, this kind of item was typical of the time — and particularly typical of the real-life Hoffa. "That was actually based on photographs of him," Powell says. "There are actually photographs that exist of him with a plate breakfast in a room full of suited guys. So, he obviously was comfortable entertaining in his pajamas and robe."
"It shows superiority," she adds. "He can be in a room in his pajamas. It shows his status in that scene."
The Casual Looks
You'd be hard-pressed to find a gangster without a collection of knits, the quintessential look for a mobster on his day off. "It's definitely like, the staple of the Italian man's wardrobe since they invented knitting machines," says Peterson. And the men of The Irishman are no exception. Powell says they made most of the knitwear we see in the film, as vintage knits are hard to find in good condition.
But outside the Florida stylings of Tony Pro, the most striking example of casual attire in The Irishman belongs to elderly Frank Sheeran. When we first meet the older version of his character in the nursing home, the camera pans from behind him, climbing up his arm adorned with that gold watch and ring, up to his face where his eyes sit behind gold-framed aviators with gray tinted lenses. The bold accents contrast both with the dreariness of his surroundings and the softness of the rest of his outfit. At this point, he is a man left with little, but he is still a man who is dressed, who takes pride in his appearance and the significance it carries.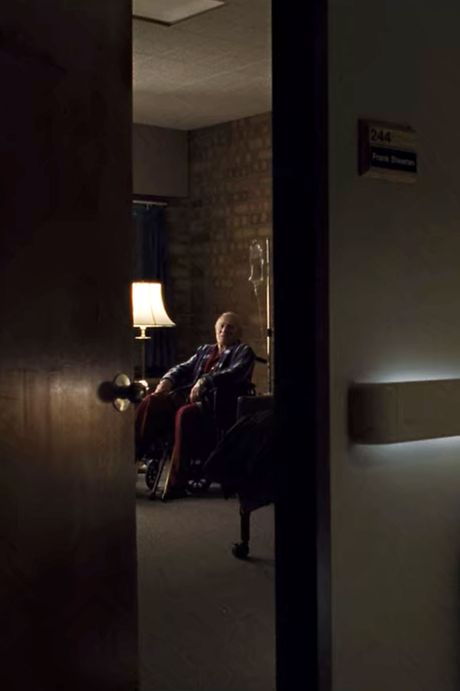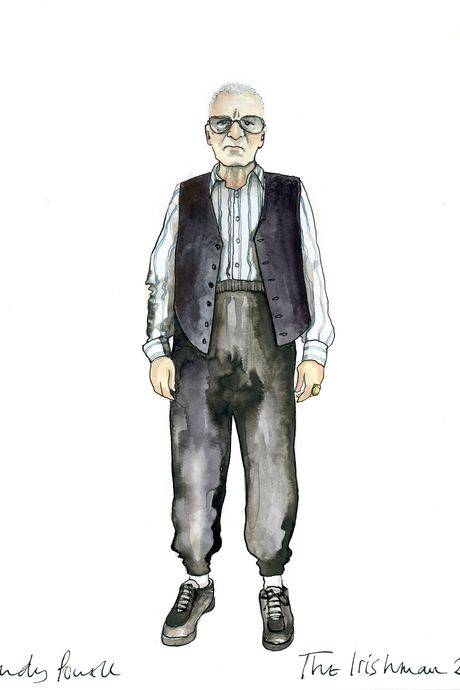 "Even though he's in comfort wear in the care home, in the track pants, he's still making an effort with a dress shirt and a vest," says Powell. "But it's the jewelry. It's the rings and the watch and the shades and then the baseball cap that sort of set him aside. He's still making the effort, and he still sort of stands out from all of the other people there because of that."
"Interestingly enough," adds Peterson, "the sort of bling at the end — the aviators, the watch, the ring with his children's birthstones on it, and then also the liberty coin ring that Russell gives him — he is clinging to those things. I mean, it's just sort of like they're talismans of what's been before."