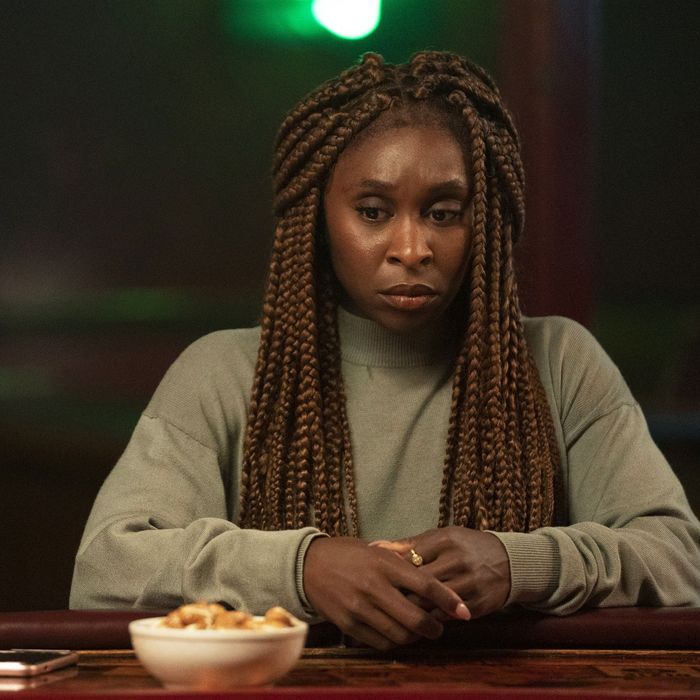 Note: This week's episode of The Outsider is available early via HBO streaming platforms. It will make its broadcast premiere at 9pm ET.
HBO's The Outsider reaches the midpoint of its ten-episode season with a somber, deliberate episode designed to build season-long tension more than push the narrative forward. In terms of actual plot, "Tear-Drinker" doesn't offer much that we didn't know before, choosing instead to just deepen the mythology and menace of what's lurking in the shadows and causing so much grief. It's arguably too slow an episode, furthering the concern that perhaps there wasn't enough story here for such a long season, but it's undeniably well made from top to bottom, including great work by Ben Mendelsohn, Cynthia Erivo, and Mare Winningham. Their three characters all sense that this story is far from over, and whatever ruined Terry Maitland's life may be coming for them soon.
"Tear-Drinker" also makes clear what an essential change it was to alter Ralph Anderson's back story from the book by killing his son Derek. Richard Price was clearly drawn to the idea that the evil force in Stephen King's book works on grief, so giving his protagonist a deep well of pain adds to the depth of the overall piece. If there's a grief-eater out there, it could find plenty to dine on in the Anderson home. The change also allows the menace to play differently with Jeannie Anderson, a grieving mother who has likely had a few terrifying nightmares after the death of her son, but something about this one feels different.
The episode opens with chaos, a shoot-out that results in the death of a young man with the same scar on the back of his neck as Jack Hoskins. This leads to an interesting question: are the people scratched differently than the people with the neck scar? Jack and the man in the shoot-out that opens and closes this episode don't have doppelgangers. They seem to be affected by something else, something that brings their anger and pain to the surface in a way that makes them lash out. Terry Maitland clearly had a double, and evidence suggests that Maria Caneles and Heath Hofstetter did too, but not the man who Holly sees at Heath's grave, nor Jack Hoskins, yet. This leads to two questions: How will Jack lash out violently? And if scratches lead to doppelgangers without the original really even being aware, how long until we meet the alternate version of Claude Bolton, the strip club bouncer that Terry scratched three weeks ago?
A lot of "Tear-Drinker" is about faking out the viewer. There's the hooded figure in Jeannie's waiting room, one that looks like the deformed soul that haunted the death of Terry Maitland and the attempted suicide of Frankie Peterson's father. When she sees him the second time, it's revealed to just be a dead-asleep man, although it's worth noting that the "man" is in another seat on the second visit. Could the first shot of the hooded figure be the supernatural being that is haunting these people and the second be a patient?
Clearly this guy needs a name, so let's christen the figure in the hoodie after the name of the show: The Outsider pops up all over the place this week, in Jeannie's waiting room, and then later in her kitchen, where he warns her that Ralph needs to stop investigating. Ralph writes it off as a dream or vision, just as he did for Jessa Maitland, but Jeannie knows the truth. It's interesting that The Outsider is determined to stop an investigation when it's basically just a destructive force everywhere else, isn't it? Why not just destroy the Andersons and Maitlands like it has the families related to the Hofstetter and Caneles cases? Is there a reason it can't? Glory Maitland isn't falling into grief like the Petersons, and Jeannie and Ralph Anderson can't be destroyed by grief as they've already been through that flame with the death of their son. Does The Outsider feel threatened by the investigation because the Andersons know how to survive unimaginable pain?
The Outsider also comes to Tamika Collins late one night, appearing in a dream in which it takes her newborn baby. She wakes up to find the crib empty, but it's another fake-out as the child is just with daddy on the porch. It's another scene designed to build tension in a slow-burn of an episode. These visions haven't been entirely real, but there's something malevolent on the horizon.
That's certainly true for Jack Hoskins, who is still fighting to hold onto his sanity. He's screaming at an invisible force in the woods and seeming distant to his colleagues. He comes to Ralph late in the episode, offering help, and it's a hard scene to read. Couldn't it be true that whatever is pulling the strings on Jack Hoskins just wants its new puppet closer to the investigation? Or maybe Jack is really trying to fight his mental captor.
Finally, there's Holly Gibney, who continues her investigation in Dayton, now wondering where this new form of the boogeyman lives. This line of inquiry leads to the reveal that Terry Maitland is buried within eyeshot of the barn in which Terry's clothes were found and Jack was attacked. Does The Outsider need a "home" near its victims to feed on the grief of their loved ones? Holly also discerns (and Andy discovers when he finds her notes) that the three doppelganger cases have been separated by 20-25 days, and we're in that window for a new one. The Outsider needs to feed again.
Inside Information
• So the Dayton shooter that opens and closes this episode has the same scar as Jack Hoskins. This means it's a matter of time for Jack, and the writing this week seems to hint that Tamika's baby could be a target. Even Jack knows he shouldn't hold the child. It could be another fake-out, but all of the cases on this show have involved the deaths of children, and I'm worried for Tamika's kid.
• It feels like The Outsider needs to get Holly and Ralph together, soon because the plotting of the show is drifting into "too slow" territory. It's clear that they want to expand Holly's role in the series, but she's honestly not given much to do this episode, serving as something of an exposition dump as she bounces theories of her bartender/driver, Andy, and Ralph mostly to keep viewers up to speed. Erivo is capable of doing something deeper with this character than she's getting here.
• The final image of "Tear-Drinker" is that of Ralph Anderson seeing a vision of his son Derek, who tells him to let him go. Again, giving Ralph the grief of a father who has lost a son really deepens what Price is going for here, and arguably would have made the book stronger, too. Losing Derek doesn't just make Ralph determined to actually solve the only child murder in his town, but uniquely suited to dealing with a creature that feeds on grief.
• While the pace could have been turned up a bit this week, there are no complaints about the performances. Everyone here is doing the kind of subtle work we more often get from drama than horror, playing complex, nuanced characters who just happen to be caught in an unexplainable nightmare.