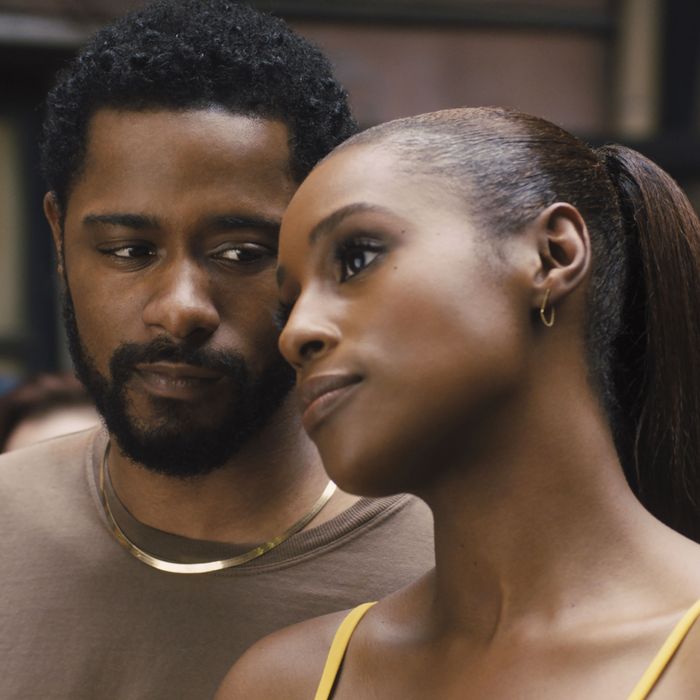 The romantic drama is bolstered by its excellent cast even when the movie fails to deliver on the themes and ideas it hopes to explore.
Photo: Universal Pictures
Onscreen, romance is best communicated through looks. Sometimes a look is tinted with regret, like in the final glances shared by Humphrey Bogart and Ingrid Bergman in 1942's Casablanca. Other times, a look is almost violent in its lustfulness, like those shared by Fred MacMurray and Barbara Stanwyck in the 1944 noir Double Indemnity. In The Photograph, written and directed by Stella Meghie, LaKeith Stanfield is able to express the heat of his newfound desire with a single, brief, weighted glance. Sometimes they're furtive — as if he were embarrassed by the sheer burden of his crush. Other times, he'd spot the luminous Issa Rae across a crowded room and his stature would grow spiky with anxiety but his gaze would remain warm, the roiling emotions playing out across his body. The impact was so intense the audience around me at a recent screening swelled with oohs and aws.
The film follows the interlocking story lines of Mae Morton (Issa Rae), a curator at Queens Museum with a great wardrobe and a bonkers-level beautiful apartment, and Michael Block (LaKeith Stanfield), a journalist with a penchant for getting in his own way romantically. They're both fresh from previous entanglements. Their paths cross as Michael works on an article about the oil spill along the Gulf Coast, bringing him to interview the Louisiana-based oil worker Isaac Jefferson (Rob Morgan) and come across the photographs of Christina Eames (Chanté Adams), who just so happens to be Mae's mother. Christina recently died, leaving behind a storied career and a daughter who questions if she was ever really loved. In the flashbacks to Christina's life we see her tender beginnings as a photographer and her lovely albeit complicated relationship with a younger Isaac (Y'lan Noel). The film is populated by side characters that are immediately eye-catching, particularly Lil Rel Howery as Michael's brother Kyle, delivering a steady stream of jokes whenever he's onscreen.
The Photograph is easily charming. Its soundtrack starts with Anderson .Paak and continues with a steady, beguiling mix of hip-hop and R&B cuts. Its humor is easygoing. Mark Schwartzbard leads the cinematography and Keri Langerman the costumes, both with a precise beauty that showcases the magnificence of black skin and black looks. Unfortunately, The Photograph doesn't quite deliver on the promise of its premise — the story of separated love over generations, wrought with emotional complications and familial intrigue. The film never quite finds the right balance between its competing story lines as it moves through time showcasing both Mae's and Christina's lives, structured around the daughter reading a letter her mother left behind. We're left feeling as though both characters, and the relationship between them, are undeveloped.
I admit, I tend to gravitate toward mother-daughter stories partially because great depictions of this dynamic are exceedingly rare. In The Photograph, we're told repeatedly through Mae and sometimes even her father, Louis Morton (Courtney B. Vance), that Christina was a neglectful mother who poured her love into her work more than anything else. Flashbacks to Christina's early life show she had a prickly relationship with her own mother, the one-note Violet (Marsha Stephanie Blake), stirring up ideas of inherited sorrows. There's only one problem: It's hard to believe that Christina actually was a poor mother figure. In the flashback scenes between child-age Mae and her mom, we see a caring Christina struggling to get by, far from the strained relationship we're told existed. Despite the uneven treatment, I loved Christina's arc. Actress Chanté Adams illuminates the flush of joy that comes with independence when young Christina boards a bus to New York with heart-wrenching precision. Her dynamic with the younger Isaac breathes life into ideas, like the ways ambition can curdle a relationship. The most affecting moment in the entire film comes when present-day Isaac learns of Christina's death; Rob Morgan, in the span of a few seconds, flits through feelings of regret, anger, and utter sadness. His lip trembles as he attempts to keep his emotions from spilling out.
Everyone in The Photograph brings a necessary quality to the film. Howery is gently hilarious, stitching humor into the fabric of the drama. Vance brings quiet gravitas; Noel brings grace. Rae can sometimes deliver her lines too plainly, rather than naturally, but she has a screen presence I find warm and inviting. The film is undoubtedly elevated to another level thanks to Stanfield, who has proved over his short career beginning with Short Term 12 that he has tremendous emotional range and a deliberate physicality. (The latter works to oddball ends in the TV show Atlanta and films like Get Out, Uncut Gems, and Knives Out.) He plays Michael like a down-to-earth character and the kind of man you've seen before. Charming, smart, but constantly getting in his own way. He's bowed by the love he begins to feel from Mae. At times, he's effervescent, even giddy with that newfound crush. Other times, he's sodden with mistakes. Stanfield creates a depth to the character's interactions with the people around him, even as I wished the film would explore more poignantly what those interactions implied.
In the end, none of this fine acting matters if the central romance doesn't work. Thankfully, Rae and Stanfield have an easy chemistry, their dynamic undoubtedly bolstered by the way he looks at her. Like many modern romances, The Photograph feels sealed off from our world, offering a fantasy of knowing glances and sleek interiors and marigold dresses and never a hair out of place. It's both alluring and withholding. On a more aesthetic level, the chaste sex scenes lack intrigue. But the larger problem is that we don't see Michael and Mae's relationship develop enough over a long enough period for the ending to feel earned. Narratively, the problem that severs them is never solved. And yet The Photograph is a sincerely beguiling film, even for its faults. It's hard not to see the film it could have been, had its themes and characters pushed a little further.