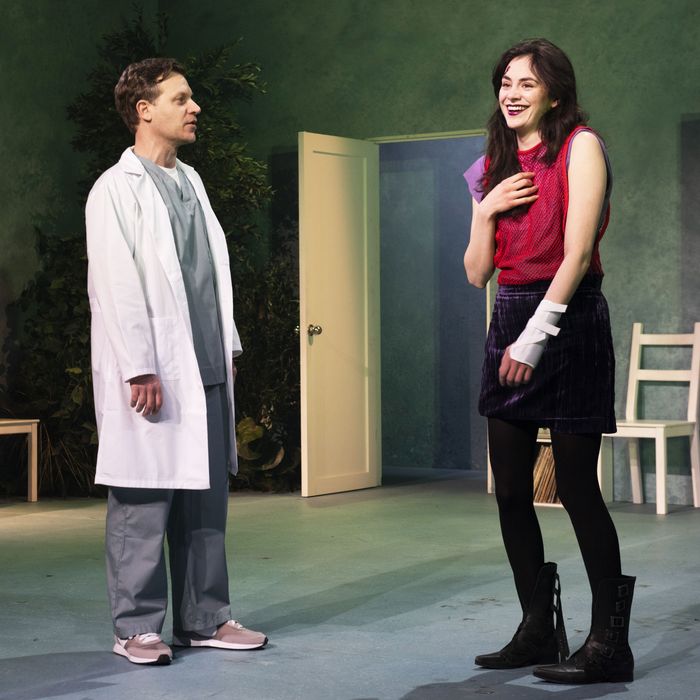 From
Anatomy of a Suicide,
at the Linda Gross.
Photo: Ahron R. Foster
I don't think I've ever seen a horror film. Okay, I have been present in the room while a horror film was playing, but I believe I was mostly crouched fully inside my sweater while my companion narrated. So I want to be totally clear that the three horror plays that opened this week in New York had to handle a Critic Chickenheart — and it was unfair, really, to send such a weenie to see them.
The first two are the repertory offerings at Classic Stage, Kate Hamill's adaptation of Bram Stoker's Dracula and Tristan Bernays's adaptation of Mary Shelley's Frankenstein. It's a fun concept, a do-si-do around the classics: a woman adapts a man's gothic thriller; a man adapts a woman's vision of quasi-scientific body shock. And neither one, I am delighted to report, was particularly scary.
Hamill's spirited Dracula has gone full Buffy the Vampire Slayer, womanhandling the plot so that it becomes a self-consciously "fierce" parable about warrior-femme liberation. Stoker's original stoked 120 years of fantasies about anemic virgins and smoky-eyed guys who exerted hypnotic sexual control — even for us ladies, the anti-feminism (cf. Twilight) has been part of its allure. But Hamill pumps blood right back into those women, changing some characters' genders and beefing up women's roles. And the result is: Men get checked. Vampires get stomped. Hamill herself sets the show's jolly-dark tone by playing Renfield as the cheeriest bug-eating thrall ever shut up in a Victorian asylum, while the cowgirl/vamp-expert Van Helsing (Jessica Frances Dukes), in long braids and jingling cowboy boots, now confronts Dracula (Matthew Amendt). The heroine Mina Harker (Kelley Curran) roars too, striking a blow for heavily pregnant women everywhere. According to medical guidelines, she's not supposed to lift too much. But what can one wooden stake really weigh?
Something as absurd as this Dracula is only going to work with 100 percent buy-in. The women, including Jamie Ann Romero as Lucy, are all comfortable with the commanding roles Hamill has offered them, and the men, particularly Matthew Saldivar as Lucy's doltish fiancé, do well with the comic material of their beta positions. (It's especially smart casting to have the classical actor Michael Crane as the doomed Jonathan Harker, since he exudes the dignity of a cat falling butt-first off a mantel.) Amendt plays Dracula as a snake-hipped fop, magnificently bullying but also unwilling to muddy his gorgeous Robert Perdziola–designed white coat, while the fightin' gals are ready to get all bloody, or dusty, or covered in dirt. Sarna Lapine's production occasionally slows down to regard itself, when it should be speeding or lightening up — it leans heavily on Saldivar's hambone silliness, which is always welcome and occasionally critical. But this is the kind of "horror" I could watch all day, the sort that reassures us that monsters are a bunch of weenies too.
Bernays's Frankenstein is much shorter but feels longer, even though it lasts only 80 minutes. Stephanie Berry, in a tunic and heavy boots, speaks in the first person both as the monster, waking up and trying to learn language (with a little help from the front row), and as the bewildered scientist Frankenstein, whose conscience revolts at his own creation. The accompanying musician Rob Morrison also occasionally pretends to be Frankenstein; director Timothy Douglas has him angrily strum his lute whenever he's particularly upset. The show seems to be more a lightly choreographed reading of excerpts from the novel than a stage adaptation: The tell-but-don't-show narrative style leaves little of dramatic interest, and Bernays uses big scoops of Shelley's elaborate language, lulling us with her Romantic cadences. The theater's idea of casting Frankenstein as a black woman raises interesting questions, though it would require a different text to really pose them. This production does, at least, point your mind in a productive direction. A horror narrative would certainly be a nifty way to discuss colliding forces of medical cruelty, "cyborg" feminism, and the black female body. So while Berry's voice is thunderous, it couldn't keep me in the room. I was too busy dreaming of other plays she could be in, other monsters and monster-makers she might play.
So the really scary play that opened this week was actually Alice Birch's Anatomy of a Suicide at the Atlantic Theater. It's much less genre-specific than the pieces at Classic Stage, and it pretends not to be a frightfest — there isn't a drop of blood anywhere. But Anatomy is horror nonetheless. In all three of these plays, the site for crawling fear centers on a woman's body, and the terror seems to strike the moment that she comes into the world. In Dracula, it's because woman is born prey; in Frankenstein, she's born a crime. But in Anatomy, we see women whose own brains, deeply programmed with depression and suicidal tendencies, try to drag them out of life. It's like that old scary story you heard in grade school — the call is coming from inside the house.
There's not much of a plot, intentionally. Three generations — mother Carol (Carla Gugino), daughter Anna (Celeste Arias), and granddaughter Bonnie (Gabby Beans) — play their scenes simultaneously in front of us. All are seen in their early adulthood, so side-by-side moments happen in the '60s, the '80s, and the present. Their time-hopping villain is neurochemical and their struggles internal, so mainly we see aftermaths … Carol's husband bringing her home from the hospital, her arms bandaged; Anna's attempts to outwit her depression with electroconvulsive therapy; Bonnie's occasional small gestures to others — a girlfriend, a co-worker, a bunny — that signal her unwillingness to die. Birch has to keep each scene extremely lean and full of pregnant silences so that they can play all at once, and director Lileana Blain-Cruz has to work in a very, very deliberate tempo.
This slowness and sparseness can sometimes feel like its own kind of torture. So much of depression is silence with a noisy brain, and so here Birch gives us compounding silences — the stillness of a character gritting her teeth against an internal temptation and the tension of a performer trying not to draw focus out of turn. It's uncomfortable to watch an actor standing, exposed on stage, both "in character" but trying not to be in focus. Beans as Bonnie gets the brunt of this, so that while her forebears suffer in scenes off to her right, she stares fixedly into space, sometimes ticking the seconds off on her fingers. It's not pleasant to experience, but it is brutally evocative. Bonnie sees life as something she has to wait out, and the production makes us vicariously feel a morsel of that.
Anatomy's horror is even more successful, though, at insinuating itself into any sunny sense you might have of what it means to be a mother. At the start, Carol believes having a child will cure her, and her love for Anna does force her to stay on Earth a little longer. But life is like being "trapped in a burning building" Carol says, her voice about to shatter, and Anna winds up standing between her and the exit. In Birch's bleak triptych, we see how all three anguished women see motherhood as yet another insult in a world made out of injury, with love itself as something to escape. After an hour and 45 minutes, their vision begins to color yours. What sadist would allow the hell of having a body extend beyond your own flesh? What masochist would dare endure it?
Dracula and Frankenstein are at Classic Stage Company through March 8.
Anatomy of a Suicide is at the Linda Gross Theater through March 15.