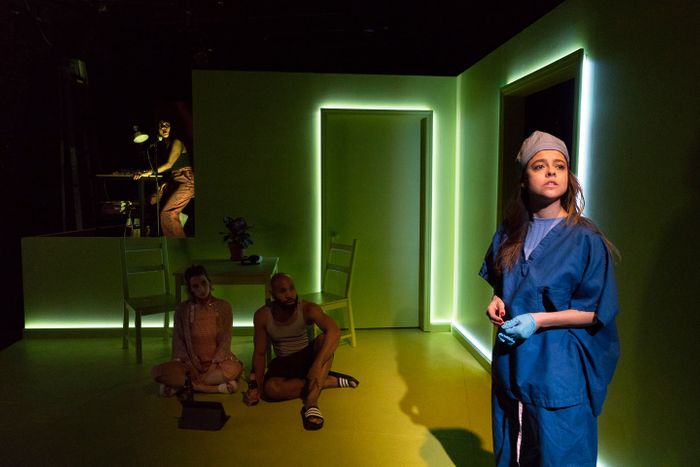 There's something escapist about Sarah Einspanier's House Plant, and not just because it's a light comedy with surreal touches. Unlike certain realities I could mention, the things that go wrong for its characters are small; the things that go right for them are disproportionately enormous. When June (Emma Ramos), a customer service rep for a Blue Apron-esque delivery outfit, dreams of changing her life, life instantaneously complies. Her best friend Chloe (Molly Bernard) just happens to have a girlfriend Agnes (Deepali Gupta) who can get June cast on a TV medical soap, and shazam! June leaves her boyfriend Max (Ugo Chukwu) for Los Angeles and spray-tanned superstardom. Max, caught off balance, can't resist when Chloe high-handedly moves in to pay June's half of the rent, and the pair become unlikely conspirators—both in Chloe's feminist art (there's a peach pit you won't forget anytime soon) and in Max's own wackadoodle plot to win June back.
Jaki Bradley's production has a kindercore brightness that makes the lives lived in it seem weightless. Meredith Ries's clean-lined set is a simple wall and doorways, flooded by designer Cha See's cheerful, shadowless yellow light. People in this world talk about rent and relationships, yet every edge here seems to have been childproofed for consequence-free living; the only messy, dark, lived-in area is "outside" the apartment—a cutaway cubbyhole up a step from the rest of the set. Weird things come out of that space. Gupta, an experienced downtown composer, sits there with her microphones, sound equipment, laptop and table lamp, acting as one part Foley artist, one part cinematic underscore (she whips out her violin for big moments), one part ASMR fantasy. Her amplified gurgles and hisses and low murmurs ("Cellllllssssss") seem to emerge from the characters' unconscious minds, though the show raises this idea—that we're all haunted by a noisy Jungian underneath—and then does very little with it.
House Plant starts out interested in the contrast between the dark and light, the seen and the heard, but the interest fades. At first, June is driven by voices, by the sensation that her body is speaking to her, and by the biological churn of cell-death and return. Then, though, June disappears from the plot, and the buddy-comedy of Max and Chloe feels weightless by comparison. A weird play's an easier thing to start than to finish: Scenes get shorter and more episodic, which makes the whole seem longer, and by the rather pat end of the 90-minute show, the Agnes/Gupta figure has lost much of her function and her mystery. Einspanier does, though, give Gupta a last Miranda July–ish monologue. The little potted plant on June's table—one of the only props—finally speaks. It's a humble little succulent, wishing that the people who water it will go on adventures and take it along; it holds out hope for itself, or, perhaps, for its clippings.
The success of this show, despite its handsome production, is likewise modest. The first 30 minutes are great, high-velocity stuff, and it slows to mild sweetness by the end. Primarily, it's a chance to see some killer comic actors playing with bravura confidence. Bernard is a discovery, a vulnerable sneer in human form, completely over it and secretly crushed by it at the same time. And Chukwu, one of our best downtown actors, is at the top of his form here. Somehow, he's both a chaos Muppet and an order Muppet: both the toddler on a rampage and the preschool teacher getting the crayons out of his nose. Einspanier could have written Max specifically for him, and in fact he's also in her hit Lunch Bunch, which returns later this season. For me, that's the stronger play, but it doesn't have Chukwu in a red skiing onesie limbering up to fake a mountaineering attempt. If you can only see one, see Lunch Bunch. But I'm starting a little Einspanier/Chukwu Completists' Club, and you can't join unless you see House Plant too.
House Plant is at New York Theatre Workshop through February 22.