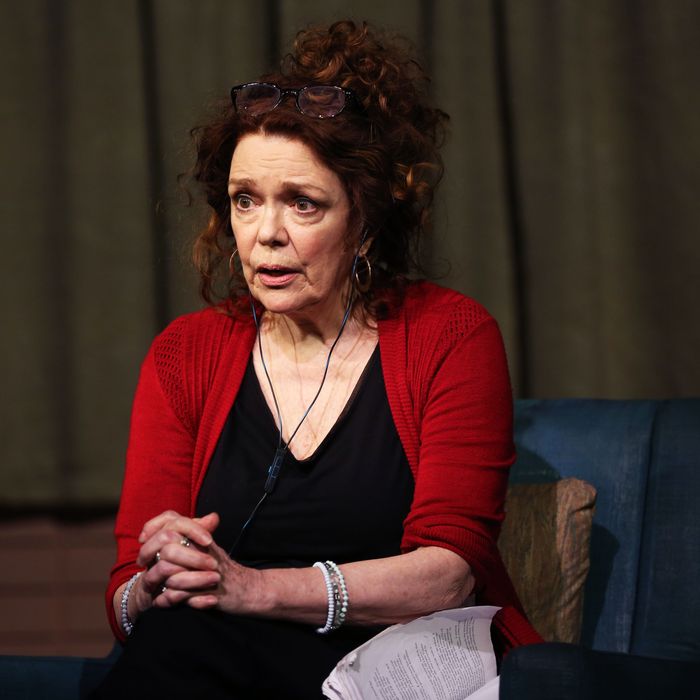 Deirdre O'Connell in
Dana H.,
at the Vineyard Theatre.
Photo: Carol Rosegg
When playwright Lucas Hnath was away at college in 1997, something terrible happened to his mother, Dana Higginbotham. At the time, Hnath didn't know, never went home to Orlando, and according to his intense docu-play Dana H., was almost entirely out of touch. Even now, having written—or, more accurately, composed—a play out of his mother's account of those events, Hnath still seems far, far away. His name is on the poster as the author, but in every obvious way, his craftsman's hand and imagination have been held at a distance.
According to a note in the program (and a supertitle that appears before the performance), Hnath asked fellow theater-maker Steve Cosson to interview Higginbotham for several days. "What you are about to watch," the note tells us before the 75-minute performance, "has been cut together from those taped interviews, and the actress playing my mother will lip-sync to Dana's actual voice." We hear the real Dana; we watch the actress Deirdre O'Connell as her avatar; we're allowed to pretend that the credited author, who must have edited and shaped hours of material, has had no part in it. This cordon sanitaire between "writer" and "written" exists because Hnath—whose recent play The Thin Place was built from ghost stories and pseudospiritualism—doesn't want his audiences asking about the "truth" of what they're seeing. And look! I'm trying to quarantine the experience too. Even sitting here writing this review, I feel myself keeping the focus on procedure, talking about authorship, trying to keep the temperature of my response near normal. Because the actual show is like a fire behind a door. Every time I put my hand against the memory, it's hot.
Director Les Waters has O'Connell "talk" to us in an anonymous motel room (Andrew Boyce did the set design), where the beige curtains are closed tightly against light from the parking lot outside. She rarely moves, sometimes pulling something from a purse, or shifting in her chair whenever the recording gives a little rustle. Twenty-three years ago, Dana tells us, she was working as a chaplain in a psychiatric ward, offering spiritual counsel to troubled souls. A patient named Jim, covered in Aryan Brotherhood tattoos and claiming to have been in prison nearly his entire life, responded eagerly. Jim stayed at Dana's house over Christmas, where, she says matter-of-factly, she watched him sharpen a pen into a weapon. And here we see why Hnath wanted us to hear her warm, wry voice without any adulteration. The scene she describes is almost too literary—the blinking Christmas tree, the couch, the man sharpening the pen, the swastikas on his arms winking in and out of light. It's so extreme and yet so convincing, most of us might have taken it for fiction.
Seemingly unconnected events—trouble at work, a divorce, a son in college—leave her completely alone when, after a gruesome suicide attempt, Jim comes headfirst through her bathroom window. What happens next takes five terrifying months. Inside this story of horror, further horrors rise—like the moment when she casually mentions her own long history of abuse, and how it might have kept her alive. "Imagine some little Barbie doll going into this situation who'd never had a hand laid on her," she laughs drily. "Now that would be sad."
O'Connell has the mouth of a tough cookie, but shy eyes; she's usually smiling, putting her "interviewer" at ease, but her expression is often lost. Dana's voice is likewise sometimes confident, sometimes not: She's dogged by a sense of unreality, of a situation getting so bad that she can't believe it even as it happens. It's awful, but my mind occasionally fled Dana's testimony, trying to find a way to discredit her. Why, I'd think, did she ever go back home whenever she momentarily eluded Jim? What about this detail? Or that timeline? In the recordings, Dana sometimes reads from a manuscript that she wrote in 2013 as a response to a breakdown from her untreated trauma, and I wondered if fact and memory and PTSD might perhaps be melting into one another. The interchangeability of the motel room, though, proves a useful reminder of our own fallibility in those moments: I'd look at the set and think about the dozens of identical hotel rooms I've stayed in, and how they all slide together in my memories. The past smears; that's what it does. Dana H. is about people refusing to believe or see a woman, yet it also demonstrates—in real time—our own eagerness to do the same thing.
Despite its well-honed beauty (Paul Toben sends a perfect sunset through those curtains), it's hard to measure Dana H. as a theatrical object. You can say O'Connell's performance is piercing, since it's dazzling on an artistic level, but there's also a quality of witness in what she's doing, which moves it beyond evaluation. The "story" too has suspense, motion, revelation, exposition—all the components that critics like to tick off with their little pencils—though I came away staggered, finding that mode of critique very thin. Yet the truth isn't the whole story here either: This is not just a podcast or a dressed-up episode of This American Life. Waters, Hnath and O'Connell have made something intensely theatrical that reaches devastating emotional heights. All their distancing strategies have the paradoxical effect of drawing us close. We see the mask, but it makes us even more aware that somewhere, reality is crying out beneath it.
Dana H. is at the Vineyard Theatre through March 29.