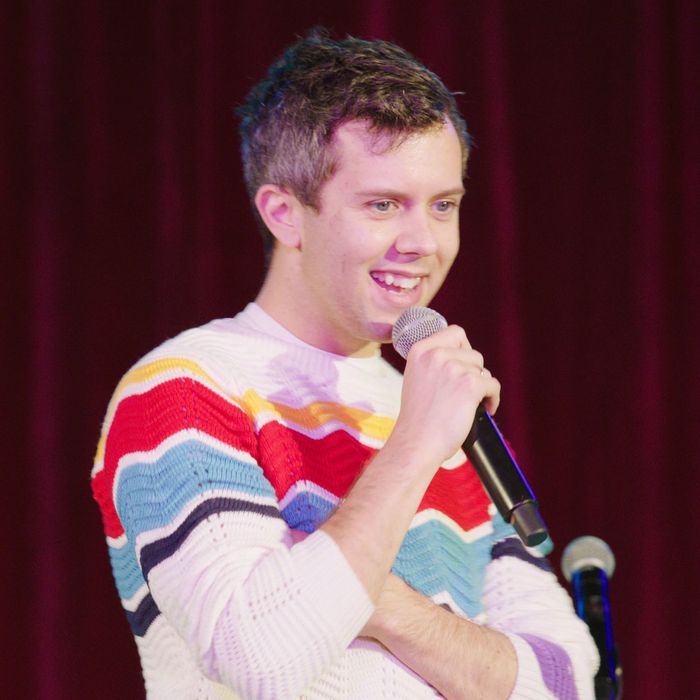 Cole Escola, funny comedian and
National Lampoon Radio Hour
star.
Photo: Courtesy of Forever Dog
The comedy-podcast universe is ever expanding, not unlike the universe universe. We're here to make it a bit smaller, a bit more manageable. There are a lot of great shows, and each one has a lot of great episodes, so we want to highlight the exceptional, the noteworthy. Each week, our crack team of podcast enthusiasts and specialists and especially enthusiastic people will pick their favorites. We hope to have your ears permanently plugged with the best in aural comedy.
National Lampoon Radio Hour: The Podcast — Misery
If the National Lampoon Radio Hour: The Podcast doubled as the National Lampoon Radio Hour: The Netflix TV Series, it would be a sensation. Given the success of Astronomy Club: The Sketch Show and I Think You Should Leave, this insanely talented ensemble of up-and-coming New York comics and performers would at the very least generate some terrific memes. Highlights of the sixth episode of the audio sketch show include Kevin Sackett (Martin Urbano), a former Politically Incorrect writer hired to perform at a children's birthday party. Maeve Higgins — previously known as Les Moonves — also presents the failed sitcom version of Stephen King's Misery, starring Sir Ian McKellen (Aaron Jackson) and Julia Child (Cole Escola). Beautiful/Anonymous's Chris Gethard even drops by for an extremely Gethard-like destruction of the fourth wall. Like any good sketch show, the segments are up and down, but the show moves too fast to notice. The YouTube channel lets the audience inside the studio for additional moments, like Jackson and Escola going to town on their own hands during a role-play sketch. Spotify users can peek a few weeks into the future, where episodes seven to nine have already dropped. —Mark Kramer
Listen: Spotify | Apple | Website
Podcast: The Ride — Turkey Legs With Zac Oyama
When you think of a theme park, of course you picture roller coasters, costumed cast members, and live shows. Those make sense. But why do Disney and Universal parks also always feature iconic massive turkey legs? Is it because they are portable, or because they seem like something the Flintstones would eat? Is it because … kids like them? The more you think about it, the less sense it makes. The boys of P:TR, along with their guest Zac Oyama (CollegeHumor, Adam Ruins Everything), wrestle with these and other related issues, including a potential Dolittle/Morbius crossover film, the role of the British royal family in the deaths of Princess Diana and Dodi Fayed, and Zachary Levi's career in general. There really is quite a bit to explore just on the subject of turkey legs, like how exactly Disney engineers have given the turkey an uncanny hamlike flavor and their distinct purple hue. Indeed, if you enjoy the taste of ham, then theme-park turkey legs are for you. —Kathryn Doyle 
Listen: Spotify | Apple | Website
Thirst Aid Kit — Next Stop: Penn Badgley
Bim Adewunmi and Nichole Perkins built Thirst Aid Kit upon a shared belief that thirst is natural and deserving of celebration. By this point, with numerous successful seasons under their belts, it's correct to call Adewunmi and Perkins thirst scholars, as they adeptly guide listeners through their desires by digging deep into "the various ways women express their thirst." Although they're experts, the hosts stress that everyone is free to go about their thirst in their own way, whether cosigned by Thirst Aid Kit or not. "I want to be very clear: We don't take requests," Adewunmi says early on in this episode. But what happens when the stars align and the hosts also fancy one of the most-requested men? Well, you get none other than Penn Badgley. Perkins specifically is "powerless against his general 'stop-motion Christmas-puppet energy," while the internet is obsessed with his "turn as the sneering killer" Joe Goldberg on You. That's right, Gossip Girl himself has seemingly caught everyone's eye, making the cheeky sign-off "You know you love me. XOXO, Gossip Girl" from the show that shot him to fame especially apt. Tune in to hear how he went from Lonely Boy to internet boyfriend and laugh at the many risible takes along the way. —Becca James
Listen: Spotify | Apple | Website
Suicide Buddies — Adolf Hitler & Kurt Cobain
The end of Suicide Buddies is nigh. Buddies near and far have been celebrating the end of the current iteration of Suicide Buddies for a while now. This week, for the last time, comedians Hampton Yount and Dave Ross research a famous suicide from history. And what better way to go out than with "the last two suicides in history," Adolf Hitler and Kurt Cobain. What enables Ross and Yount to indulge in the frequent dark riff is their respective willingness to be vulnerable in ways men traditionally aren't. For example, before diving into the suicides, they talk about how "late" they each started doing sex stuff, and how we all have to pretend no one is insecure about sex when in reality, we all are. The riff ends with a hilarious story from Yount about the second time he ever had sex that involves getting yelled at by two cops while naked in a car. The two are able to mine surprisingly silly details from the Hitler suicide, like how stupid it is that the Russians lied and said Hitler poisoned himself in order to emasculate him. Y'all Ever?, the show's next iteration, promises to continue the dark comedy that listeners have grown to love. —Mark Kramer
Listen: Spotify | Apple | Website
Joe List's Mindful Metal Jacket — Steve Rogers 
With the lack of readily available health care being one of the most discussed and divisive topics in the United States today, it should come as no surprise that there's been a sharp increase in the number of podcasts dedicated to mindfulness, anxiety, and depression. As shows like The Hilarious World of Depression and Suicide Buddies prove, the comedy world continues to meet the demands for alternatives to available mental-health resources, and the Venn diagram between comedy and depression oftentimes makes for a perfect circle. New to the mental-health podcasting game is comedian and longtime talk-therapy advocate Joe List. In the lead-up to his new project Mindful Metal Jacket, List has proved to be about as open as one can be in regards to their own mental health. In conversation with comedian Steve Rogers, List perfectly describes what it's like to live with anxiety and how one can best support someone going through a panic attack. Although this may not sound like a comedy podcast in nature, know that a skilled comedian like Joe List can help find the humor in the toughest of topics. —Tom Rainey
Listen: Spotify | Apple | Website
Other Podcasts We're Listening To:
Asian, Not Asian — Do You Support Drake or Do You Support Canadian Rap? With Karen Chee, Late Night With Seth Meyers
Listen: Spotify | Apple | Website
Roundball Rock — Wow! Another Trade Deadline Podcast in Your Feed!
Listen: Spotify | Apple | Website
A Funny Feeling — Kulap Vilaysack
Listen: Spotify | Apple | Website
Got a comedy podcast recommendation? Drop us a line at comedypodcasts@vulture.com.